Adventures in Denim with Aitor Throup
The High-Performance Conceptualist Explains Raw Research
Interview:

Xerxes Cook

Photography:

Lukas Gansterer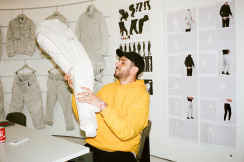 Aitor Throup has come a long way. Not in the geographic sense—his current Amsterdam office is just 300 miles away from his hometown of Burnley in England's post-industrial north—but from a period of his career that threatened to consign him to the life of a paper architect, producing high-concept designs impossible to produce at scale within fashion's seasonal cycles. Now, as executive creative director of Dutch denim giant G-Star, all bets are off. The first two seasons of Raw Research, the Aitor Throup/G-Star RAW co-branded line, are the most exciting thing that has happened to jeans since Kris Kross wore theirs backwards.
Throup has been championed as a genius by Comme des Garçons' Adrian Joffe for his unique creative approach. It often begins with illustrations of characters mid-metamorphosis. Scenes from this story are lifted from the page and reconstructed as maquettes or life-sized, wireframe sculptures that Throup uses as the basis for his patterns. He describes this inspiration-intensive approach as New Object Research, which is also the name of his own label. Its focus is on creating genuinely new design archetypes, which can be referenced and re-calibrated to meet the logistic and aesthetic needs of seasonal production. It took the best part of the decade following his graduation from London's Royal College of Art to put this theory into practice. In the meantime, he held genre-defying presentations at London and Paris Fashion Weeks and lent his exploratory practice to collaborations with Stone Island, C.P. Company, and Nike, where he designed the templates that inform their football kits to this day.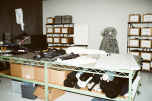 His idiosyncratic design vision didn't go unnoticed by the creative cognoscenti. G-Star, with three decades of military-inspired raw denim in their archives and collaborations with Marc Newson and Pharrell Williams under their belts, were keen to see what would happen if they brought their world together with Throup's. So, they offered to move his New Object Research studio to Amsterdam to operate as an independent innovation lab that would fuel Throup's personal explorations and inform those of G-Star as a whole. Consider Raw Research the prototypes of archetypes—the blueprints of G-Star's future collections.
I met Throup in a corner of G-Star's Rem Koolhaas/OMA-designed headquarters and discussed the architecture of designing for legs, finding space to innovate with denim, and the risks of riding motocross.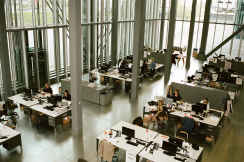 Where do you find the space to innovate with denim—is it possible to improve on the classic 5-pocket jean?
It's the ultimate challenge. How do you reinvent something? I never say improve, because improve is very objective. The true value in art and design is when you help shift the possibilities. What The Beatles did—was that an improvement, or a new way of thinking, structuring, and carving out new possibilities? When we talk about innovation, we really mean exploration. We're not competing against the classic 5-pocket jean, we're just expanding the possibilities of denim design on a physiological, anatomical, and ergonomic level.
Raw Research is the innovation and experimentation lab of G-Star. It's where we as a company allow ourselves to explore and experiment outside commercial briefs or needs. It results in a certain amount of pieces per season that become almost like the concept cars for a car company. Raw Research is actually the prototypes of the new styles and design details before they trickle into the general collection.
Why did you take motocross gear as a point of reference for the latest collection?
I need conceptual frameworks to navigate my own progress as an artist and designer, and in my personal life, also. With the motocross bike, the helmet, the visual language of the sponsor's logos and their crazy colors, I don't know why but they represent so much to me. Everything about it is so carefree—it's a bit like that freedom you had in your adolescence, isn't it? Compare a normal motorbike helmet to a motocross helmet—everything about it is like an aesthetic expression of rebellion. So, what I did was first try to understand why motocross represents so much inside of you, and then translate these symbols of the sport into a framework for design. You can see a direct influence in the Motac-X 3D trousers with elastic components in dialog with rigid denim. This builds on a specific ergonomic approach to leg design in motocross because of the needs of the sport: the stretch of the knees and the thighs, and the extreme, large, area of rib on the back of the legs that would help you straddle the bike.
I think trousers are a barometer for society and culture.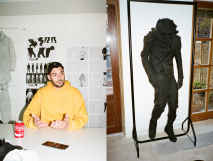 With Vetements and 032c creating products inspired by motocross recently, why do you think the sport is having a moment right now?
It's something in the air. For me, working in a big global company like G-Star, I see motocross as a symbol to remind ourselves to take risks. G-Star is 30 years old next year. It's maturing and is about to go through its adult period, so it's almost like a tool to remind the company to go out there and have fun and try not to get killed along the way. To experiment not just for the sake of being experimental, but with a view to redefine what is standard. There's a real philosophical necessity for that mindset. We should be grateful that it's not limited to small, conceptual studios like my own.
Most product designers are obsessed with making chairs, yet you debuted at Paris Fashion Week in 2009 with a retrospective of 45 trousers you had designed in the four years prior. As a designer working with clothing, do you find trousers provide similar structural and architectural parameters to express a creative vision?
I think trousers are a barometer for society and culture. I was first drawn to clothing and design from the football casuals subculture I grew up around in Burnley, and specifically the Mille Miglia C.P. Company jacket. My whole path was about deconstructing and understanding how that jacket has so much emotion built into it. Once I understood what that was, I was able to shift the frame of attention and try to build that sense of soul from the jacket to the trouser. It's kind of like re-educating people on how to wear clothes—you can wear your trousers as your primary garment, and if all the focus is on your legs, all you need then is to wear just a white t-shirt and white trainers. You could say G-Star is as much a leg specialist brand as it is a denim brand, as G-Star has consistently challenged and questioned those parameters, adding details and references from outside of the denim world.
But I imagine it's not about adding embellishments for the sake of newness?
No. I'm constantly challenging myself by questioning every design decision, so I'm particularly interested in when a product design narrative connects with a more philosophical narrative. I would never just add a detail because it makes something look interesting, you know what I mean? I'm obsessed with storytelling and I think that good product design is like art—it's a tool to communicate emotion, and that emotion can come from the challenge of designing through a very specific filter and strict set of parameters. Product design is a tool to help solve the problems art creates, and the conversation between the two creates the narrative. Without that story, you haven't got anything to say.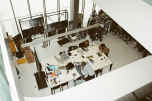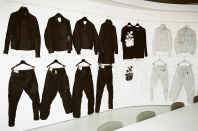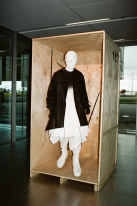 Your personal Instagram account is filled with illustrations of characters that look like they've stepped out of the pages of a design-focused graphic novel, and your studio is populated with wireframe mesh sculptures of these characters—how would you describe the dynamic between designing in two and three dimensions?
It's about anatomy and how fabric behaves on the body, and what the limitations of both are. It means you can't work from a drawing or an existing garment; you've got to work with the form and with the fabric. One of the things we've started very early on in this lab is sketching in 3D so it's more like vehicle design. All of the lines and degrees need to be connected, and I'm trying to problem-solve the intersection of all these lines in my head. It's what we call concinnity, a term that's very much used in the car design industry, that means the harmony of line, and the harmony of multiple lines. When you see what your brain would classify as bad design, it's because of poor concinnity.
How does going back to the drawing board of the human skeleton and muscles in movement allow you to create completely new clothing archetypes?
The easiest thing to design is a performance product, because the problems are very specific and you can transfer the solutions to any clothing design. But if you don't design on top of generic garments, on top of solutions of other designs that were invented previously, you go back to the fundamental paradigm of a human body that moves in a very specific way, a flat fabric, and the need to create a 3D product that interacts with the body. You're trying to unlearn everything you knew, and I'm trying to get back to that point before jeans, to the same body and the same fabric as Levi-Strauss when he first made a pair of jeans. Socially, culturally, technically, I'm trying to unlearn all the things that make you think things are how they should be, and challenge some of the decisions that those early pioneers made that have ultimately become limitations.
When you see what your brain would classify as bad design, it's because of poor concinnity.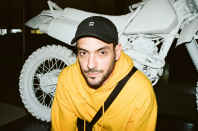 Interview:

Xerxes Cook

Photography:

Lukas Gansterer