Fashion's Car Dealer Arthur Kar
Speaking with the Automobile Collector and Dealer Who Is Elevating Driving to an Art Form
Interview:

Evie Bear

Images/Photos Courtesy Of:

L'Art de l'Automobile/Joshua Woods

Model:

Giedre Dukauskaite
Just over a year ago, SSENSE interviewed Arthur Kar, fashion's favorite dealer of rare, vintage automobiles. In conversation, Kar revealed his plans to produce his own clothing line. Today, SSENSE is proud to launch KAR / L'Art de l'Automobile for both men and women with a selection of apparel—including an SSENSE exclusive t-shirt—and one very special object: a perfectly restored 1978 Ferrari 308 GTB.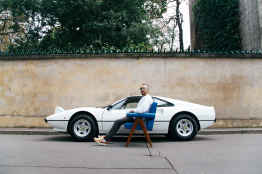 In an unmarked showroom in a nondescript arrondissement somewhere in central Paris, about 50 rare classic cars lie quietly parked. It's like a dark, concrete Arcadia. If you happen to be in the area, there's a great chance that at some point, a handsome, 33-year-old, Beirut-born man will come hurtling out from underground in the kind of car that you have only dreamed about.
Often seen rubbing shoulders with high-profile rappers, designers, and artists, one could easily assume that Arthur Kar is one of them. But when you find out that he's actually a car collector and dealer with his own company, L'Art de l'Automobile, a veil of mystery envelops him. Arthur is not like any other used car salesman you've ever met.
I'm in Paris for Fashion Week and Arthur and his girlfriend, the model Giedre Dukauskaite, join my boyfriend and I in the Marais for lunch. The two of them order for us, enthusiastically claiming that the sardines here are to die for. Arthur's passion for food mirrors his passion for cars, and honestly, his passion for everything. He's a man who appreciates all he has because he's worked incredibly hard to get it. We consider Arthur's life, from his humble beginning washing cars and working on Porsche engines at the age of 16 to his new line of t-shirts and clothing, which launches at the end of the year. Giedre interrupts here and there, adding valuable insights as only a woman in love can. "One thing about Arthur is he's all about rare everything. Rare shoes, rare cars, rare clothes, rare colors, rare furniture." Arthur chimes in: "Rare people!"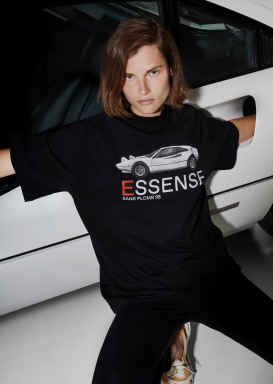 How does a 16-year-old kid get hired at Porsche?
I got the job through perseverance. I visited the owner of the garage in Paris six times in a month telling him, "I wanna work for you, I wanna work for you, I wanna work for you," until I got the job. I was at Porsche for four years, and then at age 20, I stopped because I realized I wanted to own cars. I couldn't stay working as a mechanic if I wanted to do that, so I left and decided to buy and sell cars, little by little.
You did what you had to do, and it paid off.
Well, I enjoyed being that 16-year-old guy washing the car. I still am that guy. I have just as much respect for the guy that changes the tires, the oil, that washes the car, as the guy who sells or drives the most beautiful car in the world. They're all the same people because they all have the same passion and essentially, they do the same work.
"I have just as much respect for the guy that changes the tires, the oil, that washes the car, as the guy who sells or drives the most beautiful car in the world."
What was the first car you bought?
My first car was a little City Smart car, but I found an exclusive Brabus edition which is more powerful and stylish than the regular option. It gave the car a sports package-look, but it was still a small, weird Smart car.
What was the first expensive car you bought?
A Porsche. A Turbo. A black 996 Turbo. The Porsche was on my list of dream cars, but it was more that the opportunity arose for that to be my first big car. It could have been any classic, cool car that I bought that day. I only knew that my goal was to deal the most beautiful cars in the world, so if the opportunity to buy the Golf GTI that I have today was in front of me instead of the Porsche, I would have bought that one. I kept the Porsche for two months, and then I sold it to buy another one.
So that was the beginning for you?
That was the beginning, yes. After I left Porsche I was working for a guy, not yet for myself. I tried to open up my world outside of cars to my boss so he could understand me better and understand my motivations, but he never quite got it the way I had hoped. I realized I had to go into business for myself. Cars are in my blood. It's not work for me, it's my life. But there are many aspects to it, and art, culture, and fashion play a very big part.
Is that where the name of your company, L'Art De l'Automobile, came from—your nod to the world in and around cars?
Exactly. The name refers to three things: Arthur—my name—automobiles and art. The direct translation is "The Art of Automobile." To me, cars are art, and in the way that people admire art and collaborate together, this should also be the same for cars.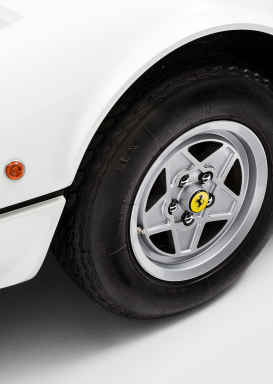 Your individual style seems very much about supporting your friends and inspiring originality. How does fashion fit into the mix for you?
Whether it's Fashion Week or not, I try to spend time at stores and the fashion studios of my friends and to find the best pieces from my favorite collections, because all of these brands bring me my culture. I've found many artists, artistic methods, and designers through time spent appreciating and understanding fashion. Fashion as a craft inspires me to want to evolve the world of cars in an expressive sense. Car culture can be creative too, like fashion.
Cars are your personal vehicle for self-expression?
Exactly, and it's why I have created my new clothing line. I'm not trying to be different or become a fashion designer, but all the things I love about cars, the colors and the logos etc., I want these things to merge. This is my way of marrying the two. I need to make the clothing line because I truly believe culture and cars can and should be combined.
"I wish Jeanneret had made seats for cars. I wish someone had thought about that before all the security and safety laws came into play."
What is your style ethos?
Everything simple and fun. It's the same ethos for my life. As much as I love cars, I don't spend all my time obsessing over them, otherwise I'd never have known who Michael Jordan is, or The Notorious B.I.G. and Nas! So I don't take too much time thinking about wearing fashion, but I might jokingly or subconsciously match my mood to my car for the day. I love when my old white Vans go with my old white car and everything feels vintage. It's also nice to wear the brand new Yeezys when you have brand new tires on your car. My favorite merch is restaurant logo t-shirts. If the food is good, and the restaurant takes their logo and puts it on a t-shirt, chances are the t-shirt is going to be good too. Everywhere I go with my girlfriend or my friends, if the food is worthy, we try to get a t-shirt of the spot.
Design plays a huge part in the way you perceive the world. Being brought up around classic and rare cars, I can understand where this zeal comes from, but you brought a Jeanneret chair to the photoshoot. How does this correlate?
I am obsessed with furniture, and French designers especially: Le Corbusier, Jeanneret, Prouvé. So when you look at the design process when constructing a car, there are artists involved, maybe kids my age or even younger, that wake up every day to make the seats in a luxury or sports car, but in my mind, I imagine Pierre Jeanneret making the seats on these beautiful cars. I put the chair next to the Ferrari 308 in jest to seem as though I am driving it in a Jeanneret seat! I wish Jeanneret had made seats for cars. I wish someone had thought about that before all the security and safety laws came into play.
Giedre Dukauskaite: His other biggest passion is driving. If you've ever been in a car with him, you'll know.
Yes! The best time I have is when I'm driving the cars. Any car. Even if they're ugly from the outside, they're still fun. And I love to go fast. I used to race cars for fun. The cops literally hate me.
Interview:

Evie Bear

Images/Photos Courtesy Of:

L'Art de l'Automobile/Joshua Woods

Model:

Giedre Dukauskaite