A.CHAL Defines "Big Sexy"
Clearing Up Contradictions with the Producer-Turned-Songwriter
Interview:

Reva Ochuba

Photography:

Christian Werner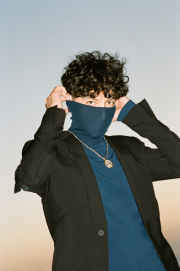 R&B singer A.CHAL embodies a certain kind of long-form approach to success—he is the idea of longevity personified. At age five his family immigrated from Peru to Queens, N.Y., and Alejandro Salazar began to make his way from school talent shows to sold-out venues. His first solo project, Ballroom Riots, was released in 2013 and he has since spent the last four years working to solidify his sound as a singer/songwriter, choosing to take not only the road less travelled, but the one with the longest route.
A.CHAL seems to possess an intrinsic motivation to share music that is more sensual and thoughtful than vapid and materialistic. He writes of emotional experiences, not items, and is aware of the messages he sends in a way many of his contemporaries are not. His confidence in going against the grain has enabled him to collaborate with A$AP Mob, and write and produce for Jennifer Lopez, among others. Laxing at a modest recording studio in North Hollywood, wearing traditional South American pants and a pair of thrifted Nike Cortez sneakers, A.CHAL is patiently assured that all luxuries will come with time. Just days after the end of his first tour, at a major arc in his career, he sat with Reva Ochuba to discuss how to slow up the glow up and just enjoy the ride.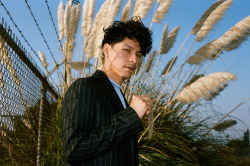 A.CHAL - Perdóname (Official Video)
youtube
You've just completed your first tour, but you only played a few lives shows before that. So, you had never really performed in front of an audience before going on tour?
My first show ever was two years ago in D.C. It was a horrible show. It was at the end of the year and it was cold. I performed "GAZI" and "Round Whippin'" and the people in the crowd just kind of left. They didn't know who I was. I think the DJ was just a fan of mine, so he was really hyped on my music and told me to come out. He gave me $1000 and a place to stay and I was like, "Fuck it."
I rehearsed in front of my mirror, but apparently it wasn't enough.
So how did you go from bombing that first show to regular touring?
YouTube University. I went on YouTube a lot. I got voice lessons and some choreography lessons here and there. I didn't perform for a year.
Were you signed to a label at that time?
Nope. I still don't have a label.
What are the pros and cons of being independent?
Long-term, you'll be way better off as an independent artist. You don't skip steps. You enjoy everything. You can stay true to your authentic, creative self. You get to grow a family, a company, and an ecosystem, as opposed to giving that away to another company who is just going to distribute those jobs to people who are not committed to your unique vision. But being independent can leave you in a weird place emotionally. Many successful artists get to a point where people are talking about them, and they struggle to live up to the lifestyle people think they are supposed to have. They want the money because they don't want to pull up to the show in their Uber Black. They want to pull up in the Ferrari. If you're independent, you have to humble yourself and let that go. If you go with the label, you'll have the bread, but not the longevity and, creatively, you may have to compromise a lot more.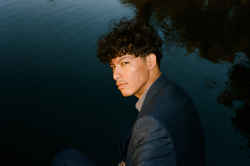 "I just want to be in the same room as Rihanna."
You know what people say, "The more you want…the more you want." Does living a humble life mean you have no interest in the high life?
A songwriter chooses the message they want to put out. I can't say I don't indulge in those "high life" moments, but I happen to think there's much more to talk about. I see these kids out here fucking slaving themselves just to be a cog in the machine. I was born in Peru and lived there until I was five. We spent a lot of time in nature, so that environment gives clearer perspective and brings me back to who I was before all this really started. I try to spend more time doing stuff like that than going to clubs in the Hollywood Hills.
Does your sense of style tie-in to this notion of authenticity?
Back in the day my dad dressed the way I do now. He wore bell bottoms and boots or high-top sneakers with short soccer pants, a nice button-up, and glasses. I take a lot of that, as far as the Spanish side, and then New York—I feel like you just have to be well-dressed. You don't have to wear expensive clothing, but your style has to match your swag, your confidence, your personality. You have to be bold. I feel like in L.A., it isn't really about the clothes, it's more about the lifestyle. People are dressing the same way whether they're gangsters, cholos, whatever. They've always dressed that way and they still dress that way.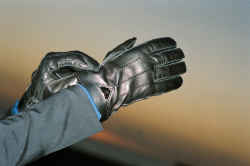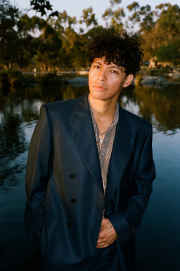 What about your affinity for the Nike Cortez?
I'm just into classics. I only buy white classic sneakers. That's the best color you can wear on your feet. I like keeping it clean on the bottom, sophisticated up top, and kind of rough in the middle, with ripped jeans or leather pants.
Transitioning from Ballroom Riots to ON GAZ, what were some major lessons you learned?
Ballroom Riots was completed with the goal of acquiring a publishing deal. At the time, I was more into producing, but I couldn't find anyone to be on the beats so I did the vocals myself. From this, I developed a curiosity for writing that took precedence over producing. I saw the value in songwriting, the voice and how it makes people feel, and I started focusing more on developing my skill set in that aspect.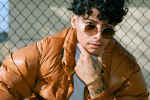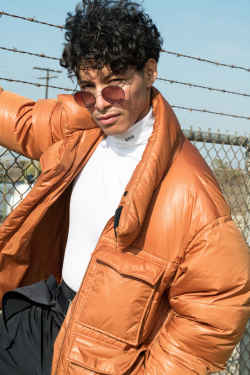 "I'm trying to maneuver within this world of illusions."

Let's talk about the song "Matrix." What do the red and blue pills represent?
You saw that movie? Do you remember how my verse goes? It's referencing the point I'm at in my career. I'm trying to maneuver within this world of illusions. They will try to tell you what you need to be, but it's not true for the most part. So, when I say the red or blue pill, it's like, "Do you want the illusion or do you want the reality of it?" The reality isn't as pretty, but it's true.
What drives you to turn these experiences into melodies?
It's kind of like having sex. It could start with a conversation, it could start with a kiss, it could start with a phone call, but once that spark hits you just follow it. Sometimes I note down key words in my phone for later, other times something just happens and I'm like, "Damn, I'm having all these emotions right now. It's going to go to waste." I get over shit in a night, so I'll try to get in the studio as soon as possible to find a sound that matches those feelings, or I'll get on the piano and talk myself into a song. Melodies are universal. The difficulty is in making sure it's honest. Just because it sounds good doesn't mean it's what I was trying to say.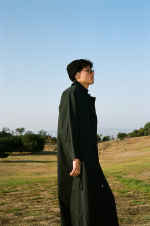 In a previous interview you said you hardly ever write anything down, but in others you say you're constantly writing.
I don't write when I'm recording in the booth unless I'm really high and can't remember the words as I'm singing. I do write keywords or phrases throughout the day. When I'm in the studio I'll go through them like, "Okay, this word triggers that memory."
It has also been said that you prefer not to be labelled as a Latino artist, despite being really proud of your culture and heritage.
I'm an artist—the Latin side just happens to be there. I speak Spanish in my music, not because I'm trying to milk the Spanish shit, but because that's just how I speak. I'm Latin, my platform is growing, and many of my fans look just like my cousins. I'd be a whack if I didn't own that, but that shouldn't be a defining factor in what I do.
In another interview, you said that you wouldn't want to collaborate with artists that you love, but you also want to collaborate with artists that everyone loves, like Rihanna.
I just want to be in the same room as Rihanna. A lot of the artists that have had a real impact on me are a lot older or dead, so I don't know that I could make a song with them. I say no to a lot of collaborations because I'm still building my own sound. I'm very private when it comes to my creative process.
You describe your music as "Big Sexy." What does that mean to you?
Personally, everything I do has to be somewhat sexy. But sexy doesn't necessarily mean sexual, it just means it's for the women. Women want to feel things, women like to dance, women like to feel confident within themselves. I try to bring that atmosphere even if my song is for dudes. "To The Light" doesn't talk about women at all, it talks about removing the influence of money, but it is still sexy. Right now, people like to rage, to turn up, but I like keeping it sexy. It's more fun at the end of the day.
Reva Ochuba is a freelance writer whose work has appeared in Novembre, 032c, and more. She is also the director and designer of contemporary fashion label, Ifeoma.
Interview:

Reva Ochuba

Photography:

Christian Werner

Styling:

Richie Davis

Production:

Rebecca Hearn