Escape from L.A. With Amalia Ulman
The Multidisciplinary Artist On Privilege, Performance, And Her Sidekick Pigeon, Bob
Interview:

Fiona Duncan

Photography:

Ilia Ovechkin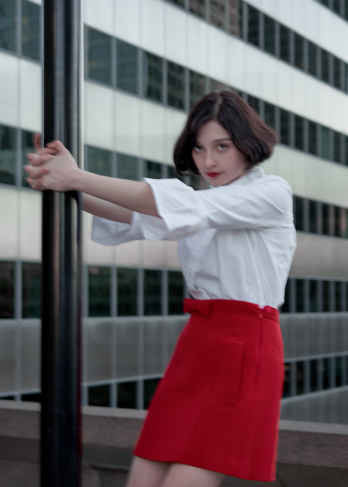 Amalia Ulman's performances are like spin-offs or alternate realities. Saturating her own now-29-year-old life, her pieces are durational, character-driven, queasy-ing mirrors, which, installed across multiple platforms, from social media and fashion magazines to galleries and universities, reform the currents she creates in.
Ulman's first performance, "Excellences & Perfections" (2014), was a wizardly gag on feminine consumerism and selfhood. For four months, she played various young-girl archetypes on her Instagram, convincing many followers, including myself, that she'd quit trying to be "a serious artist" and gone the ready-made route. That is, to use one's young, thin, white-passing femme form to rapidly access precarious power, money, and attention via designer clothes, makeup, plastic surgery, bad boy flames, sugar daddies, yoga, and the wellness industry. In the end, Ulman announced the performance, like gender, as make-believe, and soon after, erected a solo sculpture show in Manhattan of war and rehabilitative vehicles, beautifully considered objects she'd been crafting while the Internet was obsessing over her boobs.
This fashion editorial—conceived, executed, and starring Amalia exclusively for SSENSE—is an echo of her last performance "Privilege," the heart of which lasted almost two years (2015-16), while Ulman leased an office in Downtown L.A. and lived with a pet pigeon named Bob.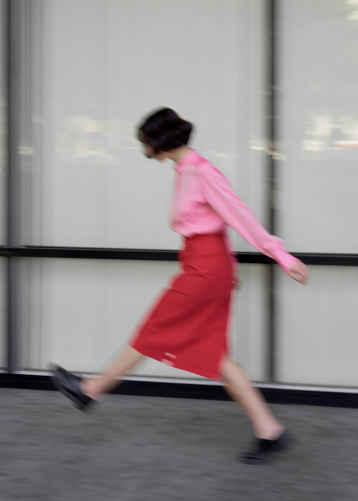 You mentioned that you've had the concept for this shoot for a while.
Yes. I'd seen this Comme des Garçons campaign with a bunch of nuns. I liked the motion, and how it's more about the silhouette than the details of the clothing. I've also been looking at a lot of photos of short hair, 90s vixen, like Shalom Harlow—the stride and the blurriness. I really wanted to make photos like that, because the character I developed for my Privilege performance, even though her clothes are more modern, cheap, office wear, by the end, there was a specific silhouette: midi skirt, big shoes, white blouse. Parts Olive Oyl from Cheap and Chic, Moschino, elegant Prada, or even minimalist Jil Sander and Calvin Klein. Plus something a little more, kind of cartoony.
This blurry fashion photo trope is usually set in cityscapes, right?
I think it's this idea of stillness and the world going very fast. I grew up watching this late 90s perfume ad for Cacharel's Noa, where a girl, who looks like a saint or something, walks through the streets of New York. It's super busy and gloomy, she's in slow motion while everyone else is a blur. I also think I'm attracted to this illusion of movement because of my own disability [after suffering a major bus accident in 2013, Ulman has been left with crippled legs and chronic pain]. After working on this shoot I ended up bedridden for two days. It is only the images that stay. Maybe that's the reason I work with fiction after all, to escape all bodily limitations.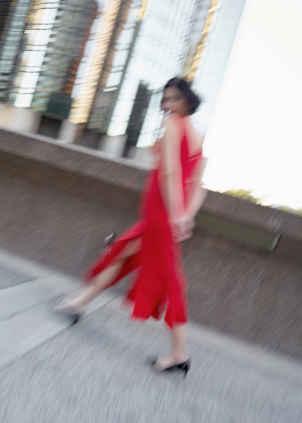 Where did you take these photos?
We shot in a location where I've taken many photos for my last performance, "Privilege." It's one of my favorite parts of L.A., by the YMCA Downtown, where there's a sculpture of three dancing women.
For people who don't know Downtown L.A., could you describe it? Driving by, it always reminds me of Mike Kelley's "Kandors," an island of a city. Then, when you're on the ground, it can feel really empty, which is interesting to shoot in.
The area I was in was supposed to be this big business sector, with many office buildings, which some say it was meant to host a Silicon Valley that never happened. Now it's smaller firms, accountants, lawyers. It's still very empty. I'm talking about 20 percent occupation in some buildings. Rent was cheap.
Downtown L.A. has a history of failure, which I really enjoy, like in Bunker Hill. That neighborhood went from Victorian luxury homes to drug dens in a few decades. L.A. also has this history of trying to replicate something that's happening in Europe or in New York, which doesn't work. You have to go see Wall Street, which is right next to Skid Row. And there's a World Trade Center. It smells of piss, it's totally empty, and it's beautiful inside. It's one of the most beautiful buildings.
I wonder if all these seemingly vacant spaces in Downtown L.A. have been able to maintain because of the film industry. It's backdrop to so many movies, like Blade, Blade Runner, and In the Line of Fire—that's got the Bonaventure Hotel, which is also in the background of some of these photographs.
Every Sunday they shut the streets to film ads in Downtown L.A. Every Sunday. So many ads.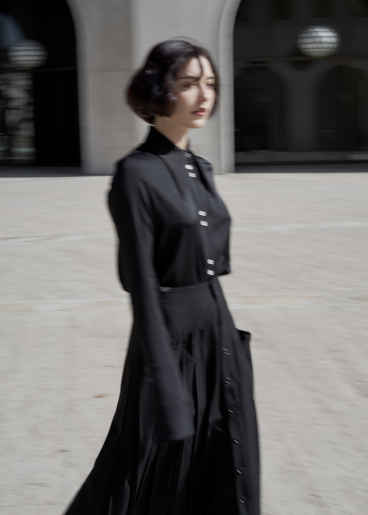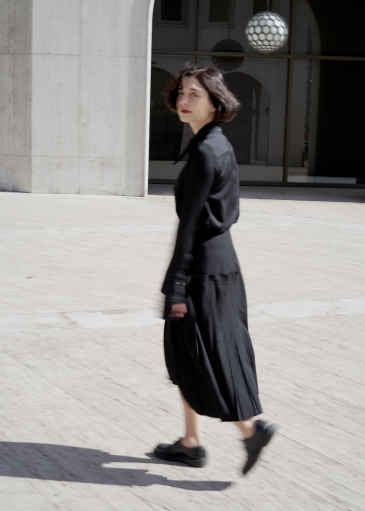 "Maybe that's the reason I work with fiction after all, to escape all bodily limitations."
Do you consider this editorial as an offshoot of your performance "Privilege"?
What do you mean offshoot?
Like if your performance is a complex plant, a tree or bush, there's the roots, which is maybe your background, behind-the-scenes, then there's what grows to be shown: a trunk, branches, and leaves. Projects like this could be a little sprout, an offshoot?
Yeah, totally. The roots would be the photographs and videos posted online. Then the bigger leaves would the exhibitions, like "Labour Dance" at Arcadia Missa in London or "Intolerance" at BARRO gallery in Buenos Aires. A flower could be the live performance "NEW WORLD 1717" I did at Rockbund Art Museum in Shanghai. Some of the branches would be the lecture "AGENDA" that I toured universities and college with, and this—all these photoshoots and interviews for magazines that were done in character—would be covered in thorns, nodes, and scars.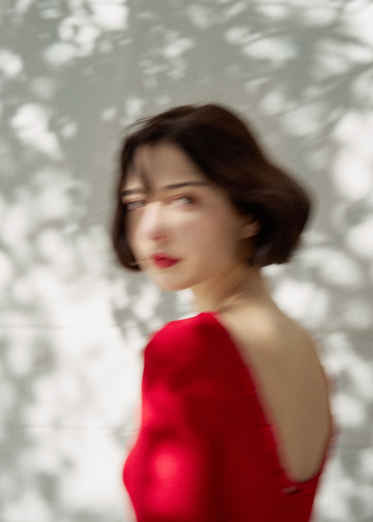 Could you describe the world of "Privilege"? One of its icons is this clothing silhouette we described early. What else was the performance composed of?
"Privilege" was a durational performance and good exercise in branding. It needed to be something that could be easily differentiated from "Excellences & Perfections." So I worked with a very specific color palette: black, white, red, and sometimes navy blue, but very specific tones. Office tones. The red made reference to The Economist. There were New Yorker style cartoons, copies of Vines that were very popular at the time but set in my world of office culture. Clouds. Clocks. Red curtain backdrops. I was working with repetition, propaganda. There were these photoshopped illness illustrations of me like those that come up when you Google your symptoms. There was pregnancy, which tied to the idea of self-replication and social media. And there was Bob, the pigeon.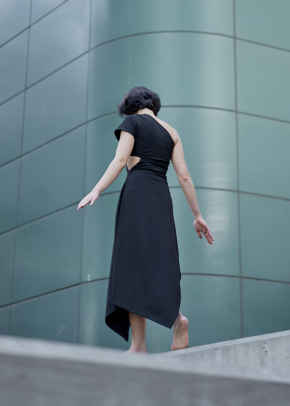 Bob was a real pigeon I adopted and lived with for two years. He was initially going to be an animatronic, a mere sidekick, but then I got a real bird. And the way you can fall in love with an animal and develop a friendship—it took me by surprise and changed the whole performance. It influenced it so much that right now I'm working on a movie about him only, narrated from his own perspective, for The Armory Show in New York.
Right, he became a star. He's got his own book, movie, and a pin-up calendar now. How would you describe the character of Bob?
This performance was balancing my previous work. Instead of an ambiguous make-believe it was intentionally and overtly fictional. I was looking at cartoons, silent cinema and the circus. So, I needed a buddy. Bob was a sidekick to my character of the office worker. My first idea was a rat, because rats are urban and easy to cute-ify. They have these little arms you can do things with. But I'm always trying to work things that are difficult, or too bland to be seen, and pigeons were that. No one likes pigeons. Boring. Dumb. Not cute. So, I went with the pigeon.
Rats have this specific protest connotation too. Like the Union Rat.
Yeah. People have disdain for, or no thoughts on, pigeons, so to bring him to life, to give him a voice, and make him adorable and interesting. But to show something in a different light—that's been a part of my work for years. Bob's character had a lot to do with this idea of the underdog, which was big when I was doing the performance, during the American election.
A lot of the tropes you were playing with in "Privilege" I associated with North American visions of adultness.
Exactly. As I was a kid, I was attracted to adult things because my parents were very youthful, even fetishizing youth culture, like bands, comics, skateboards—I had hipster parents. I fetishized being an adult in a way that was very unnatural. I think because I lacked rules growing up, I fetishized rules and became very much into S&M and Catholic discipline, self-harming and saints. So this nine-to-five, tidy desk thing, I fetishize.
I have this theory that lot of Internet content is the result of office culture, where people are reading when they should be working, jumping between tabs, or on their breaks, the content has to be fast, easy, non-immersive, like lists and jokes, a meme you can send around the office, laughs to break up your mundane day.
A lot of people who I've met who have these kinds of office jobs, they always say the same thing: "I could do the job in two hours, instead of all the hours you're supervised, sitting there." I've recently gone back to my roots of working from my bedroom, which is a very feminine way of working, not really considered as "successful." In the art world, success looks like a showroom and studio with ten people working for you. I was on the path to do that because that's what all my male counterparts were doing. But that's not how I work. I'm disabled and sometimes work from my bed. I like taking breaks to cook, and to do little things, like a sew a skirt or play with my cat Holga. That's how I grew up. I grew up doing everything in the kitchen of a small apartment where my mom and I lived. Working from home is what makes me happy and comfortable. I'm much more productive.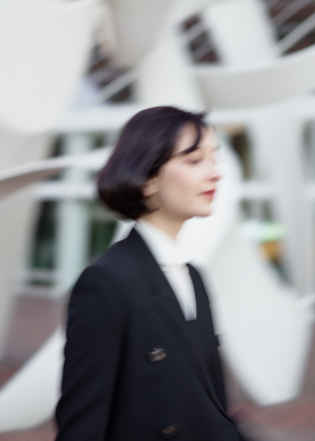 I'm interested in your working with fashion magazines and brands, like your Gucci endorsement, and how that relates to a feminine audience that maybe you're invested in or want to communicate with.
I've always been happy to talk to more mainstream media because that was my access to art when I was a kid. My art education came from a lot of name dropping in mass media and radio shows. I remember being 10 and listening to a whole radio show about Waiting for Godot. That was life changing, because from Beckett, I started branching out to many other things, and that was all from one public radio program. Working with fashion, you get to reach certain people that don't have access to the art world. I feel like in Europe, it's a huge no-no, like, Oh, no brands, you're mixing money with art, bad. But you go to China, and it's like, Oh my god, amazing! You're a legitimate artist. Like everything, it depends on who is looking, where, how, and when.
When I started working on "Privilege," I had to go to Houston and a worker at the hotel recognized me and said, "I really like what you do, it's amazing, I read about it in some magazine." That was awesome, it made me so happy. Why not reach everybody? Why not try and connect to people who have no other roots or points of connection to the art world? Why not some provincial teenager in the middle of nowhere like me? You mention one thing, or recommend one single movie, and for them, again, it's like a seed, a tree, it just starts opening up…
Fiona Duncan is a writer, bookseller, and organizer. She's the organizing host of Hard to Read, a lit series, and Pillow Talk, community organizing on sex, love, and communication, both held at the Standard Hotels in Los Angeles. She also stocks the books at Eckhaus Latta's retail shop.
Interview:

Fiona Duncan

Photography:

Ilia Ovechkin

Photography Assistant:

Kaiho Yu