Turnstile Is the Real Thing
Bandmates Brendan Yates and Franz Lyons Talk Hardcore and Transcending 'Time & Space'
Interview:

Meredith Graves

Photography:

Alexis Gross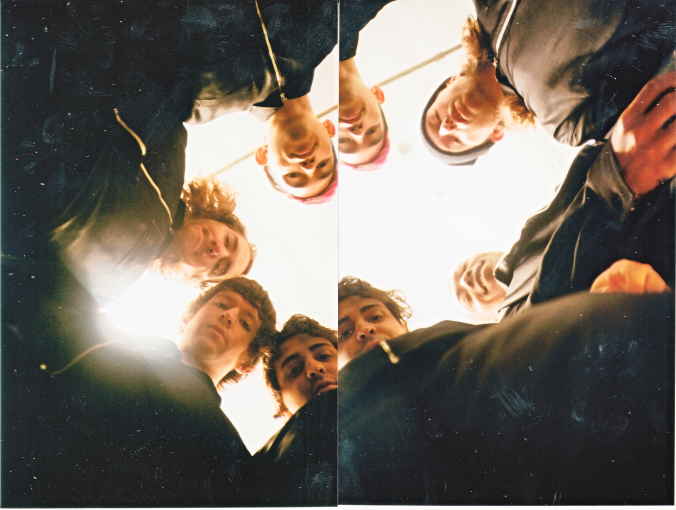 The cinema where Turnstile shot their video for "Moon" screened its last picture in the 1980s. "It was abandoned, there were nails everywhere, and it was kind of sketchy," according to singer Brendan Yates. "But it was super cool to be in, super high ceilings. We wanted to paint a picture." So the band tapped their friend Paula, who designed some future-nostalgic costumes to counteract the antique formality of the venue's late-1800s architecture.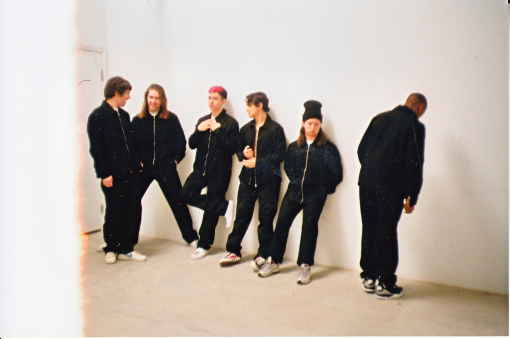 Convoluted as this now sounds, I wondered if the video for "Moon" was a visual interpretation of the ideas explored in Time & Space, Turnstile's second full-length album (out now on Roadrunner Records). I was pleased to find out I'm both nowhere near right and not entirely wrong. The video was shot in collapsed time–all done in one day, which Franz regards with an unreserved air of the miraculous. But with Turnstile, as often happens with hardcore and punk, magic really happens at the intersection of generation and location.
"I was completely distracted by that whole day because it was the first time in all our years that my dad had met Brendan's dad, and that was just something to be marveled at the whole time, anyways," says Franz.
And how did they get along?
"They pretty much met and were immediately joking on me and Franz," says Brendan. "It was like looking at me and Franz 50 years from now. Surreal and weird."
So, yes, that's Franz's dad at the very end of "Moon," and he looks wonderful.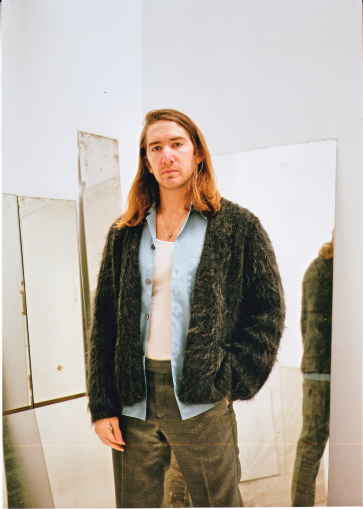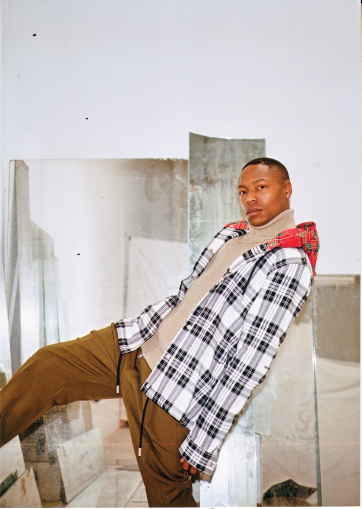 Time and space are emotionally onomatopoeic. Their definitions as vast and unending. They are most effective when used around people who've already spent a lot of time ironing out their nuances, accompanied by a vague gesture of, well, you know what I mean. The same could be said of hardcore and punk—small gestures but big ideas laid out for those already in the know.
In the interest of sticking to an extended metaphor, the same open-endedness exists around Turnstile. Labeling their sound as classic hardcore - punk - rap - soul - thrash – psychedelic (et cetera and ever-onward into the abyss) says less about the band than it does about the listener. Call them whatever you need to call them, so long as you feel safe and have a good time.
"We try to always be diverse with the kinds of things that we do," Brendan says when asked how he thinks the band could potentially be affected by the publicity around Time & Space. Exposure can be kind of weird, and reviews can create wormholes for bands that come from DIY scenes, but Turnstile is just happy to have an audience, whoever they are.
"With the bands we play with, the kinds of shows we play, the size of shows we play, the kind of environments we put ourselves in. It's just a natural and cool thing to be able to have whoever wants to listen be able to listen to the music and the world that we're in a little bit."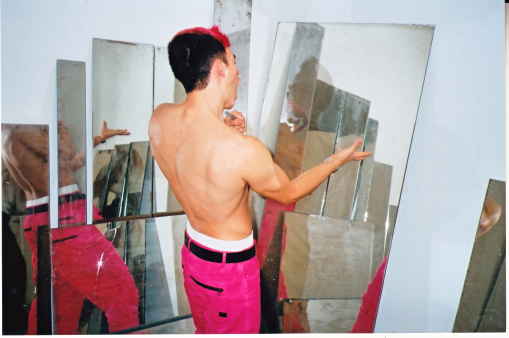 This welcoming attitude, painfully rare in hardcore, comes as a result of their upbringing in scenes and cities that were equal parts supportive and diverse, with four-fifths of the band hailing from the Baltimore area, "except Franz, who is from Ohio." (I'm reminded of this fact so many times that after a point it becomes hilarious—the band's own biographical refrain.
"The rest of are pretty much between Baltimore and DC. I think going to shows growing up for us–except for Franz, because he was in Ohio—it's kind of like bouncing back and forth between those two cities. It depends on where the venues are [that allow] hardcore shows, and where people are starting new bands, and stuff like that. Cool, interesting bands like Give, and Big Mouth, and Post Pink, Next Step Up and Stout, just seeing them. Trapped Under Ice, for example— "
For context, Trapped Under Ice are sort of the prodigal sons of Baltimore hardcore, and certifiably hard dudes on record—the kind of band people take real seriously. Their friendship and support in the early days led to Brendan eventually joining them on drums (including on last year's Heatwave, the band's first release since their reunion in 2015).
"I met all of them when I was a lot younger, before Trapped Under Ice was a band. They were older than me and they would kind of look out for us," Brendan explains. "The diversity, and acceptance, too, I feel, are why Turnstile is even a band, or why I'm even involved in music. Because there were people that were open to introducing themselves to me, to hang out with me outside of a show, or want to jam together. And I think that's the coolest thing—that opened a whole door to pretty much everything that I do with my life now."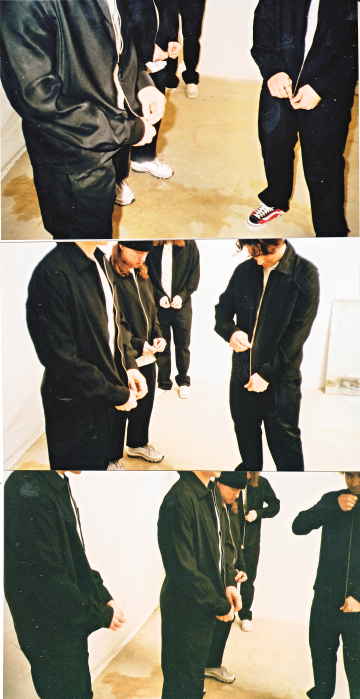 Growth and change are scary words whether you're a band or a birthmark. People can get weird and fidgety in between records and before you know it, you've gone alt-country. Time & Space as a record doesn't sound like something that has changed so much as it sounds more Turnstiley than ever. "The faster songs are faster. The slower songs are slower. We have probably the slowest song we've ever done on this record. And there's more melody. Everyone has kind of just expanded; building upon everything."
Franz agrees with that and then, tellingly, expands on it.
"Another contributing factor to the progression of our band is, to be honest, attention to detail. Brendan won't say it but this man is an evil genius," he says. "He is always thinking two steps ahead of what he wants to do, whether he knows it or not. Attention to what we're playing, how we're playing it, how this strum goes. Attention to detail all the way down to what cables you us."
Regarding music in this way, as an active practice requiring focus and attention, also permeates the relationship between Turnstile and their audience. Rather than waste time fretting about how people might hypothetically react to the new record, the band focuses on doing what they can to ensure people will love it live. It all seems to come from a base of great empathy: they write songs in a natural way, composing things that feel good to play live at a hundred-plus-percent intensity, knowing that what feels and sounds good to them will translate to their audience.
"It's tough to say how I think somebody would react to the songs," Franz starts, "but one thing I do know, concrete, more than anything else, is that when I plug my guitar in, although I might be scared, it's the most sure I am of myself at any point in the entire day. And I know that all six of us are going to go out there, and we are going to plug our instruments in, and give everything we have to give. Whether they've seen us a million times or not, or whether they're hearing new songs or not, I hope that the feeling of us giving 120 percent of what we have to play, will be received."
"To be honest with you, man"—and Franz is nothing if not honest—"I'm just excited to be with five of my favorite people and experience all kinds of new stuff. Playing new songs, getting better at my craft. I don't know, man. I freak out about it. It's a mix between nervous, and excited, and confident, because I believe in every single person that I stand next to. I just want to improve, I just want to make strides in self-improvement, all of us, together. That's what I'm looking forward to, mostly. It's important to pump up the homies. You can't ride good if your friends don't feel good about themselves. We're all we got."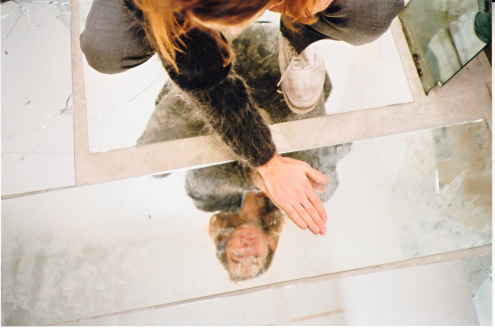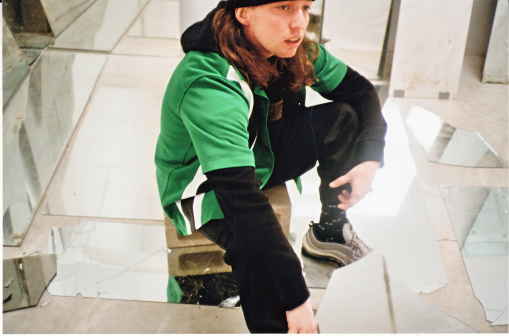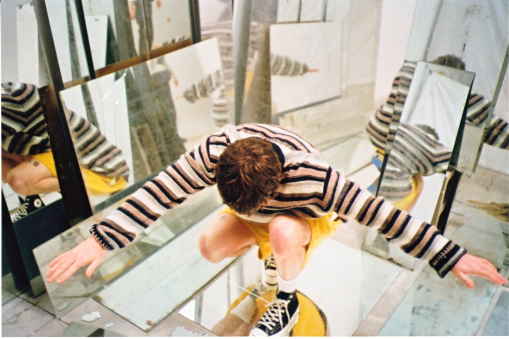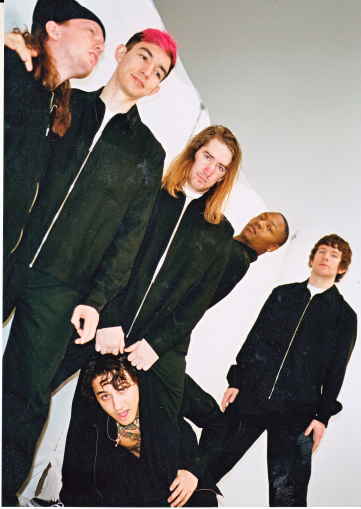 Meredith Graves is a musician and journalist from upstate New York. She is the current host of MTV News and the former singer of Perfect Pussy.
Interview:

Meredith Graves

Photography:

Alexis Gross

Styling:

Amanda Merten

Set Design:

Rose Johansen

Video:

Rose Johansen

Illustration:

Collin Fletcher

Production Assistant:

Story Beeson