Actress Bria Vinaite's Technicolor Dreamscape
The Florida Project Star Meditates on the Past Year and Looks Towards the Future
Text:

Durga Chew-Bose

Photography:

Tiffany Dawn Nicholson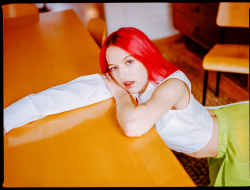 At a photoshoot in March, in a brownstone in Brooklyn, actress Bria Vinaite is penguin walking in kitten heels, looking somewhat hesitant between photos. "I wouldn't be caught dead in [these]," she says, pulling back her curtain of red, Ariel-hair to better gauge the styled, black mules on her feet. Vinaite's body language confirms how the wrong shoe can make a woman look restless. Not like herself. As though Vinaite's limber and playful, Pilates-strong posture—she takes a class every morning, schedule permitting—is wasted on a modest, one inch heel.
Still, while the shoes aren't her style, the 24-year-old Instagram-scouted co-star of Sean Baker's critically acclaimed The Florida Project, is here to work. Smile, smize, pose and perform Marilyn pout-ennui for the camera. Arching her brows while curling her lips, or holding her stare only to break into a ripple of squinty giggles, Vinaite is now, after more than a year of extreme press and spotlight—film festivals, red carpets, a Vogue short, fashion shoots, a rumored role in Harmony Korine's next project opposite Zac Efron, awards buzz, Donatella selfies, Drake-gossip and a Drake video cameo—well-practiced, candid, and focused when it comes to the dynamics of turning it on in order to keep it moving. She's developed a quick, keen instinct for what she likes and what she doesn't—what works and what doesn't.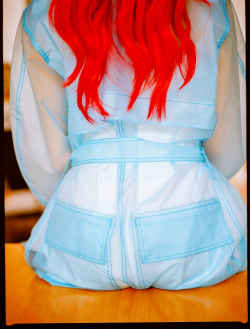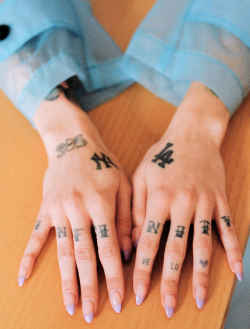 Later in the day, Vinaite is styled in a pair of over-the-knee, highlighter-pink Giuseppe Zanotti boots. She's thrilled. The shoe fits, beyond size, height, color—it feels like an extension of Vinaite. Her chill, stoner luminosity buoyed by the convincing appeal of someone who's a little time-blind, unrushed but determined, who airily says things like, "I'm still in October in my head," or "This girl on Instagram just invited me to prom, and I've never been, so I might just go." She often muses out loud as if performing her interior monologue. Holding a cup of scalding hot water to keep her fingers warm during the shoot, Vinaite says, "Imagine I dunked [this] on my head? After so many pictures, my head goes left."
Born in Lithuania and raised in Brooklyn, Vinaite's voice—crinkly, purring, and thickly New York—expands and contracts, and is impossible to unhear. The days following our conversation, where we talked mostly during hair and make-up—Vinaite wearing bright pink velour sweatpants, neon yellow socks, and a blue Calvin Klein turtleneck, vaping and occasionally writing in her notepad—I found myself remembering her voice, vividly, as if she were talking on her phone in the next room. It stays with you. It's yawn-like. Her inflection isn't so much bored, but elsewhere, tenderly observational, and uniquely hers, like a Sofia Coppola heroine. It's custom-Vinaite. She describes her newly painted living room walls as "Adderall-orange" and punctuates many of her recollections from the last year, like Florida's 10-minute standing ovation at Cannes, as "so nuts."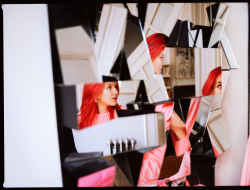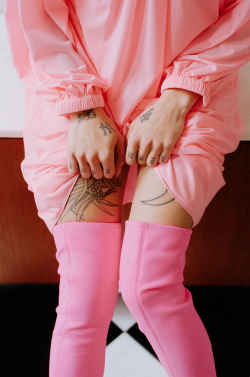 Pointing to the comforts of sharing an apartment with her best friend in Bed-Stuy, and how nice it feels to return after long stretches of travel, Vinaite, who's been cooking more—vegetables, stir-fry—lists the small luxuries of coming home to, for instance, the lights turned on, a dish in the sink, her plant, Roger, watered and healthy. She describes her homemaking style as compulsive, recounting how impossible it is to keep spotless her three-tiered glass coffee table from West Elm. It was the first piece of furniture Vinaite bought when she moved into her new place. "My dumbass totally didn't think it through because I have to fucking clean it every day if I want it to look cute," she says. "And I'm not trying to put in that time and effort. Every. Day. I have to take everything off, wipe it down, three layers, and put it allllll back."
Asserting the rare interview boundary, Vinaite's voice sometimes drops to a steadier register—"I won't talk about family anymore because people take things and twist them"—but peaks, and speeds up when recounting her recent trip to Milan for the Gucci show. "I went to sit down and one seat away from me was Donatella Versace, and I was like, did someone mess up the seating arrangement? Like what the fuck. It was such a crazy moment for me. I got three selfies with her. She's so nice. So sweet. I said, 'Hi,' and told her that she was iconic, and that I was a big fan. And she said, 'What's your name?' And I said, 'Bria,' and she was like, 'So lovely to meet you.'" Vinaite then pulls out her phone. "I gotta show you these pictures, you're gonna die. No one could believe it. Homegirl took a selfie with me. And everyone was like, Donatella doesn't take selfies like that." Vinaite scrolls through her camera roll, "Look at how happy I am?! And then I got to meet Alessandro [Michele] that day. And then that night I went to a rave with Jeremy Scott and I was like, 'Who am I? I don't know anymore, honestly.'"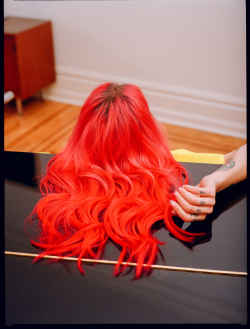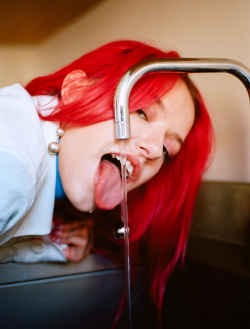 Considering the rapid, and as Vinaite puts it, nearly unimaginable life changes taking place, I ask her how her day-to-day has been impacted in relation to trust, friendships, and following her instincts. "I'm a cautious person in general but there are definitely lessons that I've learned," she says between puffs of her vape. "You never know people's intentions with you. No matter who it is or how excited you might be. Even with men, at this point in my life, I wouldn't even consider giving any man any time of day. I'm just so focused. People get worried about the wrong things but I don't wanna waste any time on anything that's not beneficial to me or my future. And I feel like anybody who's around me really understands and appreciates that." Vinaite pauses. "Because there are people that are like, 'Oh my god, you don't have time to hang out anymore,' and I'm like, 'Clearly you don't get it. Clearly you're not on the same page.' I notice these things. Instead of being hype for me, some people are salty."
Vinaite, who finds it hard to take more than two days off—"I get anxious…I want to be working all the time"—is writing a book with her best friend, and mentions, too, that she's interested in television, not just acting, but creating a show of her own inspired by her life. "Eventually," she clarifies, "when I'm older, like my mid-thirties," adding that she's still wrestling with a degree of disbelief and more broadly, in terms of her acting career, a feeling she's recently identified as imposter syndrome. "It's not even a question of self-confidence because I know when I've done a good job, but like, there are so many people in debt for going to acting school and I just got this chance. The reason I don't feel guilty is, I'm doing the work. It's so crazy how these things happen, how I can make a career out of something I never even thought of before. And I'm the sort of person who, if I do something, I need to know that I'm going to be able to get to the top. And acting is something that if you don't have access to…C'mon! It just looks so ridiculous to say, 'I'm gonna be an actress.' When people ask me what I do, I still feel uncomfortable saying that I act. I wonder how many projects it's gonna take before I actually say it and feel like I mean it."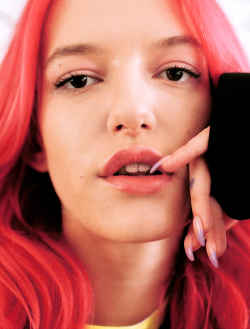 Next up, Vinaite is working on a movie called Adultland, and following that project, a film written by Taylor Laughlin and directed by Rachel Palumbo—her debut feature—titled, Violent Delights, starring Jack Kilmer. The story is based on the events surrounding the November 2015 terrorist attacks in Paris, and follows a group of musicians and art students who find themselves caught in the crossfire. "My role was initially meant for a dude," Vinaite tells me; a detail that excites her. Recently, she's enjoyed—though it's rare—photo shoots where the crew and talent have all been women. Vinaite notes and appreciates the difference. "There's a lot that men excel at. There's a lot that we excel at more. And you know what, get the fuck outta here, we have better ideas anyways!"
And there it is. Her voice. Rising, dynamic. Gauzy but doubtless. While The Florida Project was Vinaite's first role, her plucked-from-obscurity narrative seems tired or overemphasized. Seeing as fame's spectrum of celebrity is no longer tied to Hollywood, alone, but social media, and has been for years, Vinaite wasn't merely discovered. She's self-made. Magnetic. Entrepreneurial. Even her role in Florida, as Halley, the well-meaning reckless mother, shines through despite often appearing out of frame. By virtue of centering the children—thematically but also literally on the screen—it's Vinaite's torso, more than her face that's visible to the audience. The sag of her faded, aqua backpack and the white fray of her jean shorts. The crescent moon tattooed on her upper thigh, her inked knuckles, and Yankees logo on her right hand. A pack of Marlboro Menthols wedged into her front pocket. And of course, Vinaite's voice—off screen—distinguishable, both teenaged and life-worn, and somehow dulled, remote. Fizzy. Convincing. She could sell you anything. Compete for anything. But for now, as Vinaite tells me, she's only competing with herself. "It's more of a mental thing. I just wanna be the best I can be. This opportunity is a once in a lifetime thing."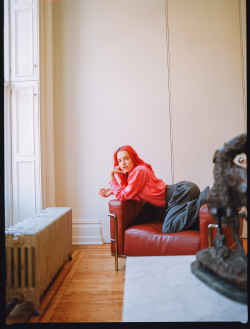 Durga Chew-Bose is a Senior Editor at SSENSE.
Text:

Durga Chew-Bose

Photography:

Tiffany Dawn Nicholson

Styling:

Haley Loewethal

Hair:

John Rudiant

Makeup:

Tracy Alfajora