The Internet Was Born Here
The Westreich and Wagner Collection at New York's Whitney Museum
Text:

Kevin Pires

Images/Photos Courtesy Of:

The Whitney Museum of American Art

The SSENSE #90sReport is a look at the decade that has become this moment's aesthetic power source.


The exhibit "Collected by Thea Westreich Wagner and Ethan Wagner"—a recent donation to the Whitney from collectors Thea Westreich Wagner and Ethan Wagner—features works from this time of cultural upheaval and transition. One of the reasons the show is worth seeing is that the couple exhibited a particularly powerful prescience, buying works from relative unknowns like Jeff Koons and Christopher Wool that would in time become record-breaking market successes. The Wagners have been careful to note their works were amassed in contrast to the speculative nature that contemporary collecting has taken on, where art is tantamount to colorful avatars for cash. Either way, both the Wagners and the artists they collect have become institutions beyond themselves.
In the 1980s, Koons and Richard Prince, picking up where Warhol left off, began creating work that subverted and recast the familiar language of advertising. In the Wagner exhibit, an early Koons, Come Through with Taste–Myer's Dark Rum–Quote Newsweek (1986), one of several alcohol ads that he appropriated for his "Luxury and Degradation" series, juxtaposes a rum ad with mention of Newsweek Magazine. Down the wall, one of Prince's cowboys stakes a similar claim to Koons: in poking, prodding, tearing apart, and reconstituting the familiar, we access the new.
10 years later, the Bernadette Corporation, a New York and Paris-based art collective, produced a receptive retort to this comment on the steady deluge of images we're confronted with. The group of cultural provocateurs emerged in the mid 90s as the worlds of art and fashion sped towards each other. Their Creation of a False Feeling (2002) is a visual puzzle rendered in glossy imagery borrowed from the fashion world. This visual language is an anticipation of social media, of Instagram's encouragement that we scrub our reality with crops and filters.
Another work from the exhibition, Steven Parrino's Untitled (1997), seems like it could easily be on a Vetements inspiration board. The folded, sagging canvas appears to lurch, a crumpled mass of black enamel with the slickness of fetish leather shifting violently on its frame. Parrino's meticulous deconstruction finds its match in Demna Gvasalia's torn apart and pieced together dresses, jackets, and jeans.
This renewed interest in the 90s is due to more than just youthful nostalgia. Now, like then, we seek to reinvent using known parts. In examining the things we know, we often learn something new. However, the results may not always be pretty. As I stood in front of Parrino's Untitled, two older women slowed but never came to a complete stop. "I don't like that," one uttered. Deconstruction feels right partly because it feels familiar. And because we were alive but unaware of the 90s the first time around, this is finally our chance to stake that claim.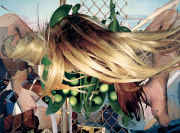 Text:

Kevin Pires

Images/Photos Courtesy Of:

The Whitney Museum of American Art