Size 16 Sneaker Drops with Diana Rojas
The Ceramicist on What Clay Has to Say About Hype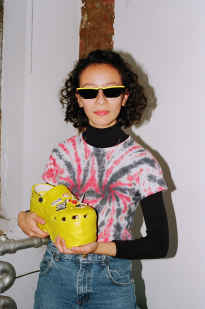 What do you do with a shoe you can't walk in?
"Nobody's ever asked me that," laughs artist Diana Rojas in her Bed-Stuy studio, "but my answer would be: pretend to wear it." Her response is suiting to her approach to ceramics, the medium for which she is known—a big part of being self-taught, she tells me, is being adaptable. While you might not immediately recognize her face, Diana's creations are unmistakable—the Margiela Tabi, Prada Cloudbusts, adidas Stan Smith (her version worn by the man himself!), Balenciaga's Triple S. Her work appears all over Instagram—Petra Collins is an active collector and fan—with publications like The Cut and Office Magazine commissioning her to create specific styles. Diana's bubblegum pink Balenciaga croc appears on the cover of the latter's eighth issue.
In the studio she shares with her twin, Mars, there's a canary yellow version of the croc—she turns it over to show me how she creates all of her shoes, stacking coils upon coils of clay, smoothing and sculpting as she goes. Must-have, hollow shoes. You could say that Diana is a hype potter, investigating the fetishization of mass-produced, luxury goods by recreating them out of clay. Unlike their luxury counterparts though, Diana's temporal pieces are made all the more interesting by their subtle flaws—bolstered by the discrepancies in design that betray a human touch. Her practice begs the question: how does a traditional medium, one literally and historically weighted, intersect with an industry as fleeting (and oftentimes as vapid) as fashion?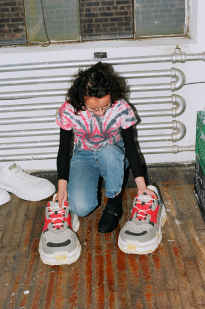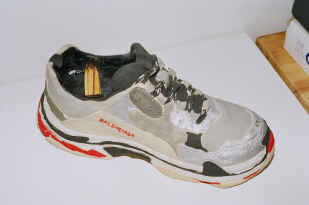 What's your criteria for choosing a shoe to recreate?
I'm really drawn to the Balenciaga Triple S because of how clunky it is, we hadn't really seen a shoe that was that clunky for a while. I remember kids in high school would wear Etnies, so maybe it taps into memories I have. For me, it's always a different way of building it, like how do I make it? In terms of sculpting, how do I get it to look similar? It's always a challenge. With heels, I have a really hard time making them because the heel part is so delicate, and the top is heavy.
It's interesting how that mirrors ease of wear, too.
Yeah, we're really having a "comfortable sneaker moment." I think with everything going on in the world, everyone wants to be a little bit more comfortable in whatever way they can be.
Are you aiming to change what a shoe is, or just exploring what it could be?
Maybe both of those. I think everybody knows what a shoe's function is, so it's interesting when you see one out of context. Shoes tell a story about the person who is wearing them, to some extent—whether they work in construction, or work in high fashion. It's interesting to see an object that's created in the likeness of another object and feel drawn to it because of what it represents—the brand, or a favorite shoe—and want to display it to some extent.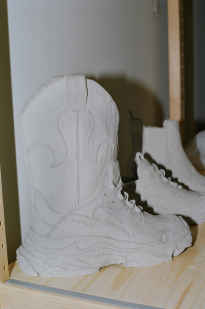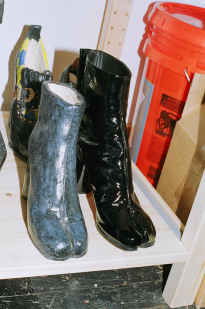 Most of your work is inspired by existing footwear, but are you ever interested in inventing a new shoe?
I've been doing that recently, or altering shoes that already exist. I have the Balenciaga Triple S, but morphed with a cowboy boot, and a Margiela Tabi. I want to expand that into a larger body of work, or design a shoe at some point.
A lot of footwear lately is a fusion of disparate styles and design components from preexisting pieces, so this Triple S boot seems completely like something that you might see on ssense.com. And good for winter! It's funny how it goes from a bit absurd to actually really practical.
I thought so too! That's where my head is going, it seems practical.
Trends are so fleeting and things change so fast—what is it that makes you want to basically carve them into stone? Are you marking a moment in time?
I made the Yeezy slides from that photo where he's wearing them and they're too small, and then all the Trump stuff happened and it felt wrong to involve it in my work. But I'm glad that I made them, even though I took them out of the studio.
I guess that's kind of a sign that whatever you make has to have some kind of a credible cultural "footing."
Yeah, it has to feel relevant for the entire process. It usually takes me like a week start to finish—the sculpting part of it usually takes me about 4 hours, depending on the detail of the shoe itself, then after that it has to dry for a while, another few days, then I glaze it, and then it goes into the kiln, and that takes just 24 hours. So sometimes things change a lot over the course of the week.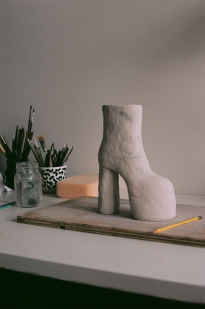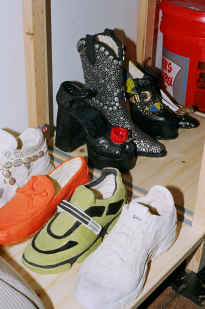 What was the first shoe that you made?
A Nike AF1 based off of a shoe I'd wear all the time to the studio, so one day I sort of looked down at my feet and they kind of looked like there were ceramic because they were covered in clay and worn down, so that was where the idea came from.
Do you still have those shoes?
I gave them to my sister, so she has the very first one that I made. It's interesting seeing that one compared to the other pieces now. That one feels more precious than these.
Do you consider yourself a sneakerhead?
I wouldn't have said it before, but now I kind of do. I'm always examining shoes, and I think sneaker silhouettes are really interesting—the soles, the materials. Like the Stan Smith, whoever made the decision to do the little perforations where the stripes should have been— it's such a simple thing, but it elevated it to be a fancier shoe. The stripe is there but it also isn't. Getting excited about little details like that makes me feel like I'm a sneakerhead. And I get even more excited sculpting them.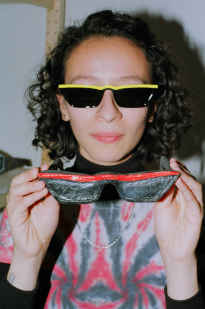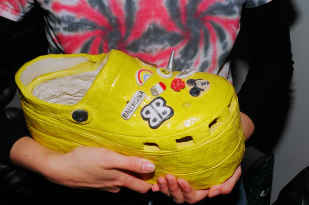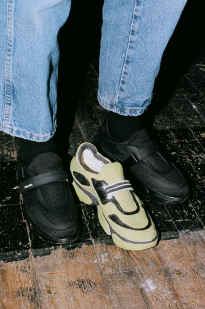 How do you feel like your work interacts with hype culture?
On my Instagram, I pretend I'm wearing the coveted item. Obviously everyone knows it's ceramic, but it's still kind of engaging with hype or poking fun at it. It's a playful way to pretend. I think that's why I tend to want to make shoes people are talking a lot about too, because it's almost meme-ing the shoe.
Do you feel like ceramics are still coded as feminine?
In terms of history, definitely, but I think that's changing. If you saw my work you wouldn't immediately know who made it.
Yeah, it's interesting that you're working with streetwear which is traditionally pretty masculine-coded. What other kinds of items do you feel tempted to recreate?
Exactly! Right now though I'm working on the micro-Jacquemus bag. I think it's the right size but I can never know for sure. I need to fire it so the red will be a bit darker, then i'll go in and paint the gold. I'm excited, hopefully I'll be able to hold it. I am starting to make some accessories too, some Gucci jewelry.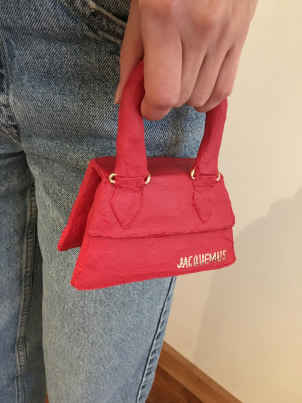 What would you say has been the most important thing you've learned through teaching yourself?
I feel like I'm a very anxious person, and I think it's taught me that when I don't have something in control, you have to let it do its thing, cause even in the process of making ceramics, I can control the shape of it, and have an idea of what I think it's going to look like, but after it goes in the kiln it's no longer up to me. Knowing that has been helpful for me, in relation to stuff in life that I don't have control over.
What's it like sharing a creative space with your twin?
It's nice, I feel like she has the words that I don't have in a way, with her writing. Before moving into this space here, I was putting a lot of pressure on myself. I didn't really want to work in the other studio just because of that feeling of being watched by others, and I couldn't really sit down and work on something, which lead to me wondering if it would hinder any of my opportunities. It's good because this spot reminds me that I'm doing this because I want to do this, not for any other people. Mars also supports me through sharing the space with me, it makes it a lot easier.
Do you ever think of your relationship as being like a pair of shoes?
I hadn't up until this point, but that's interesting! I'm gonna bring that up to her.
Rebecca Storm is a photographer and editor at SSENSE. She is also an editor at Editorial Magazine.
Interview:

Rebecca Storm

Photography:

Rebecca Storm