The Dawn of a New History:
Writer Yoshiko Kurata and Photographer Lorenzo Dalbosco Travel to China to Meet the Designers Behind One of Shanghai's Most Exciting New Brands
Text:

Yoshiko Kurata

Photography:

Lorenzo Dalbosco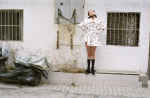 We live in an age of unparalleled interconnectivity. This global mutual exchange has had far-reaching effects in the universe that is the fashion world. Perhaps nowhere has this great awakening been more evident than in China. Over the past decade, the country has undergone a dramatic technological transformation, hidden beyond the prying eyes of Google, Instagram, and YouTube. Buoyed by rapid economic growth, China is witnessing a cultural renaissance led by a new generation of designer. Forget everything you used to think you knew about China: the old rules are out.
This new generation has emerged as a potent creative force, a cohort of trailblazers paving the way to a promising new epoch in an ancient land. With this in mind, we booked tickets to Shanghai to meet with the designers behind SHUSHU/TONG, two innovators at the forefront of China's vanguard.
We followed TONG (Yutong Jiang) up to a 7th-floor studio in a high-rise apartment complex. Opening the door to their atelier, we were greeted with a familiar tune: the theme song to the anime series Revolutionary Girl Utena. Later, during the photoshoot, I was surprised to hear a track by Ayumi Hamasaki, one of Japan's era-defining singers in the 90s. Tempted by this unexpected nostalgia, I snuck a peek at the playlist. Without missing a beat, SHUSHU (Liushu Lei) grinned, "It's my playlist. Ayu is a timeless idol!" After an ensuing debate on the lasting power of 90s J-pop, the discussion turned to Wednesday Campanella, one of the groups of the moment in Japan. Each time I visit a SHUSHU/TONG show, I'm always struck by their acute fluency in contemporary Japanese culture. Although heavily influenced by Japan, the duo has transcended national boundaries to make a name for themselves internationally.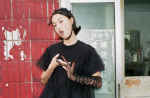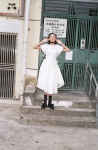 At the time of this interview, SHUSHU/TONG had just wrapped up the debut of their Spring/Summer 2019 collection at the main Xintiandi venue at Shanghai Fashion Week. Delivering on the concept, "modern sophisticated woman with a girly heart," their designs exude refinement, albeit with a backbone. Over a generous sampling of dishes from their hometown in Chengdu, I sought to learn more about the source of their inspiration, the process that goes into crafting their sculptural garments, and the insider lowdown on an up-and-coming Shanghai fashion scene whose growth has paralleled SHUSHU/TONG's own rise.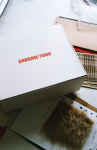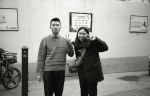 Yoshiko Kurata
TONG SHUSHU
What sparked your interest in fashion?
T: I think it was the anime and manga I was obsessed with in middle school. Back then, all my classmates were reading Nana and I was inspired by the fashion. During class, I would secretly draw illustrations in my notebook in the Nana style.
S: Me too. I wanted to be a cartoonist in the beginning, but after reading Nana in high school, I aspired to become a designer.
You are both from Chengdu, a city famous for its pandas. Have you known each other since childhood?
S: We attended the same high school, but were in different classes, so didn't even know of each other's existence until we met at university. Chengdu is different from Shanghai. Surrounded by mountains.
Before getting your MA at the London College of Fashion, you studied fashion at a Chinese university, right?
S: Yeah. We were in the same design class at Donghua University. That's when we discovered we were not only from the same hometown but also the same high school. We quickly became close friends.
T: Afterwards, we met practically every day to share info and talk about our interests. Then we ended up going to the London College of Fashion together, where we became roommates and launched our brand while still students living together under the same roof.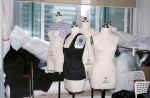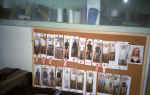 "Can you believe that we've only been able to access fashion magazines for the past 30 years?"
Did the approach to fashion education differ between China and London?
T: China has a short history when it comes to fashion, so I think the fashion education here is still quite behind.
S: In Shanghai, I think the concept of fashion itself was new, so honestly the education was pretty new. I felt there was a time lag on the information reaching us from the larger world. But by the time we were working part-time jobs in Shanghai before heading off to London, I already sensed that the city was changing.
How did the story for your Spring/Summer 2019 collection come about?
S: It all started when we were looking back on photos taken during our time in London, remembering the everyday clothes that were part of our lives at home. You know, relaxing on the sofa in underwear and a T-shirt. We developed that idea to construct short proportions, overall. Based on this concept, we then looked at household materials and furniture, transposing them into clothes. For example, our organza top is modeled after a curtain, earrings are shaped like curtain hooks, and shorts echo underwear. During the collection's show, we even covered the floor in material from a bed mattress.
You recently completed a big show in the main venue at Shanghai Fashion Week, but in the past have always hosted your presentations and shows through LABELHOOD. What does LABELHOOD mean to you?
S: LABELHOOD is essential for young Chinese designers. Honestly, I think LABELHOOD is an important reason why Shanghai Fashion Week is doing so well recently. Back when LABELHOOD was still only a boutique called Dongliang, they started putting on shows for young brands sold in their shop. They always check out graduation collections, so are a kind of gateway for young brands.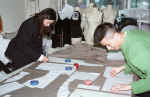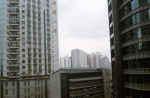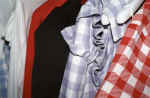 T: Five or six years ago, there were a few independent designers, but they were more into shining the spotlight on "Chinese culture." I mean, they kind of took that stance to a ridiculous, excessive place. Then our generation stepped in and paved the way for the new changes we're beginning to see today.
S: Can you believe that we've only been able to access fashion magazines for the past 30 years? Before, lots of people in the industry were working on government projects, and as a result, there are two fashion weeks held in China alone. From the aspect of the government, a fashion show is more like a press event to present the culture and value. Obviously, they don't care about the true essence of fashion. Still, there are people in the industry who do care and worked proactively to build Shanghai Fashion Week into the platform it's become.
China's also shown incredible growth in the technology sector, churning out new IT and social media offerings. WeChat Pay essentially combined Facebook and PayPal into a single app with a mind-boggling user base, even by the standards of the world's most populous country. When these unconventional ideas break through the surface on the world stage, they gain the sort of rapid traction that rivals or even overtakes American stalwarts. I can't even count how many strange looks I've been given the past few days when trying to pay with cash.
T: Nowadays, we don't need to carry cash or a wallet in China, but we can't live without WeChat or Alipay. Come to think of it, we sold our first collection on WeChat. That's where it all began.
Wow, another reason to download WeChat.
S: We sold a small collection we made as students. In order to get a visa to stay in London, we were supposed to write a 6,000-word essay as part of the application. We created the mini collection to back up the essay, to make it more persuasive. Of course, we didn't get the visa, and here we are. Anyway, our friend ran a Chinese restaurant in London called the Chinese Laundry and posted a lookbook of the collection to WeChat. Her network of buyers and stylists was interested, and that's how we got our first order.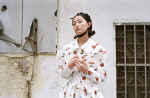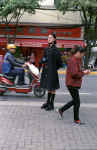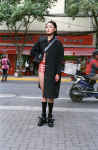 In an era of flux—environment, city, tools—how do you think the Chinese fashion scene will change going forward?
S: I suspect the industry will not be as interesting for at least the next 10 years. I mean, everything about the industry has moved so unbelievably fast. Buyers and stylists have just established themselves over the past two or three years, and I think we're still growing along with them. There was no buying system in place until recently, but now everyone is operating per international standards. Everything has changed.
Now it's more about enjoying individual style.
S: Right, but individual style hasn't yet reached the level of diversity you'll find in places like Harajuku. KOLs (Key Opinion Leaders, i.e. influencers) wield enormous clout, and everyone immediately follows their lead.
It sounds like the new generation will represent a figurative line in the sand. Many accepted historical traditions will come to an end, ready to be reimagined and reborn in a different context.
T: Think how, in Japan and other parts of the world, vintage clothing is widely accepted. But we don't really have that culture in China. Our parents definitely wouldn't understand why you would want to wear someone else's old clothes, and it's still a foreign concept for a lot of the young generation.
S: After the war, everything was new. External influences flooded into China, and I would say that this imported foreign culture now accounts for around 60-70% of our backgrounds. I watch Japanese anime, I watch Hollywood movies, I read English novels. In the long-term future, maybe the next-next-generation, I think there will be more vintage shops. It's still just the beginning. The barriers will start to fall, starting with our generation. We are a mix of everything, not just Chinese culture, and I think we'll preserve this identity while we continue to seek out our voice. It's up to us to build something new.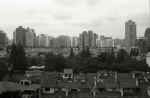 Yoshiko Kurata is a freelance writer based in Tokyo. Her work has appeared in Quotation, i-D Japan and more.
Text:

Yoshiko Kurata

Photography:

Lorenzo Dalbosco

Hair:

Zaixuan Lee

Makeup:

Beata Xu

Model:

Jing Jing