Imagining Men with Lynne Tillman
The Art Writer's New Novel is about Gender in our Visual Glut
Interview:

Whitney Mallett

Photography:

Heather Sten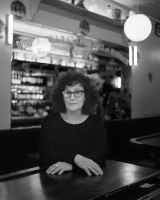 "There's a photograph—it documents something, but the image is another thing," contends Lynne Tillman. She's tucked into a booth at the French restaurant Lucien in New York's Lower East Side. Behind the writer, framed snapshots of celebrities who've visited the joint crowd the wall, everyone from Joan Didion to Ryan Gosling. The way these well-known personalities look in candid off-duty photos, frequently with hats pulled down past their eyebrows, sparks a jarring sense of recognition. Simultaneously remaining in the shadow of the not totally recognizable—is that Bono or your second cousin's uncle?—proves exactly the point Tillman is trying to make: distinguishing a photo from an image. It's also one of the central ideas in her latest book, Men and Apparitions, a fictional memoir from the point of view of a 38-year-old academic who has devoted his life to studying family photos.
This afternoon, Tillman is the image of a downtown intellectual, a midnight blue jacket and thick-rimmed glasses framing a constant spark of curiosity in her bottomless dark eyes. We're only a few blocks from the rent-stabilized apartment she shares with musician David Hofstra, and also from where she first saw Kathy Acker read in the 70s. For decades, Tillman's been a familiar figure in the Lower East Side's arts scene. She's the author of 15 books and a columnist for the contemporary art magazine Frieze. She's been named a Guggenheim fellow, and twice a National Book Awards finalist, respectively for fiction and criticism. Tillman is also just someone you see around downtown if you go to enough readings and openings. With her curly hair and small frame, it's difficult to mistake her for anybody else.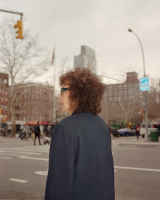 "People have been saying forever, we live in a glut of images," says Tillman, recounting the starting point of her new novel. "I thought to myself, how would you tell that story?" Ezekiel Hooper Stark is the visual culture anthropologist she dreamt up to translate our graphic-saturated era into narrative meditations. "People think they are going to get truth with a capital T with non-fiction and don't believe any more that a novel can tell the truth. To me that's very sad. The imagination is very important," the writer contends. Through her made-up family-photo ethnographer haunted by dead relatives and attachment issues, movie stars, and found photos, Tillman grasps the notions we contrive from the sea of visual ephemera in which we're submerged. Her book is especially interested in the image of themselves young men construe. "Guys are very conscious of the image they are putting together of themselves." She adds, "At least the guys I know."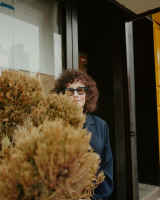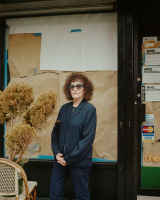 For an interview subject, Tillman asks a lot of questions. She's eager to know what I think about her Ezekiel Hooper Stark, who she lovingly refers to as Zeke, and what do I think of the way he talks about photographs? She's amused when I say her Tristram Shandy-esque ethnographer seems pretty ridiculous a lot of the time, especially when he's trying to be serious. "Sometimes he is ridiculous," admits Tillman. "I was laughing when I was writing." She explains, "My writing is very voice-driven. Finding that mix of seriousness and humor and self-denigration and a little bit of pride or arrogance, I wanted his voice to penetrate even when he's riffing on anthropology or photography."
Zeke bounces between meditations on Kardashians, both Robert and Kim, memories of his childhood pet praying mantis Mr. Petey, and the biography of a 19th-century photographer and friend of Henry James, Clover Hooper Adams, who Tillman casts as a distant relative of Zeke's. Reading the book is hearing Zeke's voice in your head:
"Judge Judy appeals to characters who want public humiliation."
"Booming ancestry biz. Roots r u."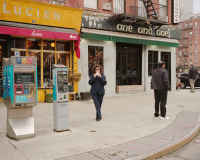 Zeke grew out of a piece Tillman was commissioned to write by curator Ralph Rugoff for the catalogue of a photo exhibition called "Shoot the Family." It's not the first time the writer has adopted the first-person voice of a male protagonist. "Horace in Cast in Doubt," she explains about her writer-protagonist from the 1992 novel, "was a very different guy—a 65-year-old gay man." She seems a bit bored by my question about a woman writer adopting a male voice: "The I, as you know, is a shifter." Her project, however, is very gender conscious.
The majority of Men and Apparitions is the fictional Zeke's memoir and the last sixty pages is his latest academic work Men in Quotes—based on a real email survey Tillman sent out to 30 guys aged 25 to 40. "My character, Ezekiel Hooper Stark, he thinks of it as a kind of self-case study," notes Tillman. "He's a cultural anthropologist and he's studying himself and then later he studies young men his age." This focus was inspired by Tillman observing a lot of uncertainty in her younger male friends. "The effect on young men born under the sign of feminism is confusion. I was seeing this terrain has changed and they are walking shakily on it."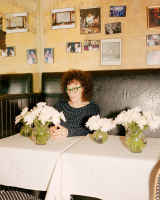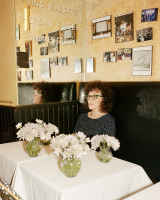 This is a conversation we don't have enough. When we talk about feminism, we usually talk about women. Tillman's invested in both sides of the conversation, having been a keen observer of how our narratives of gender have shifted over the past several decades, especially how the circulation of images affects these changes. When she was younger, Tillman worked for the artist Carolee Schneemann, renowned for her explorations of gender, imagery, and self-representation. In her 1963 photographic series "Eye Body", for instance, Schneemann became both the image and the image maker, interrogating the legacy of the female nude and influencing experiments in self-representation by later artists like Hannah Wilke, Cindy Sherman, and Adrian Piper. "The breakthrough happened in the 70s," says Tillman, suggesting that this was an era when the art world began taking seriously women artists working in photography and appropriation. Photography was a newer medium at the time and as it was going through the growing pains of being considered "art," women artists' impact on the burgeoning genre was recognized.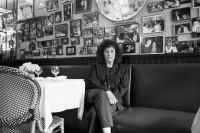 "This is a conversation we don't have enough. When we talk about feminism, we usually talk about women."
In spite of this appreciation, women artists, then and now, still face systemic prejudices. In one of her recent columns for Frieze, Tillman tracked the phenomenon of older women artists being "discovered," sarcasm dripping off the quotation marks framing that word. "They had been showing work," she writes, "but let's say they didn't register or find much appreciation." The narratives we tell about women are of course connected to the narratives we tell about men. Masculinity needs to be retooled for the prejudices that determine how women are received to disappear. Tillman's novel is hopeful in its processing of this urgency. The real men she surveys at the novel's end turn a critical eye to the notions of masculinity they've inherited, but it's also through Tillman's prose that she formally demonstrates that no image is static.
Throughout the novel, Tillman's descriptions of photographs flicker. Translating photos into words, she shows how the image occupies a liminal status, at once a locus of fact and fiction, memory and projection, narrative and apparition. And that language—rife with poetry and humor—is the only kind capable of both capturing and arousing complexities. It's a narrative generosity that feels vital to reconsidering our collective image of young men.
Before we sat down to talk about the novel, Tillman had her portrait taken at the restaurant. While she was posing for photos in front of the joint, a young man emerged from a doorway leading to a second-floor apartment above, the son of the restaurant's owner and namesake heading into work downstairs. He posed with Tillman for a picture to add to the wall inside. They looked good together, both wearing navy blue. I imagined the print tacked onto the wall alongside the hundreds of others.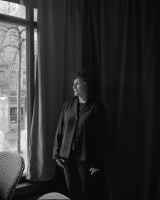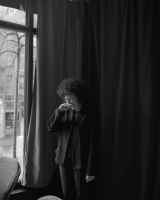 Interview:

Whitney Mallett

Photography:

Heather Sten

Hair and Makeup:

Rachael Ghorbani Using CHANEL Palette Essentielle