Secrets to a Successful Workplace Romance with Luke and Lucie Meier of Jil Sander
Interview:

Eva Kelley

Photography:

Piotr Niepsuj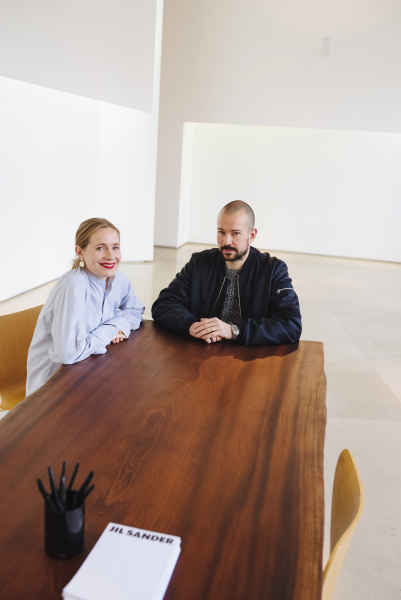 Luke and Lucie Meier are the aesthetic epitome of the work-life balance. Before their appointment as the creative director duo of Jil Sander, Luke worked as the head designer of Supreme and co-founded the brand OAMC, while Lucie joined Dior as head designer after working at Louis Vuitton and Balenciaga. They have also been in love with each other since their student days and married for a decade. Now both firmly in one place at the Jil Sander headquarters in Milan, the Meiers seem at ease with their entangled lives, having created not a maze, but a mandala of commitments.
While the rest of the team vibrates with anticipation with only days ahead of the Fall/Winter 2018 show, Luke and Lucie exude a kind of spiritual calm unexpected for this moment in time. As they sip their freshly squeezed orange juices at an oversized red wooden table, the single tint darker than off-white in these airy minimalist halls, their serenity can only be explained as a sense of knowing that they are exactly where they should be.
Over petit fours and Jil Sander-branded sugar packaging, Eva Kelley spoke with the Meiers about their astrological compatibility, the meaning of minimalism, and why Jil Sander is smooth but never crunchy.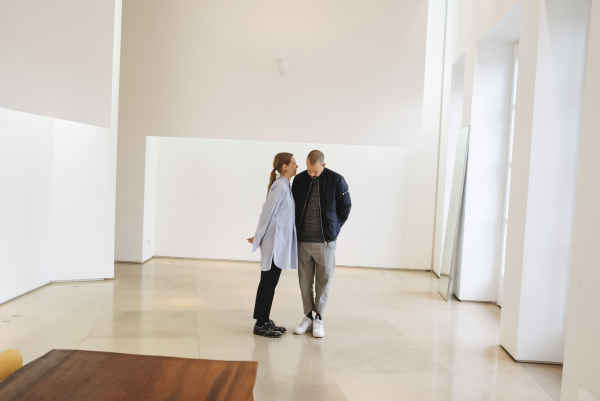 Was working together something you had always dreamed of doing?
Lucie: We've always worked in the same business, so it was something we wanted to do eventually. We didn't see much of each other for a while. We were working too much in different companies and in different cities. We thought it would be ideal to have it all under one roof. The opportunity arrived sooner than we thought.
Luke: Doing this is not so different actually, because we've always shown each other what we're working on. It's just that now we're in the same room the entire time. And it's not weird.
Why do you think it's so rare for romantic partnerships to translate into successful professional partnerships?
Luke: Maybe people are a little bit nervous that it's an opportunity for more disagreement. This business is pretty intense. You can disappear for a month around a show. What's cool is that there's always this real truthful conversation between us. You're never going to get a false statement.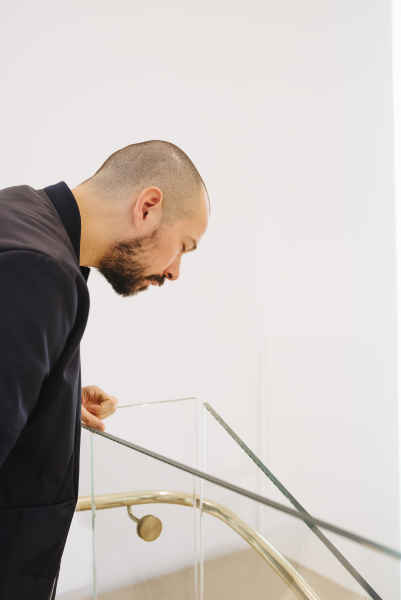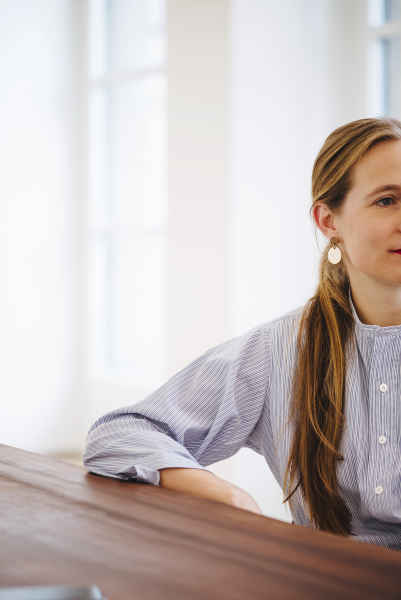 "It's smooth, but it's still warm. It's very soft, but at the same time, very precise."
How do you think it influences your work at Jil Sander that you have such different resumes, even though you both come from design backgrounds?
Luke: The main difference is probably the techniques. With Lucie coming from haute couture, it's a whole other thing as far as the way things are made. But inherently, the process is the same.
Luke: We don't compromise about what we're trying to achieve with the piece. It's the same attention to detail and the same level of depth, whether it's a screen print or a Jacquard woven piece.
You've expressed that you felt like a lot of people wrongfully refer to the Jil Sander code as minimalist, sparse, and cold, whereas you emphasize that the brand is also very feminine, emotional, and light. Why do you see the former as attributes that don't quite fit with your vision?
Lucie: For us it's really important how you feel when you wear clothes. Clothes are something that have to live with you. They have to serve us and not the other way around. We prefer something that shows more movement and is less rigid.
Luke: There is a cliché tied to minimalism that it's cold, gray, kind of boring, and too non-human, too industrialized. I think that at the core of the Jil Sander brand, there's this element of emotion of being very simple and stripped down to the bare essentials. That's what is really the essence of the brand. There isn't anything superfluous. And so you arrive at a purity. But it's also very emotional. Achieving that balance is difficult. But when it's done well, it can be incredible.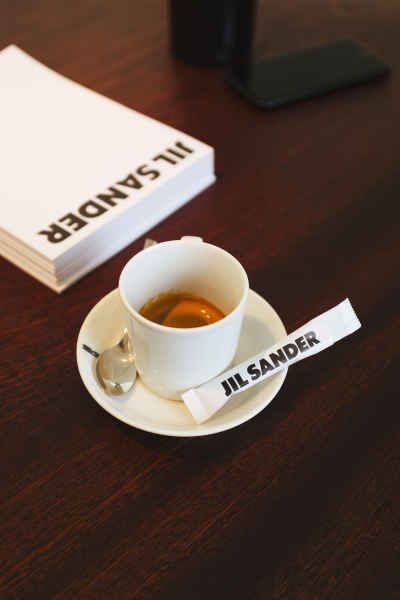 Which materials speak to you for Jil Sander?
Luke: Natural fiber. 100 percent. Also, Jil Sander was one of the first to embrace this idea of looking to a modern mixture of fiber in material, like mixing nylon into wool suiting.
If you had to sum up Jil Sander in three textures—anything from linen to spongy or gooey—what would they be?
Luke: Sharp. But then light as well.
Lucie: Smooth.
Luke: You know when you see a really perfect shirting fabric and it's brand-new and it's just so…
Luke: But it shouldn't be hard either. It's not where it's something crunchy. It's smooth, but it's still warm. It's very soft, but at the same time, very precise.
It sounds like a lot of balancing.
Luke: Yes. Balance. I mean: contrast.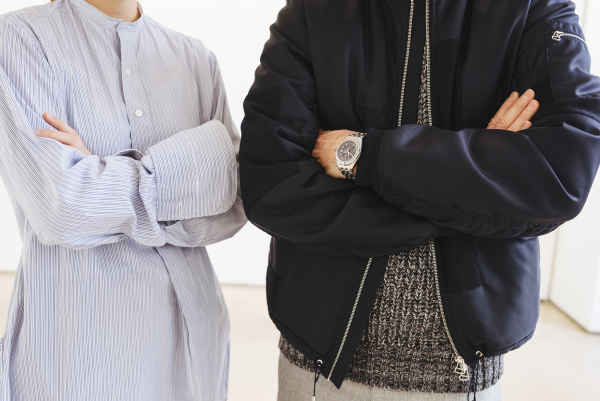 The words you're saying don't necessarily contradict each other, though. It almost sounds like you're describing a personality. What can you tell me about the upcoming collection?
Luke: It's going to be exceptionally incredible.
Lucie: He's always very modest.
Luke: I guess it's very forward-thinking. I know that's quite ambiguous, but you would agree if you saw it.
Lucie: Squishy.
Luke: Yeah. And fuzzy.
The current campaign by Wim Wenders is very intriguing. Five episodes will be released over the course of five months and each episode freezes at a crucial moment, leaving the viewer in the dark on what happens next. I don't think I've ever seen a fashion campaign with a cliffhanger. How did you work toward this idea?
Luke: Our art director approached us with this linear time idea about past, present, future and the idea of pausing something right in the middle. The split second of right now and then being really curious about what's going to happen in the future. We felt like that was a good metaphor for coming into a house with such an important past. Wim was top of the list, and we were super excited that he was into the idea. We wanted to work with a real director. We didn't want to make a fashion film. Authenticity is a big deal for us. Like when we wanted more documentary photography, we wanted to work with Larry Fink. We want to find the right people to collaborate with to make the idea happen.
Which lake did you shoot at in Berlin?
Luke and Lucie: No idea.
Luke: We went to one together in Berlin years ago. I think it was one of the most fun days I've had. It was almost 40 degrees. The summer is really cool there. People pull their living rooms outside. The city just seems so...
Lucie: … full of life.
Luke: It feels like you're on an island almost. We should go back again. I always seem to go there in winter.
"Clothes are something that have to live with you. They have to serve us and not the other way around."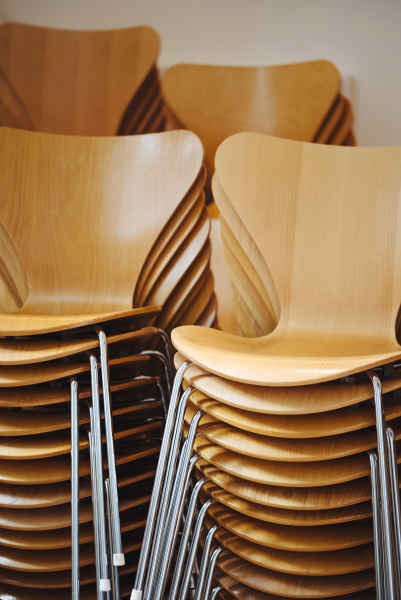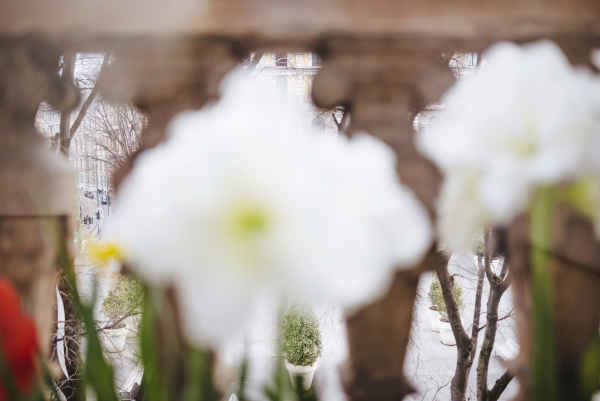 How did you two meet each other?
Lucie: We met in Florence. Luke was in school in New York and he did a six month exchange in Florence to work on tailoring. I was there to go to school for fashion marketing. I was renting out one room in an apartment, and Luke was renting the other one. We just kind of happened to be roommates.
Was it love at first sight?
Luke: Pretty early on for me.
Lucie: We didn't have much time.
I'd like to see if your star signs are compatible. Are you guys into astrology?
Luke to Lucie: You like the aura photographs. There's this place in New York we went to a bunch of times.
Which color are your auras?
Lucie: My aura was always red. Once we went together, and our auras were almost the same, a purple. It looked like they were completing each other.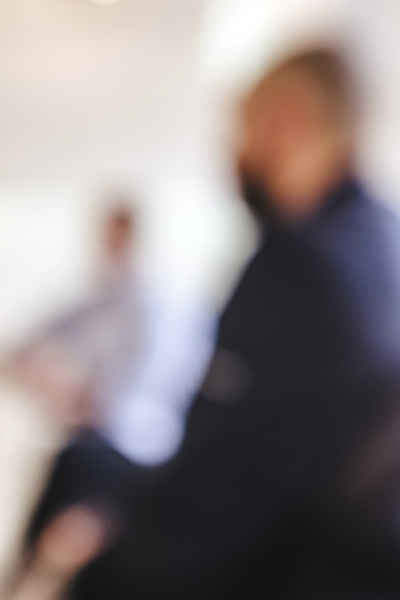 Lucie: Pisces.
Luke: I'm an obsessive-compulsive Virgo. A self-aware Virgo.
Ok, ready?
Pisces, your Virgo lover will either complete you or compete with you. Virgos can provide some badly needed structure and a strong sense of organization to Pisces' sometimes scattered, busy life. This match can be described as: Left Brain (Virgo) meets Right Brain (Pisces). Each sign has what the other one lacks, but there could be problems. Virgos are idealists and perfectionists. Since they see the world with crystal clarity, they notice flaws that everyone else has missed and are felt to be highly critical. Pisces see beauty and acceptance in everything, so Virgo's heavy criticism can be hurtful to gentle Pisces. Virgos will worry about deadlines and work still to be done. This can put a damper on their sexuality, but Pisces know how to charm and distract dutiful Virgos. This is either a dream match or a dreadful match—love could last a lifetime or just a few months.
Luke: We made it past the first months, so we're good. Pretty accurate though.
Lucie: Yeah, very much so.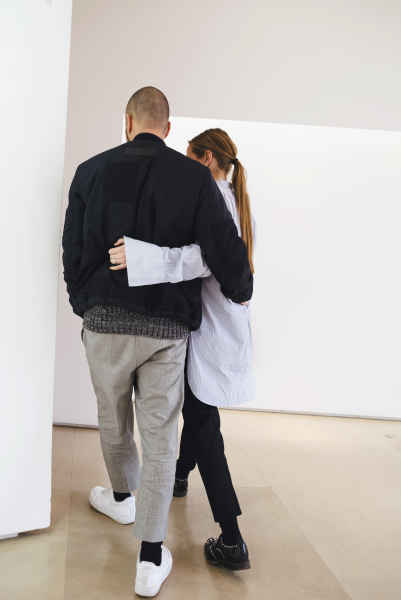 Eva Kelley is a writer and the coordinating editor at 032c Magazine in Berlin.
Interview:

Eva Kelley

Photography:

Piotr Niepsuj