Zebra Katz Doesn't Give a Fuck About Your Hot Takes
The Hip-Hop Artist on the Art and Politics of Performance
Interview:

Eva Kelley

Photography:

Jonas Lindstroem



On a blustery evening in Hamburg's harbor, Zebra Katz is in the newly opened Elbphilharmonie, the city's acoustically-blessed concert hall on the edge of the Elbe river. Inside the glassy superstructure, he hypnotizes his audience, luring them into a sweeping club night of dance and sweat. The Jamaican-American singer's stage persona is meant to evoke the sleek, razzle-dazzle pelt of the animal from which he borrows his name, and is a mix of his club beats, spoken word, and ballroom voguing chants.
The man behind the stage persona is Ojay Morgan, whose roots in performance art gave rise to his alter ego. In 2012 he released a breakout hit "Ima Read" and was cast as part of a new wave of queer hip-hop artists emerging onto the scene. And though he broke out in tandem with gender-fluid artists such as Mykki Blanco, Zebra Katz resists the easy categorization as another queer artist calling back to the Harlem ballroom culture. More than the sum of his gender, he is vocal about critics pigeonholing him by his sexuality. In the five years since his debut, the singer has proven he has the range and his work avoids simple stereotypes—racking up an impressive list of collaborations, from Rick Owens, to Busta Rhymes, and most recently, Gorillaz.
Before the show, Eva Kelley sat down with Zebra Katz in his dressing room to talk about the politics of stereotyping, moving to Germany, and falling in love.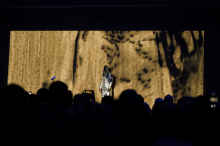 Could you tell me about the context Zebra Katz grew out of?
It was my senior thesis in college. I wrote several characters, but one of them was Zebra Katz. The background story was that he was a college graduate who started working for sanitation after doing a stint at Chippendales. I wanted to create several online characters that lived on YouTube, and then see what they could grow into. The piece was called "Moor Contradictions" and they were each fragmented characters from my existence. For example, there was a dancehall queen, there was a collegiate stepper. They were all very physical characters: wigs, props, movement. I did this in the spring of 2007.
Woo, college! And I'm still paying for it.
Your breakthrough happened when Rick Owens used your song "Ima Read" for the womenswear fashion week presentation in Paris in 2012. What did you think of his fashion?
Oh, I loved him. He was one of the designers I knew of. I've grown to love Rick and Michele more and more since that collaboration. When Dazed Magazine flew me over to meet him for the first time, it was my first time going to Paris and it was lush. I went to his house, had champagne, chatted with the guy that helped push my Zebra Katz career. It was very nerve-wracking. I'm very thankful for that friendship. I owe a lot to him for taking the chance to use a song that says the word "bitch" 80-plus times.


You throw a lot of shade in your lyrics, but in a playful way. I was wondering, who or what is that directed at?
A lot of people. I think it's the attitude of like, "Oh, are you that bitch? Are you going to be that bitch, or am I that bitch?" That resonates with a lot of listeners.
Are you inspired by the ballroom scene?
I can't say that I'm not inspired by the ballroom scene. The timing in which "Ima Read" came out miraculously fell with the 20-year anniversary of Paris is Burning. I wasn't necessarily involved in the ballroom thing, but I think because you're a black, queer figure in New York, people use references to try to understand what it is you're doing. Voguing was sort of pushed onto me. I mean, I love voguing. I watch ballroom videos on YouTube and have attended balls. I performed at the Maserati Ball back in 2012 and I support MikeQ as a DJ. Voguing was spreading a lot in 2012, from being on So You Think You Can Dance, to America's Next Dance Crew, to having vogue segments in Pepsi commercials—you name it.
Do you like the movie Paris Is Burning?
I love the movie, it's iconic. Dorian Corey's quote goes hand-in-hand with "Ima Read." "Shade comes from reading but reading came first." I love the play on vernacular "to read." To read is to school someone, and then a play on the word "bitch," which a lot of people think is derogatory when they don't know what the context is.

"The universe only gives you so much. it's not going to give you what you want, i'ts going to give you a little bit of that other thing."
It's interesting how you talk about appropriating the word "bitch." It reminds me of the way the artist Jonathan Meese feels about symbols. He argues that all symbols need to become neutral because they are too overloaded with the meaning humans have heaped onto them. What you're saying is kind of similar, except that you're doing it in a lyrical form.
For sure, I think hip-hop has such a bad rap when it comes to the word "bitch" or the word "nigga." Most people use it as a term of endearment, but some people don't like to hear it. The word "bitch" is so lush. It always reminds me of Missy Elliot's "She's a Bitch." That song and video are iconic. What she did there was use it as an empowering term. The attitude and the style behind it is just so deafening. I have to say, I never thought "Ima Read" would ever be where it is and that I would have to sit down and discuss the meaning of it with people, on like, a heavy level. It's surreal.
I love how you slipped some Tribe Called Quest into your explanation there by the way.
I've learned so much about hip-hop music, you know? I have met so many prolific people in hip-hop who gave me a nod, like Busta Rhymes who jumped on the track. I was like "Holy shit motherfucker, this guy is listening to me." That's when it started to get really real in terms of who was listening and who was giving me the encouragement to keep it up. When you have the body that I have and the press that I have, people go: "Oh, that's an oxymoron. You're queer and you rap. Let's talk about this for hours." And there's not much to talk about, you know? Sure, I could go on and on about the injustices that I face daily, but I'd rather make fun, danceable music, music that touches me. I want to perform and tell stories that I want to share, instead of telling the story that people need to hear in order to learn something that they're not aware of. It's interesting. I can't change who I am, so I just have to work with it and I think it is a tool–your sexuality and how people perceive you.
It's odd that there's always such a focus on sexuality.
It's so insane, but I think it goes in waves. Now it's race and gender. And sexuality comes in and out. I remember when I couldn't go through an email that wasn't like, "What's queer rap?" And I'm like, "I don't know, you tell me what it is!" I don't even really make rap music. People just say that because I'm brown. I like noise, you know. I just think there's so much more to what an artist embodies than a label or genre. We've just continued to prove that we are going to break any boundaries that are put before us and defy any genres that we're labeled with. It's been a hell of a game.
It's a very honest take. I read that you were quite annoyed with being categorized within this wave of queer hip-hop, since you may not even have anything in common musically with the other artists, which is such a weird hypocrisy.
It's sad that it was only directed at a specific kind of artist. No other artists that were making successful music were being categorized like we were. I think it had to do with the color of our skin and our sexuality. That's what I was most upset about. When someone posed that kind of question it could feel threatening. It's not inherently racist, I'm just saying that people should think about what they're saying and who they're saying it to. If they genuinely care and want to help progress the music that we're doing, then they should try not to dumb it down, try not to pigeonhole it. I'm experimenting and I want people to view my work and learn something. Not just go "Holy shit, who is this gay artist?" Who cares! What other genre of music has "queer" as a headline? Some cool new turn for Pitchfork to try to sell to the kids. They like to push that term out, but I don't think they support these artists. How many queer rap Pitchfork festivals have there been? How many queer rap playlists are there on iTunes or Spotify?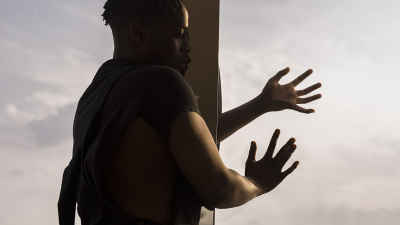 "Berlin reminds me of the new york i wasn't born to see."

Yes, it's very specific to this form of musical expression that has been bunched together by sexuality. Could this be because hip-hop is viewed as inherently hetero and so, "queer hip-hop" provides such a stark contrast?
When you look outside of it and you think of other art forms, you get the black arts movement, you get new wave, you get techno. These are terms that aren't so marginalizing. I'm not a self-loathing person, but that's what it sounded like and I got a little hesitant to talk about it, even though it's really important. It's isolating, in terms of my music and the body that I have. I had to have a friend sit me down and be like, "You may not realize this, but there's going to be a kid 10 years from now that's going to see in you someone with the same data as them. They will see someone that's doing something that people are telling him he can't or he shouldn't." That was empowering to hear, and I had to learn to love that. When I was a kid I didn't have anyone that I could look up to besides Little Richard or André Leon Talley, who was a familiar face and someone I saw myself in. There was not a lot of representation, so if I can be that representation now, I'll gladly be it. I would hate if anyone in the past would think I was self-loathing because that just wasn't it at all. I'm prideful in what I do and I want everyone else to be prideful in what they do sans categorization.
You've been in New York for the past 15 years and now you've moved to Berlin. Why did you choose Berlin?
Berlin reminds me of the New York I wasn't born to see. I have a lot of friends who live there and I like the energy and the vibe of Berlin. 15 years in New York was good, but now I want to try to set some roots here in Berlin.
Finally, are you in love?
I am in love with love. I think moving to Berlin will be much better for me on the dating side. I'm obsessed with love, but I'm not in love. I think that's why I haven't been dating, because the universe only gives you so much. It's not going to give you what you want, it's going to give you a little bit of that other thing. You kind of have to wait for it and ease into it. My friends would always be like, "You can't look for it, it's just going to happen when you least expect it." That's all I've heard. I'm like, "How do you not look when you have eyes!" I think my dating luck will change and Cupid will have something for me soon because I haven't been thinking about it as much as I have in the past.
I'm sure Berlin will be a good place to fall in love.
I can't wait! If you know anybody, tell them to call me.
Interview:

Eva Kelley

Photography:

Jonas Lindstroem