After a Breakout Year in 2018, the Singer and DJ Sits Down with Performer Victoria Sin to Talk Language, Community, and What's Next
Interview:

Victoria Sin

Photography:

Lucka Ngo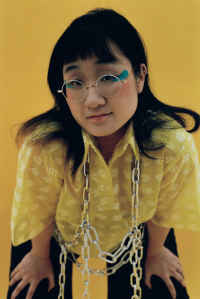 In the summer of 2017, I was high on acid in the middle of Victoria Park in London. Lying on the grass looking up at the sky, I was taken to another dimension as a friend played me Yaeji's song "Feel It Out" for the first time. Like a lot of Yaeji's music, it had an introspective quality that spoke to the experience of being on the outside looking in, or the inside looking out—a feeling that's hard to pin down but familiar to many people who grew up straddling cultural lines.
A year later, Yaeji and I were both performing in the Serpentine Galleries' Park Nights programme in London. The genuine warmth I felt from her and her crew was affirmed when my collaborator, Shy One and I, were invited to New York to open for the last leg of her One More tour. There, the familiar feeling began to make sense. In Yaeji, I recognized an artist who has made a conscious effort to surround herself with a community that values and sees her as much as she sees them.
Kathy "Yaeji" Lee, 25, is a Korean-American singer, producer, and DJ who broke through in 2017 with her self-titled EP. By 2018, the New York-based artist was one of BBC Music's sounds of the year, in Forbes 30 under 30 music list, and on the cover of Fader magazine. Her seductive beats, described by Fader as "part house, part hip hop", sit effortlessly with pop hooks and a low rumbling bass that touches every bone in your body. Her soothing voice oscillates between Korean and English. Singing and rapping. Sometimes switching language mid-sentence. Expressing softness, unease. A sense of humor verging on silly, juxtaposed with deep, emotional contemplation. Listening to a Yaeji song is an infectious experience, where all these layers, textures, and feelings come together to form a deeply affective experience that is both intimate and unlike anything you've heard before.
When we sit down to talk for the first time since the One More tour, we speak about the ways that never quite fitting in—culturally, socially, linguistically, sonically, emotionally—drive us to create the work and communities we want to see and be part of.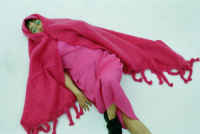 Do you relate your experience of being culturally outside of categories to being musically outside of categories?
That's something that I've thought about in my work and my life, but haven't been able to verbally process and explain. Sonically I have a lot of different interests. Growing up I didn't have a real life community where I would share bands and artists with friends. I was always kind of on my own because in America I could listen to Britney and stuff, but then moving to Korea, all the western pop or mainstream music that was coming over to Korea was a few years delayed, because it was kind of like pre-internet, and I wasn't able to connect with K-pop. So I ended up listening to songs that no one else listened to. When I started taking music more seriously, that's when I realized that my taste in music is sonically and aesthetically in-between, but I love all the in-betweens of everything.
Do you think that your music changes as the community around you changes?
Yeah, because personality-wise I'm like a sponge. Growing up I didn't really have a lot of friends. I had a tough childhood in terms of meeting people. So that's why I relied on the internet to find music. But by going to school, joining the [Carnegie Mellon student] radio, moving to New York, and finding this underground community, now I have peers around that deeply influence me. I love them and I think they're so special because I've never had this connection before. But even though it was hard for me to find friends when I was younger, I think that in other ways I was still very lucky with the people around me, I have a really loving family. They're Korean and they were born and raised in Korea in a different generation, so there's a lot of things that they don't get about me, which is sometimes frustrating, I'm sure you might have experienced this.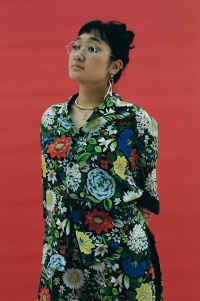 Yes, definitely. With my Chinese family, there was a lot of love, but it was a love that was like "we love you but we also know what's best for you", so I found myself pushing up against that quite a lot, and straddling cultural lines. Language, too, is a reflection of the culture in which it's produced, and often people have slightly different personalities that come through when they're speaking different languages. Do you feel that at all?
I definitely do. I think Korean as a language—it's more nuanced, there are so many idioms. We don't really use sarcasm in the language, so it's subdued but at the same time straightforward. I think in some ways that influences my personality when I'm there, I'm a little more quiet, more gentle and less expressive of my emotions. And then in America, it's the opposite. I'm very expressive, I squeal a lot and things like that.
Do those personalities come out in the different lyrics that you sing in Korean and English?
In Korean I'm a bit more nuanced and sexy I think, more metaphorical and contemplative. When I sing in English, sometimes I think it sounds tacky or I'm embarrassed, because when I try to say straightforward things it just doesn't feel right, versus in Korean I can do that freely. It's almost like I have another persona.
There's also something about the opacity of singing in a foreign language when you're in a western context. In elementary school, I had a friend who could also speak Cantonese, and it became our secret language. But it's completely different if you are making music that reaches a global scale.
That's actually been a really funny experience for me. My Korean wasn't exactly conversational or meant to be heard by other Korean friends, so a lot of it is phrased quite awkwardly. And then it reached Korean audiences, and at first, I was so embarrassed because I was like, damn, this isn't actually a secret code. This is just my diary. But they take it in a positive way. They're like, "Oh, she's really poetic," which I'm grateful for.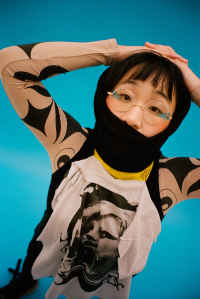 Was the purpose of Curry in No Hurry—the dinners that you started hosting in 2017—to build communities and grow networks?
When I started it, the idea was really genuine, frank, and straightforward. I would go out like five times a week because I was so excited, I had just moved to New York and I was young. I realized at clubs I'd meet all these people, and in some ways, you're seeing the most personal free-form of everyone because you're dancing, and dancing is such a physical and personal expression. I would get to know people in a really deep way, but at the same time, we weren't able to have a conversation because the music was too loud. I wanted to get to know people more. Also, a lot of these people would help me get gigs. I was really grateful for that and I wanted to express that. I was curious to see if, I put them all in one place and made them a cooked meal at my apartment, what would that be like? I chose curry because that's a very homey dish for me, my mom would always cook it for me. I would ask my guests to bring music to play, just for casual listening and eating curry, and then it somehow took a form of its own.
Do you have any new events coming up?
This year I'm taking it easy—I'm going to devote a lot of my time and energy to writing. I have stuff that sounds like a continuation of One More and EP2, but at the same time, I have a lot of things that are more emotion-based, not as highly produced but really emotionally connecting music. I am also planning an event for the local Brooklyn community that'll happen late summer, but nothing's concrete yet. I'm trying to stay rooted in this community that really feels me, and also understand ways that I can give back.
Victoria Sin is an artist and writer living in London. Recently their work has been shown at Serpentine Galleries, Hayward Gallery, Whitechapel Gallery, RISD Museum, the Knockdown Center, Chi-Wen Gallery and Taipei Contemporary Art Centre.
Interview:

Victoria Sin

Photography:

Lucka Ngo

Styling:

Monica Kim

Hair and Makeup:

Dana Akashi