Vic Mensa Has Something to Say
The Artist Reflects On Creating his Debut Album, Visiting Palestine,
and the Importance of Confronting Traumas
Text:

Stephanie Smith-Strickland

Photography:

Sandy Kim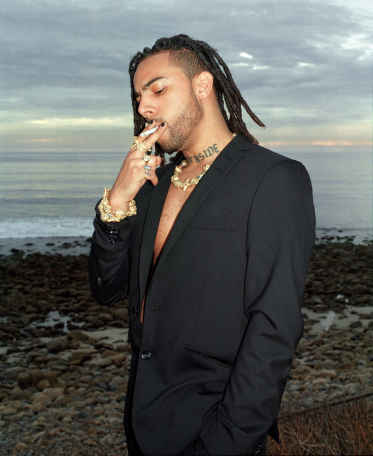 Vic Mensa enters a Malibu beach house sporting a fresh new tattoo and a boyish grin. He's dressed in the kind of intentionally weathered but unquestionably fashionable black uniform that belongs to rockstar rappers as it does to modish denizens of SoHo. His fingers, stacked heavy with chunky silver rings inspired by his Ghanaian heritage, are restless, tapping against his knees as a hairstylist gently coaxes his locs into fresh twists. Mensa may have released the EP There's Alot Going On in 2016, but that sentiment held true in the year to follow.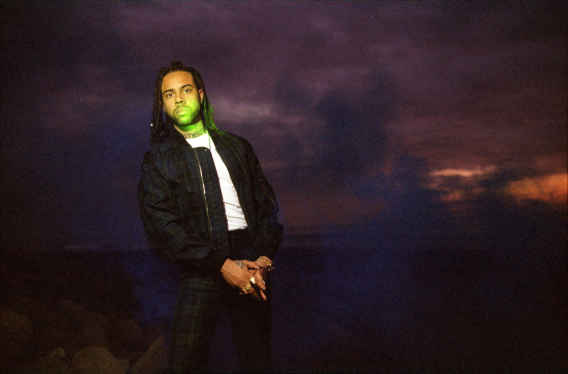 Last year, the 24-year-old native son of Chicago released his debut studio album, The Autobiography. The project ambles the spectrum between rap and rock, calling upon a Weezer feature and the input of Roc Nation founder Jay-Z. Mensa shared that it was actually the Brooklyn-born rapper who encouraged him to remove an unnecessary diss track from the album. But even without the wisdom of an industry veteran, the Grammy-nominated former XXL Freshman has always been sure-footed, maneuvering collaborations with artists ranging from Kanye West and Pharrell Williams to up-and-comers like Towkio and Joey Purp of Savemoney, the hip-hop collective Mensa founded that counts Chance the Rapper as an affiliate. Beyond The Autobiography's introspective themes—family, friendship, love, and loss—the album houses lessons about overcoming obstacles and facing trauma.
"Releasing The Autobiography was definitely a highlight of last year because in this day and age of the music industry albums are subjective, you don't have to make them. A lot of people just make mixtapes. My album felt complete. I encapsulated a lot of my life in a singular body of work. You could dig a hole in the ground and bury it as a time capsule of what 2017 and the years prior were like for me," he noted. Where There's Alot Going On is consciously outward-reflecting, taking aim at the race-related aspect of public health issues like the Flint Water Crisis and the shooting of Laquan McDonald in Chicago, Mensa's aptly-titled studio-length debut faces inward.
We are privy to an artist who flouts contemporary hip-hop conventions, one who is equally eager to reflect on his flaws as he is to participate in bawdy revelries and champagne-soaked nights. For Mensa, life is far more nuanced than the journey from hardship to Aston Martins and models. He is willing, and indeed finds it a necessity, to consider how his interactions with a world that is often hostile to young black men impact his psyche, and how that in turn impacts how he interacts with those around him.
Mensa's passion for engaging with the world on both a deeply personal level and as a scribe-like observer recording familiar but impersonal histories spins a spider silk-thin thread of connectivity that thematically links the lessons in There's Alot Going On and The Autobiography. Where the former reports on what he sees around him—whether it be the systematic injustice highlighted in "Shades of Blue" or the deterioration of the relationship with his longtime (now ex) girlfriend in "New Bae"—the latter unpacks how what Mensa experiences affects who he is becoming. "I wrote a lot of the music I released in 2016 and 2017 at the same time," he shared. "I had this feeling that things were about to ramp up and then 2017 became this hectic fucking time, it felt impossible not to talk about shit because everything was so visual."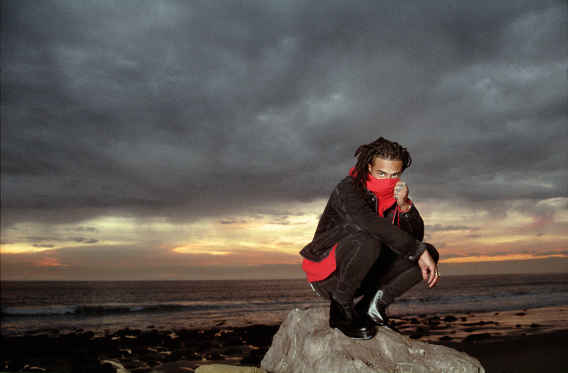 His desire to engage with visual experiences from around the world is part of what led Mensa to visit Palestine, an experience he describes as his biggest highlight of 2017. The trip also spawned a powerful video for the single, "We Could Be Free," which juxtaposes heart-wrenching footage of citizens viciously mistreated while protesting the military occupation of their homes in Palestine and the sobering scenes of hate and violence that occurred in Charlottesville and Ferguson. "I traveled all around the West Bank and I was exposed to a lot of severe injustices. I was with a lot of great people so it was a very powerful moment. I went with a good friend of mine named Aja Monet, she's a poet and a freedom fighter who has an organization called Dream Defenders. She'd told me years before that we need to be paying attention to Palestine because it's one of the biggest human rights violations of our time. When the opportunity presented itself it felt right to me because I like going places that inspire, motivate, teach, and upset me."
As Mensa details through his music, there is no greater motivator or teacher than life itself. "I have a song on my album called 'Homewrecker' and it's about my ex-girlfriend breaking into my crib. That was far from the end of the story, shit got a lot crazier after I wrote the song, but at the time it helped to just get it out. One thing you learn from experiences like that is to be more honest. I know I want to be better to the people around me moving forward, especially in relationships. Another song that sometimes makes me emotional is 'Heaven on Earth,' it's about my big homie that was killed." Even though the song is a product of Mensa's personal pain, his ability to shift between narratives manages to evoke sympathy for the victim and the perpetrator. Rather than becoming an indictment of a violent act, the song becomes a study of how a cycle of crime traumatizes every person it touches.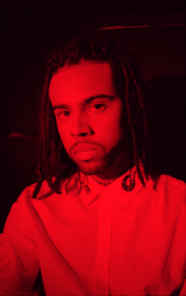 "I wanted people to know that the violence in Chicago all takes place in the same communities. The same people doing the killing are the same people being affected by those killings. It was important for me as a spokesman for my city to shed an empathetic and multidimensional perspective on the violence that is often so exploited and sensationalized," he said. "Also, so many of these crimes go unsolved that I didn't even really know who to be upset with. I knew I couldn't hold on to anonymous rage so I had to contextualize what happened into a bigger cycle. I had to come from an angle of interconnectivity and really understand that we are all one, as human beings for sure, but also as citizens of my city and the community I hold so dear."
In the same way "Heaven on Earth" became a confessional lesson in forgiveness, so too do songs like "Rollin' Like a Stoner," in which a catchy melody and seemingly upbeat title present an ironic juxtaposition to the ugly truth of substance abuse. "I wrote The Autobiography as a form of catharsis, but I also wanted to explain. I'd done this song with Kanye and a lot of people were like, 'What happened to the album?' I wanted to be honest about my trajectory and my path. I wanted to say, 'Yo, I wanted to give you an album but I was fucked up on drugs.' I wanted to be transparent so I could heal because I was hurting myself and people around me. I also wanted to open a dialogue about subjects that felt unapproachable. A lot of young men of color have trauma that goes unaddressed for fear of being perceived as weakness. I'm not weak. I feel strong. I think honesty is paramount to strength. My experiences gave me something to say."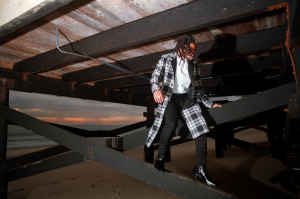 Stephanie Smith-Strickland is a writer based in L.A. Her writing has also appeared in Billboard, Complex, Highsnobiety, and more.
Text:

Stephanie Smith-Strickland

Photography:

Sandy Kim

Photography Assistant:

Josh Elan, Grayson Vaughn

Styling:

Brittny Moore

Grooming:

Rodney Bugarin

Hair:

Frances Smallwood

Production:

Emily Hillgren, Brandon Zagha