The Secret Ingredient Is Always Kelis
From a Milkshake to a Culinary Empire, the Superstar Has Built Her Own Utopia
Interview:

Ruth Gebreyesus

Photography:

Juan Veloz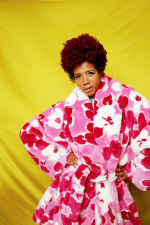 Kelis is off the grid. She's bought a farm some 80 miles south of Los Angeles, where the quintessential New York City girl now lives with her husband and two kids. Citrus and olive groves span the 24-acre ranch, which will soon be home to an impressive variety of vegetables and some pygmy goats. "It feels like I earned this," she tells me, seemingly elated by her new lifestyle. "I can walk outside butt naked."
Following the release of her fourth studio album, Kelis took a break from the music industry to pursue another passion; enrolling in culinary school at Le Cordon Bleu in France and training as a saucier. Soon after, she released a cookbook and launched a line of sauces under her company, Bounty & Full. A natural extension of her music, her approach to food is bold and maximalist, with flavors drawn from family recipes and her own imagination. This year, she's releasing a new project, a yet-to-be-titled EP. "I have a clear understanding of where I'm starting," she says of the project. "But I don't know that it's going to be that when it's done."
On set, the singer, pro chef, and budding farmer takes a similar approach to fashion—she's most drawn to the splashy colors and prints on the racks of clothes set out for her. Kelis strokes a pair of flared Margiela trousers and describes them as "delicious." Placing an oversized green hat over her crimson curls, she decides it's not for her, but insists that her team tries it out, too. Finally assembling her first look, Kelis makes a declaration: "I look like a pirate...In the best way."
When she was 19, Kelis released Kaleidoscope (1999), a self-assured debut album that sounded like nothing else at the time. Prescient in its disregard for genre boundaries, the album arrived like an intergalactic missive from the future, with fashion and sonic touchpoints that stretched a pop record's possibilities into funkier territory. Her soulful, smoky voice quickly gained Kelis a legion of loyal fans. In the Hype Williams-directed video for "Caught Out There,'' Kaleidoscope's lead single, she sings with the clarity of a betrayed lover, her fuchsia-dipped blonde curls bouncing as she shouts the now infamous refrain: "I hate you so much right now."
Kelis credits her mother for nurturing her confidence throughout her decades-long career. "As a young adult, I had issues, but finding myself wasn't one of them," she says. "I knew exactly where I stood in the world." Here, between outfit changes and hair consultations (a braided ponytail is "never too thick"), we speak about the joys of living life on her terms.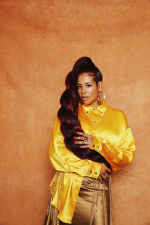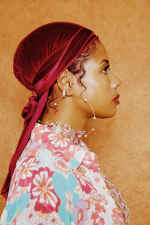 What's life like on the farm?
We just moved, so I felt unsettled for a while. Now, we get up in the morning and I have my own personal routine. I pray, take some time to myself, and then the kids get up and I make breakfast.
Has it been difficult to be away from the city?
It's inconvenient for someone who cares and wants to be in the mix. I have no desire [for that], so it's everything I've ever wanted. When I started to do research, in the 1920s, black-owned farms in the United States were at 25, almost 30 percent. We are now under two percent, because we were bamboozled into giving up this land.
That happens so much in our history. But that's part of the reason we're even here, because of the skills that we inherently have to grow, understand the land, and use things to benefit our health. There's an essence of reclaiming your rights that I love.
It must be so nice to provide that for your kids, too.
It's funny how it processes in their little minds. It changes their understanding of themselves in spaces, how they see the world and what they expect from themselves. It's hilarious, my husband and I, every night we laugh—they don't ask for the iPad, they come inside when the sun goes down and they're exhausted. So, where we used to have to fight about bedtime, now they're like, "Goodnight, lady. Peace. I'm out."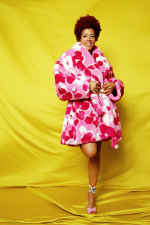 Do you dress differently now? What informs your sense of style?
Oh, I couldn't care less. I love house clothes. I live for a luxurious robe.
How did being from New York influence your style?
New York, especially in the 90s—there was this push. As black people, as women, there was so much happening at that time. It's a very small space, too, it's congested. So it's robust, like a full-bodied wine, right? You can't help it, you have to be expressive.
Where do you start when you're pulling together a look?
I'm a very theme-oriented person so I'll [watch] Peaky Blinders or something and all of a sudden I want to dress like a man in the 20s. And that would be my vibe until I get over it. It's always my take on it, but that's the spark.
I'm late, often. Sometimes it takes a moment. How am I going to feel good today? I want tassels and dangling things and glitter and gold.
Right, like sometimes I want to drink tea out of this one, particular cup.
There should be no guilt in it. It's the little pleasures. It's about me, for me. I do enough for everybody else. It shouldn't bother nobody.
My life is filled with all these little things that I love. Even my little ones, like the littlest, something would come on the TV or on our drive and he's like, "Mama, you're going to love that. You love that, right?" He's four. And I do it for them. I want them to take notice of the things that they love and the little joys.
Where do you find similar pleasures in music?
The energy you get from people on stage, or sometimes, you'll hear a song you've heard a million times, but it strikes you differently. It happens often when performing. All of a sudden I'm like, "Why didn't I ever sing that harmony?" And now I can't fathom this song without that harmony.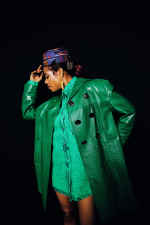 What can you tell me about your 2020 EP?
I've written a good portion of it, but I had to be away [to do that]. You know like you give a baby a pacifier? It's soothing.
So you mostly make music while you're away from home?
Even though people are like, "Oh, you travel with your kids." I do, but my kids are not the problem. It's everything else. It's a busy mind. It's constantly having all of these distractions, things you want to put your energy towards. You want to be a good friend, a good daughter, a good sister. It sounds terrible, but no one expects me to be any of those things when I'm on the road. I have no obligations. I don't have to keep up with birthdays. It sounds hideous, but because of that, you're not responsible. They understand that I have to be present there for me to feel any sense of peace. You've got two decades [of that] and you're like, "I'm okay being 30 minutes away from a store." It's good for me. I'm able to sit there in the mornings before anyone wakes up and I'm able to pray in silence. When I look out the window and I see these massive dogs playing and my kids are chasing them, it looks like a freaking commercial.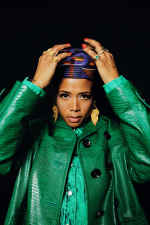 Ruth Gebreyesus is a freelance writer and editor based in California. Her work has appeared in SF MoMA's Open Space and The Fader among other places.
Interview:

Ruth Gebreyesus

Photography:

Juan Veloz

Styling:

Rita Zebdi

Photography Assistant:

Cameron Ross

Styling Assistant:

Sarah Nearis

Makeup:

Esther Foster

Hair:

Maisha Oliver

Production:

Chaia Raibon

Date:

February 19, 2020