Self-Made Saweetie Is Rollin' With Some Gucci
The Bay Area Rapper's Modern Marilyn Moment
Interview:

Molly Lambert

Photography:

Aidan Cullen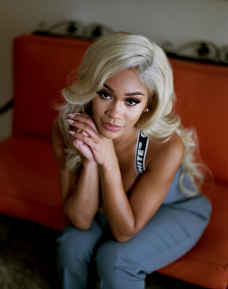 At a 1950s apartment complex on the Westside of Los Angeles, Saweetie (née Diamonté Harper), is channelling a California bombshell from an earlier era. The theme for today is "Icy Marilyn Monroe" and a team is styling her in classic Hollywood glamour. She arrives in a sweatshirt looking flawless and multi-tasks like a pro, doing back-to-back radio interviews while the hair and makeup artists perform their work. Like Marilyn Monroe in the 50s, Saweetie is self-made—a naturally talented starlet on the rise. In 2016 she posted an Instagram video of her rapping over the beat from Khia's "My Neck My Back" that would eventually turn into her first hit "Icy Grl."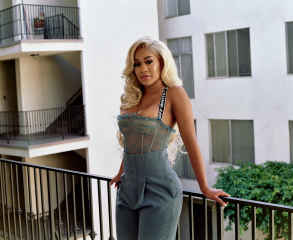 Born in Hayward, California, Saweetie grew up in the Bay and Sacramento before heading to Los Angeles to attend USC. She stayed in L.A. after graduating, and she's been working on her music career ever since. She's both aspirational and humble as a sex symbol, a modern Marilyn Monroe. Like her stage name suggests, she has the quintessential California girl ability to keep it casual and cute at all times. Dressed up or down, she looks just as comfortable rapping in her kitchen wearing athleisure in the "High Maintenance" teaser she posted on Instagram, as she does glammed up for photo shoots. Saweetie brings her perfectionist work ethic to everything she does. That's what "high maintenance" means to her—high standards.
She attributes the grassroots success of "Icy Grl" to "word of mouth, because it was so organic how it happened. Honestly, it just blew up on its own. I didn't expect it to be that big." She's part of the new generation of rappers that break online. "Social media is the new streets" she declares. "Instead of standing on the corner handing out your mixtape, you're posting online, and that's how your fans are getting it." Saweetie looks back on a time not too long ago when she was purely self-releasing and self-promoting online. "I used to check Soundcloud everyday to see what my streams were and now I don't even look at it." She stops and smiles before continuing, "That's crazy." She doesn't consider herself a Soundcloud rapper; you would never mistake her music for the face-tattoo emo rap that "Soundcloud rapper" now conjures. But she rose on the platform, where the directly-to-consumer relationship helped her build a loyal fanbase, "You're able to test what works and what doesn't."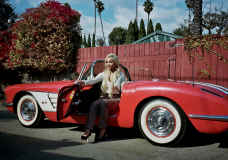 Between playing festivals, shooting videos, and recording guest spots with artists ranging from Zaytoven to Dua Lipa, she did what she calls "a little cameo" on Quavo's debut solo album, Quavo Huncho. While Saweetie has been coy about confirming rumors that she's dating Quavo, they've been spotted at each other's sides regularly in real life. Quavo posted a dreamy backlit shot of the pair on his Instagram, and she spent the previous evening at the lavish Quavo Huncho album release party. Still, she managed to get a good night's sleep, and her face lights up talking about the party "It was amazing," she says, "Very theatrical. Around the room, there was different stages and sets and as the album progressed, each set would then show, the curtain would drop. It was an experience."
While some rappers' aliases provide an outlet for other aspects of their personality, Saweetie says of Icy Grl, "I feel like it's just me. What you see is what you get." Earthiness coexisting peacefully with flashiness is very Bay. Saweetie agrees. "For some reason, you're able to just tell the difference when you go to the Bay. It's a whole bunch of unique personalities. It's a really special place. I think me being from the Bay just influences who I am and I don't feel like I need no alter ego. I'm just me." Along with other female artists like Kehlani, who guested on an "Icy Grl" remix, Saweetie is part of a wave of artists from the Bay who are pushing California rap forward and paying respect to hyphy by keeping the low end high. "I've been trying to incorporate that Bay sound because it's so unique and it's so catchy and the bass is always crazy."
Now that she's a household name, people have started trying to pit her against other female rappers, "It's already happening and it just is what it is. I don't feed into it because there's just no reason to." Asked about being trolled by haters on social media she says "People go out of their day to do things like that. Y'all must be really miserable." She adds, "Honestly I love social media. But social media just shows you that some people are really strange." And she can't take any breaks from social media these days, with a new project on the way.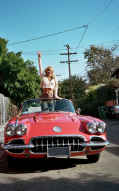 Saweetie's music has a core West Coast quality that spans from L.A. to the Bay: it bumps. It sounds amazing in a car, driving down a long stretch. "I'm an excellent driver," Saweetie says, smiling. "I could be a getaway driver." She's excited about the possibility of driving the vintage car parked outside for the photoshoot. She's rapped over a Too Short beat, and she shares the always hustling but still laid-back quality of the best West Coast rap. Like all California girls, she has a strong sense of self-respect and finds no contradiction with that by enjoying screaming "bitch" with Too Short. Saweetie can be the cocky female corollary to male rappers' macho braggadocio, but she doesn't shy away from being vulnerable in her music either, advocating for moving on from men who don't deserve you to those who do.
Molly Lambert is a writer from and in Los Angeles.
Interview:

Molly Lambert

Photography:

Aidan Cullen

Styling:

Mikiel Benyamin

Makeup:

Sydnee Horn

Hair:

JStayReady

Producer:

Emily Hillgren