Rapper/Producer BlocBoy JB Is Taking His Memphis Twang and a Signature Dance Worldwide
Text:

Alex Russell

Photography:

Hannah Sider
Lower Manhattan is a mess right now. BlocBoy JB and I have taken refuge inside of the black SUV assigned to drive him around the city. At the corner of East Broadway and Essex, sirens blare, traffic is bottlenecked, pedestrians argue on the sidewalk—it figures that when I settle into my seat beside BlocBoy and ask what's up he replies definitively: "This blunt."
The blunt in question is long overdue, a hard-earned reward after a lengthy photo shoot at Mission Chinese, where smoking was discouraged. (Sadly, they did not cater.)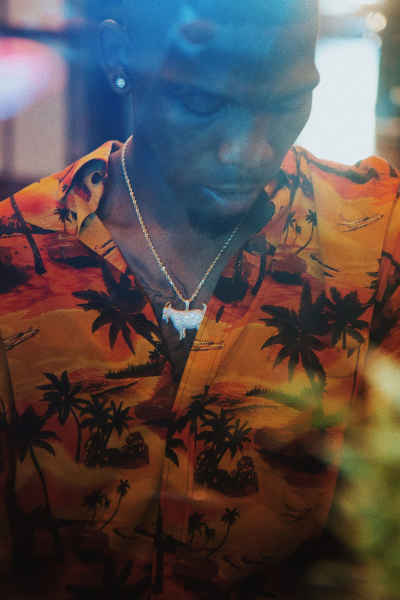 When BlocBoy arrived, I could tell he had been shuffling around from city to city, making the rounds required of a newly-minted rap star. It's been a few months since "Look Alive," the Drake collaboration that took his already bubbling career into hyperdrive, and he's striking while the iron is hot. A remix with 21 Savage, a feature for A$AP Rocky—even his ad-libs were interpolated in Childish Gambino's #1 single "This Is America." Meanwhile, his "Shoot" dance has everyone from Lil Uzi Vert to Fortnite avatars in step. And without missing a beat himself, BlocBoy just released Simi, his first mixtape since becoming a viral phenomenon. He has flooded the mainstream with his instantly recognizable Memphis twang.
When I ask if he's tired, though, he denies it with authority. And with his blunt and an apple juice in hand, he starts to lighten up a bit. "That skinny ass dog, man," he observes, having noticed a frail Italian Greyhound struggling on its leash. Cracking himself up for a second, smiling with his gold teeth, he returns to our conversation. We've been talking about 8 Mile, one of his favorite movies.
"He was a hood nigga," explains BlocBoy, explaining how he relates to Eminem's character in the film. "Basically, if you color blind, you ain't gotta see it like, 'Ah, he white.' Nah, he just another nigga in the hood, really, rapping. Like me, basically."
His favorite scene is the one in which Eminem's character and Xzibit's character, among others, are rapping outside of a food truck at the manufacturing plant where they all work. After Xzibit bullies some of the people in the lunch line with his rhymes, Em comes along and humbles him (while holding an orange juice). BlocBoy and I recall one of the battle's most memorable lines: You've worked at this plant so long, you're a plant! It's a very pure moment—everyone is rapping for its own sake, making fun of each other to pass the time. "That's how I came up rapping," BlocBoy says. "Making fun of folks, roasting folks, just rhyming."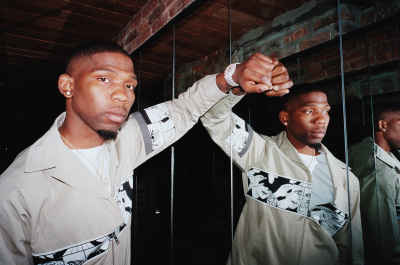 His training ground was the collected desk surfaces of the Memphis school system. "We used to beat on tables in the classroom and check people. That's how it started, the classroom. When the teachers left, we'd just beat on tables, and everybody would get to rapping. Making fun of folks. Shit, they'd check me, then I'd have to come back. And I been rapping ever since then." BlocBoy starts beating on the side of the SUV to illustrate all it would take to get kids to battle back in his school days. That universal rhythm of the clenched-fist-meets-desk kick drum served as the canvas for countless outfit-based humiliations across the globe.
At the time of our conversation, BlocBoy's most recent hit is one he produced himself, a fact made unmistakable by its title: "Prod By Bloc." We start talking about the song because the beat itself is reminiscent of that same makeshift classroom percussion. No instrumentation, no melody, just simple drums. In its accompanying music video, BlocBoy and his friends use kitchen utensils to beat against pots and pans in sync with the rhythm of the actual track.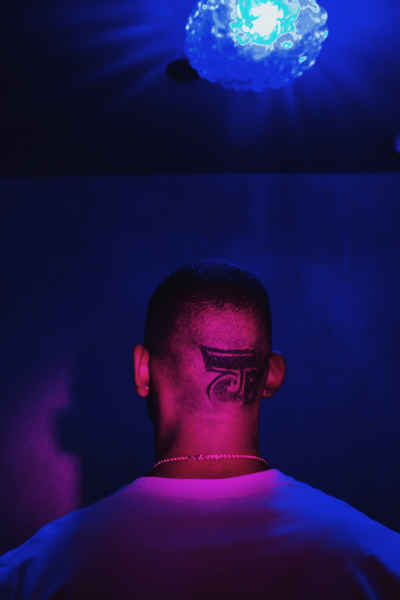 He made the beat in about three minutes, according to him, and it doesn't feel incomplete whatsoever. "I don't be liking all them instruments," he explains. "I like a more back-and-forth beat that'll have you bobbing. It's certain instruments that'll make you bob, but without instruments it'll make you bob more." That kind of minimalist production style allows more space for the verses themselves to shine, unencumbered by competing melodies. And such is characteristic of BlocBoy's style in general; his flows zig and zag around the confined, skeletal rhythms.
In terms of lyrical content, he plays it less vulnerable and more playfully boastful: Coupe got the missing roof/Your boo, came up missing, too/Poof! That kind of interplay, most often, was the essence of those same classroom freestyles. His songs take you back there, and you can truly hear how much fun he's having with it.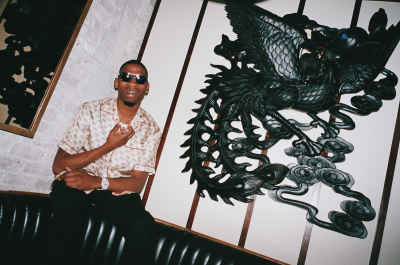 Ironically, it was abandoning the classroom that ultimately led to BlocBoy's career as a rapper. "I was leaving school early to smoke blunts and go home, hop in the studio." His earliest memory of recording an actual song was "Goons Coming," produced by childhood friend Tay Keith, with whom Bloc would also eventually craft "Look Alive," "Rover," and "Shoot"—his best known singles to date.
In those early days, as he explains, he was already exposed to a much more perilous way to spend his time than skipping class to smoke weed and record. "I was Crip when I was 13 or 14," he says. When I ask how that early involvement came about, he replies with just one word: "Simi." Our conversation comes to a halt, and the brief moment of silence that follows underscores the lingering significance of that answer.
Simi is the name of one of Bloc's oldest friends and supporters: "When I dropped one of my first songs, I let him hear it," he recalls. "He was like 'Damn, who is this?' He instantly got in the car, started bumping it, riding around and everything."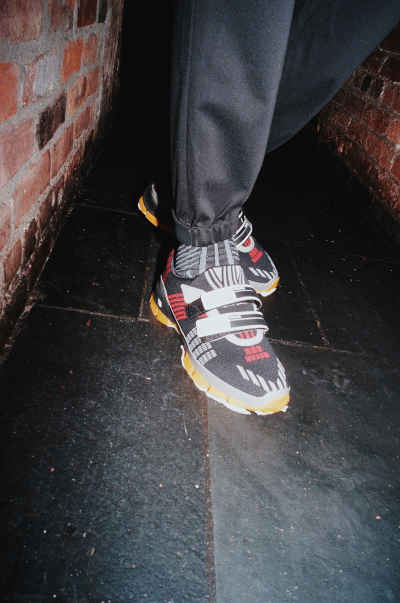 Despite his own Crip affiliation, Simi encouraged Bloc to focus on rapping and eschew the pitfalls of street life. He wanted Bloc to escape through music. "I used to always be on some hot shit," recalls Bloc. "Ready to jump in shit, on some Crip-versus-Blood shit. He'd be like 'Nah, this ain't the way, just keep rapping'." When Simi died in 2016, Bloc internalized those suggestions and committed to his path as a musician. His newest mixtape is dedicated to his lost partner in both name and spirit: "Everything we got going on right now is for him."
When I ask what is most important to BlocBoy, he declares without hesitation: "My family." When I ask what—if anything—he is afraid of, again, without hesitation: "Losing my family." With Simi's passing still so fresh in his memory, that fear remains both tangible and warranted.
"I don't care about no money," he continues. "If anything I'm ready to go back to how it was. I was cool shooting dice. I still wear the same shit I always wore... Except for the Gucci shit. I'll turn that shit in and wear my Jordans."
Yet as his profile expands, it seems Blocboy will be able to provide for those closest to him for years to come. It is no coincidence that he mentions his mother on almost every one of his songs by way of what is perhaps his most recognizable ad-lib: That's on my mommaaaa! Incidentally, he just bought her a house.
Alex Russell is a freelance writer trying to go Hollywood.
Text:

Alex Russell

Photography:

Hannah Sider

Styling:

Taylor Okata

Grooming:

Quincy Gholar

Photography Assistant:

Kendal Steensen

Styling Assistant:

Aggie Tang

Location:

Mission Chinese