Meet the Next Avenger, Tory Lanez
From Toronto to the World: The Genre-Spanning Rapper On Overcoming Fears and Making Music in His Sleep
Photography:

Bryan Rodner Carr

Interview:

Stephanie Smith-Strickland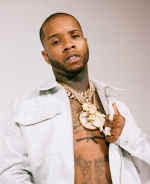 The first time I talk to Tory Lanez it is over the phone. I'm trying to get him to tell me everything about his 2018 sophomore album, Memories Don't Die, which he does while simultaneously accomplishing about a dozen other tasks. This time, we meet in person; it begins with a hug and rather apologetic ask—he wants to play Crash Bandicoot while we chat. "I'm sorry, it actually helps my brain," he explains, his fingers flying over buttons. Already familiar with the 26-year-old rapper's kinetic energy, I am unsurprised when 40 minutes later his character has survived the game unscathed.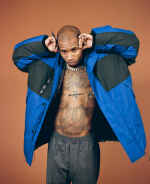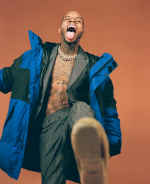 Born Daystar Peterson in Toronto, Canada, a city with a vibrant Caribbean community that's reflected in Tory's own parents—his father is from Barbados and his late mother hailed from Curaçao—Tory showed creative inclinations from a young age. In 2009, while living in Florida, he released his first mixtape, T.L 2 T.O, and produced a number of self-directed videos to accompany the project. He still directs all of his own videos today, a fact he shares bashfully, but with pride. By 2014, Tory had released close to a dozen mixtapes, but it was the following year, amid brewing tensions with fellow Torontonian, Drake, that brought his hit single "Say It." The song peaked on Billboard's Hot 100 and took Tory from buzzing underground sensation to charting talent. By 2016, he'd announced a joint tour with A$AP Ferg and declined a spot as one of XXL's coveted "Freshmen of the Year".
"I've always felt like people would just like me as myself," says Tory, reminiscing on the time leading up to the release of his debut studio album, I Told You. The project's absence of features and reflective nature aligned with Tory's inward-looking personality. He is a self-proclaimed loner who by sheer determination carved out a career in a competitive landscape, bypassing some of the very peers who discounted him on his way there. But his third studio album, Love Me Now (released last month) illustrates that he has also developed a deep desire for collaboration. The project includes appearances from 2 Chainz, Rich the Kid, Lil Baby, and more. On a recent morning in Los Angeles, I spoke with Tory about the event that led to the album, freedom of speech on social media, and the possibility of becoming a fictional superhero.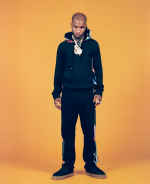 Stephanie Smith-Strickland
Tory Lanez
What have you been up to lately?
I've been working on this new project. It has a lot of my fan's favorite artists and a lot of different styles of records. It came from a near death experience that I had. That's what inspired the whole album.
I was on a private jet and it fell out of the sky. It went from 39,000 feet to 11,000 feet in like a minute and a half. We almost died but luckily the plane caught back at 11,000 feet. We had about five minutes before the plane actually would have crashed.
You have a young child. In a moment like that, what is going through your head?
Honestly, that's really all that was going through my head at that time. I was like, "Damn... My son. I've got to see my son again." When I got off of the plane it made me really think about what I'd accomplished. Have I worked with everyone I wanted to work with? Did I make the best effort to be a part of my peers stories about me? If I died, would this artist be able to say I worked with him and it was a great experience? I feel like I didn't have enough of those relationships, and because of that I was just like, "You know what? If this is the case then I need to change a lot of things and I need to have things that will be appreciated and valued as part of my legacy." I wanted it to be like, "Ok, Tory did this for me because he liked me as an artist and a supporter as opposed to all of the times he hasn't worked with anybody. This time he's working with other artists and I can be happy and excited about that."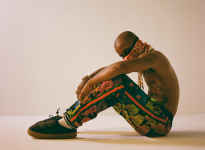 Is there a reason you'd been a bit cautious about collaborations before?
A lot of people shitted on me when I was coming up, or maybe I just took a lot of things personally. It made me just kind of look at things like, "I'm just going to do this on my own." It's not really a smart outlook on life, you know? It's kind of selfish in a weird way. You can't give that vengeance to the world, which is something I kind of learned.
What is it really like for an artist who is coming up? Do you find the people playing the gatekeeper roles are maybe not willing to collaborate with others?
A lot of people treat you like your dream doesn't matter because they're so busy and what they have going on is most important. At the end of the day, when you're an artist and you're trying to do collabs with people and people are shunning you, when you finally get there you're like, "Well fuck all y'all. I asked you for a fucking song two years ago." It's not really those people's fault either. Sometimes you're just not popping.
Do you feel like having a multicultural background as part of your identity gives you any sort of edge?
It works to do a lot of things musically for me, the way I pronounce things or the fact there are certain things that I can do and be authentic that other people can't because I am Caribbean and it is my culture. You should never force anything, and I never do.
Do you ever worry about the impact of social media on your career? Do you feel at full capacity to be yourself?
The whole point of freedom of speech is to allow free speaking. Some shit is just offensive and you have to think about other people too. With social media it just makes it more visible so then people can be like, "I'm cancelling you." What I've realized though is there's something about not giving a fuck that people just love. A lot of us are very scared to be ourselves and when someone doesn't give a fuck that means they're comfortable with niggas not liking them or their opinions or people not feeling what they're saying.
Do you have the same attitude toward your music?
That's one thing I feel so comfortable with. If there was a way to make music in your sleep, I'd be able to do it.
Have you ever run out of inspiration?
No because everyday life inspires me. Sometimes I turn on Netflix and I find some shit to write about. Movies are a big thing for me. A big part of sounding great and making great music is watching things that make you feel a certain way.
Would you ever dive into film?
I would love to. I actually direct all of my own music videos.
What's the last really good movie you watched?
I watched Venom the other day and I thought it was pretty good.
Are you team Marvel or DC?
Marvel, but DC heroes have better stories. Like, Batman never had no super powers he was just a rich guy with a past.
You should score a Marvel film!
Stephanie Smith-Strickland is a writer based in L.A. Her writing has also appeared in Billboard, Complex, Highsnobiety, and more.
Photography:

Bryan Rodner Carr

Interview:

Stephanie Smith-Strickland

Styling:

Rita

Photography Assistant:

Pat Martin

Styling Assistant:

Anastasya Kolomytseva

Grooming:

Vego

Production:

Becky Bunz

Production Assistant:

Lauren Rothery