Lil Yachty Is Infinite, Reckless, and Floating
The Atlanta Rapper Speaks on the Importance of Trusting Your Intuition
Interview:

Max Mohenu

Photography:

Brent Goldsmith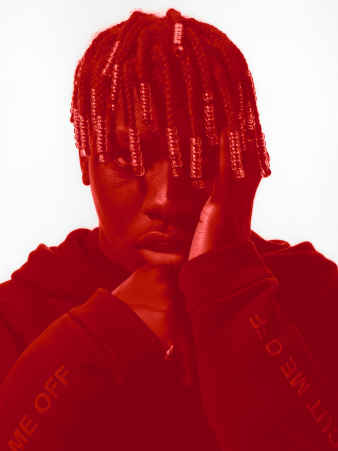 Everybody's talking about the lil' boat from Atlanta, and if you spend a few minutes researching Lil Yachty, it is easy to see why. The 19-year-old rapper cuts a striking figure with his beaded braids and colorful ensembles, reps a sober lifestyle, and has turned a fascination with boating into a personal aesthetic. Suffice it to say Yachty has an abundance of personality. Within a year, he has become one of the most talked about new acts in hip-hop, scoring two hit singles off of his Summer Songs EP, a litany of high-profile guest features and remixes, a modeling gig for Yeezus himself, and a spot in the coveted XXL Freshman Class of 2016. Yachty's music bangs without a game plan, relying on intuition instead of a formula. He'll rap over a flipped Rugrats instrumental one minute and a more traditional trap beat the next. Even his style, an offbeat blend of 90s revivalism with a particular affinity for the casual brand Nautica, eschews archetypes. His only exception? Rocking a nice grill—except during interviews, of course. Yachty's approach has earned him the ire of some of rap's old guard, who have gone so far as to suggest that he represents a devolution of the genre, but Yachty's only interested in representing himself, spreading positivity, and getting rich off work that excites him. So far, so good.
Max Mohenu spoke with Lil Yachty, who was photographed in Toronto in looks by Balenciaga, YEEZY Season 2, and Craig Green.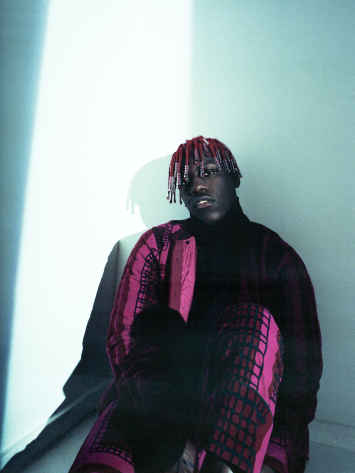 How would you say your style is different from other Southern rappers?
Well, I think I'm different, so my sound and style are automatically different than other Southern rappers. I don't know, I just try to do me.
Would you say there's a blueprint for style and aesthetic in the South?
I don't think there's necessarily a blueprint or particular look for Southern rappers. Nothing current, anyway. If there was a "look," I'd say it's maybe a 90s look.
Are the beaded braids a fashion trend over there?
No. Not the South. I don't know where it started. I think Hurricane Chris used to do it. He might be from New Orleans, but I'm not sure.
I've seen you match your beads with outfits in other editorials you've done before. Are there certain color hair beads or color patterns you like to match with?
It's funny, because back in the day I used to match my beads with my outfit, but when my hair got longer it was harder to do. I don't really have a preference. I usually do clear beads now, so that's much easier.
What's your go-to accessory?
My grill probably comes first. I don't have it in right now because people say I sound weird with it on.
Who are some musicians, past or present, you feel have some of the most iconic looks in music?
People like Kurt Cobain, Public Enemy, and ASAP Rocky. I love Kriss Kross. The backwards clothing was dope. Theophilus London is fucking killer, too. His shit is on point.
One thing Kid Cudi did that I always wanted to do was the crop top, but I need to get in shape if I want to do that. These days Tyler, the Creator with these colors, man! He's been killing it lately. Love Tyler. I know it's not music, but definitely Martin Lawrence back in the day, too.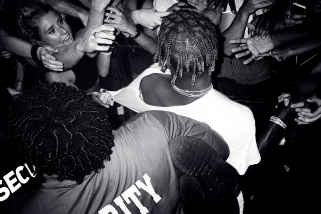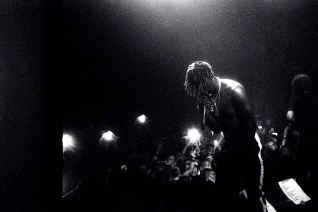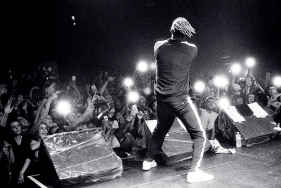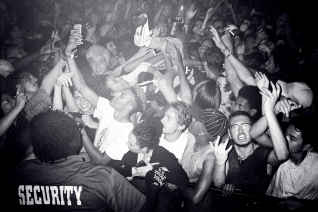 If you had to describe the Lil Boat Sailing Club aesthetic, what would you say are the essential looks?
[Laughs] I really wish I could be on some Kanye shit. You remember when Kanye first came out and it was all suits? It was so fly. I'm gonna get there one day, but right now it's just a Lil Rascals look. It's not even something we planned, it's just kind of how it is. We just look like a gang of little rascals. I'd say when we do music videos there's a look. When we did the "All In" video, it was all white and red, which was dope. On tour we played L.A and I bought us all Lakers jerseys, so we looked like the starting five. I just want us to look like a team. I like matching. I think it's tight.
When you're older and looking back, what aspects of the Lil Boat/Yachty image do you want to be immortalized?
Bringing back Nautica Competition, the red hair with beads on it, and positivity. I wanna be remembered for spreading positivity and love.
Do you think gender-neutral fashion in hip-hop is important for the culture?
Not necessarily important, because that just is what it is now. Fashion has changed and people aren't so judgmental. I mean, you still have the old generation judging and hating, but I feel like once this generation becomes old, there will be no judging. It's just gonna be free. Nobody's gonna give a fuck.
Are you open to experimenting with looks that push those gender boundaries?
Sometimes. It all depends on whether it fits and if I like it. I'm not just gonna push to be like someone else, though.
I would never put a dress on just to do something Young Thug did or wear a whole leather outfit, black nails, and do a goth, rock star look. It's just not me. I go into everything with open eyes and no judgments. If it works out, then it works out.
What was it like meeting Kanye West?
Kanye West is really, really cool. Super nice. A lot of people think he's really mean, but he's really nice.
Did the experience with YEEZY Season 3 inspire you to want to build a similar empire?
I can't say it did or it didn't. I wanna do a clothing line, but right now in terms of inspiration, I'd say Tyler, the Creator inspires me more because I've had longer talks with Tyler and we're both younger, so I can relate to him better. He's super smart.
What drives you to be successful at such a young age?
Well, it took me being in a terrible school to realize I didn't wanna be in school. You always hear dropout stories and you never think you can do it, but the crazy thing is this time it was me. I wish everyone could flash back and see how normal I was nine months ago. I was literally like any of these kids standing outside the building. Now I'm sitting here with a $40K watch on and a bunch of jewelry. All I can do is remain humble and stay thankful to God.
You said you wanna be rich as fuck before you're old as shit in an interview. How are you planning on doing that?
Just having other things going, man. I'd like to get some properties and maybe open up a restaurant at some point. I dunno. Just something different.
How does having a manager like Coach K who's highly respected in the rap game help you stay level headed in terms of business?
He old as shit, so I guess he wise. [Laughs] He's like one of the only people I listen to.
Any advice for the youth going through a similar transition with school and career?
If they're trying to do something like me I'd say just stay creative. It's all about being innovative. You've gotta have those eyes on you and make that next move that's gonna grab the attention of the world. Again, Tyler is a perfect example. He ate that bug, man! He hung the noose and just went for it.
The Atlanta rap scene is deeply rooted in this club culture and hype party production. Does it feel important to be connected to that or do something fresh and new?
I think all music is important, don't get me wrong, but I don't make records exactly like that. I make music for teenagers, bro. Maybe in a relationship, or just got broken up with, or happy and in a good place! If you like the storytelling, that's cool, but it's mostly just about teenage emotions. Oh my god! I think that's what I'm gonna call my next album.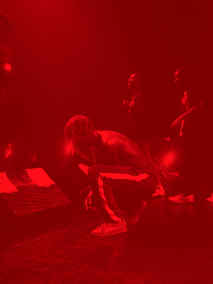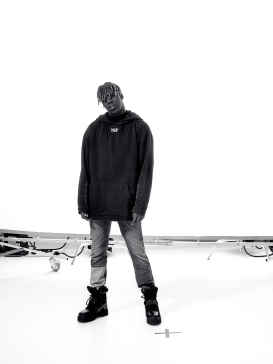 [Laughs] Yeah maybe. I think that's the one.
Have people ever taken the lyrics to your songs literally?
The "1 Night" stuff is funny, bro. I feel like every time I post up with a girl people be like, "But you said you don't want no wife." Honestly man, I don't know why people take life so seriously.
How do older rappers and critics feel about you saying serious rap's boring?
Yo. Me and my man Ebro from Hot 97 be going back and forth on Twitter all the time. Honestly, I just make jokes about it. I really don't give a fuck. I'm getting money.
Not everyone is gonna like me or listen to me. I never said my raps were meaningful. I'm just having fun, bro! As long as I'm having fun, my family and my friends are having fun, and my fans are good, that's all I got to worry about.
How do you handle people who might get mad at stuff you've tweeted jokingly?
I can say sorry. I'm not afraid to say sorry. I don't take that shit seriously.
You seem like you're having too much fun to be Twitter beefing anyway.
[Laughs] I mean, yeah, it's not that serious.
How did you like working with Petra Collins?
he's amazing. So creative. She's got that hippie, 70s Show vibe going. It's really, really dope.
Did you like the way she captured your life in Atlanta with Keep Sailing?
It was really cool, man. I can't speak for the South, but she kept my story real.
In terms of other female collaborations, what are some dream Yachty collabs?
Kehlani, Rihanna, and Beyoncé. I know that's pretty big, but you asked.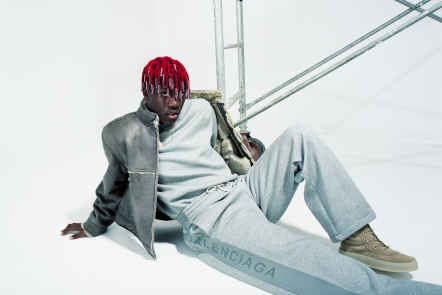 How have your experiences in Canada been?
Well, Toronto is way different than Vancouver. Petra's actually from Toronto, right? I fucking love Toronto! Toronto's tight! Vancouver is nice, too, but Toronto is tight! I can see myself living here.
Have you had a chance to check out any Toronto spots since you've been down here?
Nah. I spent the whole day in the OVO studios cutting some new records.
So you've just been recording new stuff on your downtime?
Yeah, I rented out a room here and we just been working. Shouts out to 40 and the homie Drake for letting me use the home space while they're on tour.
Can you talk a bit about the new music?
I haven't had too much time to finish anything. I've been touring like crazy. Yesterday was my first day in the studio for a long time.
Has it been hard finding time because of your schedule?
Yeah, man. I'm on this tour and after this I'm back on tour again for three weeks with Rae Sremmurd, which I'm excited for. If I didn't have that tour, man, I'd just be locked up making more records.
What's it like having your friends on tour?
I love the home feel, man. That's why I brought 'em, but that's just the little crew. We couldn't even bring everyone over here. In America we travel like 15 deep.
Do the after-show parties get rowdy at all?
Well, for starters, I hate clubs. Don't like clubs at all. I don't drink or smoke, so clubs are awkward to me. It's boring. Everyone just stares at you the whole time.
Interview:

Max Mohenu

Photography:

Brent Goldsmith

Styling:

Saam Emme

Grooming:

Chanel Croker / DNS