Talking Music and Fashion with the Rapper, Actor, and Calvin Klein Campaign Star
Photography:

Hannah Sider

Interview:

Kevin Pires

Joey Bada$$ can jump. And surprisingly high, at that. Sitting on the sidelines of photographer Hannah Sider's set, I watched the rapper's Vetements hoodie catching air in its oversized folds as he leaped off the ground for his final round of shots. It was clear that this was not the 21-year-old rapper's first time on a fashion set. Joey's overall presence is defined by a certain ease. Then again, he's a veteran performer. After growing up in Brooklyn, Joey began rapping at the tender age of 11, honing his craft while studying theater and music at performing arts high school. The multitalented co-founder of the Pro Era collective has transitioned the success of his top-5 charting debut album B4.DA.$$ into a recurring role on the television show Mr. Robot and a series of speaking engagements at Ivy League universities.
Kevin Pires and Joey Bada$$ spoke about the convergence of music and fashion, his burgeoning acting career, and the hard questions he's been facing on his lecture circuit.

Your Calvin Klein campaign rolled out two months ago now. How did that come about?
First off, it was a pleasure to be a part of the campaign. All the people from Calvin showed a lot of love. They told me I was picked because whoever was playing big boss of the whole campaign asked their son, "Which rapper should we get for the shoot?" And he was like, "Joey Bada$$!" Then another person on the other side—I guess from the agency—asked their son who they should get, and he was like, "Joey Bada$$!" So yeah, I mean, shit, I was just on it.
Did the "I pledge in #mycalvins" tagline mean something particular to you?
It's funny that we did that shoot with me in front of all of the mics, almost giving a speech. I'm giving lectures now, so it manifested quickly. I speak for what I represent, that's really what it meant to me.
You've designed clothing in the past. Do you think you'll ever return to that?
Oh yeah, for sure. I'm working on my own Pro Era line, on getting the brand to the next level, because I don't view the Pro Era apparel as merch. I view it as a real deal clothing line, or at least as having the potential to turn into a real deal clothing line. I've been working on that—designing pieces, me and the team, you know, screengrabbing. [laughs]
Are there people in particular whose looks inspire you?
Is there one piece in your closet that you'd be really sad to see go?
There are a lot of things in my closet I'd be sad to see go! [laughs] I have this fire Visvim bomber with the American flag on the back of it.
What are you obsessed with right now?
I like anoraks. I like pullover shit, stuff you can layer up. Recently, there's this Vetements hoodie I'm wearing.
Yeah, I've been seeing these a lot. To me, they're really tight—the oversized fit is dope.
In "Amethyst Rockstar," you said, "When did rap turn into a fashion show," what—
"Too many makeup artists won't let their passion show." [laughs]
What are your thoughts about fashion and music coming together the way they have?
Back then, I rapped that from a different perspective. My thoughts on fashion and music coming together—you see, there are two things. There's fashion and then there's style. Fashion recently started coming into hip-hop, but style has always been predominant in hip-hop. The context behind that line was me wondering when worrying about labels became forefront for a hip-hop artist. You know what I'm saying? That's what the context behind that line was. Present day, I think it's good to mix it in. But I wouldn't consider myself fashionable. I'd consider myself stylish.
Is what you wear each day dependent on your mood?
Yeah, I guess it is a mood thing. My first pick is usually some black bottoms. If I find that I'm wearing black too much, I'll try to get some colors in. It definitely depends on mood.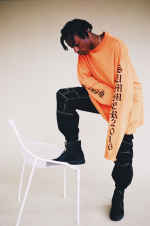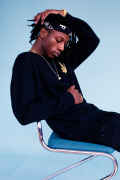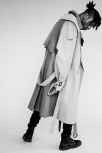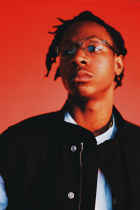 Everyone—at least I do—has some "I wish I hadn't worn that" moments.
We all have those. That comes with the times. Shit, this look I'm wearing today, probably in the future I'll be like, "Why was I wearing that big ass oversized hoodie? Who told me that was cool?" [laughs] Back in the day, when I was like a younger kid, I'll still see some pictures today and say, "What the hell was I thinking?"
Are you remembering one look in particular?
When I was in middle school, it was okay to wear one color. Like, one bright ass color. So I'd wear all red! Red shirt, red pants, with red sneakers and a red hat to top it off. [laughs] No. Never again.
Maybe in a few months that'll be back.
How has your style evolved over the years?
Well, I make more money now, so I can afford my style. That's how my style has evolved. [laughs]
In the past few months, you've lectured at NYU and Harvard. What do your speaking engagements allow you to say that your music doesn't?
It's a direct way of talking to these kids and getting in front of them. I always say that my main message behind it all is just to inspire. And what the speaking engagements give me is an opportunity to do that. They can see me, they can touch me. And I feel like it really gives them a sense of encouragement and inspiration when I come through, present myself, and talk about my emergence into the music business. And then that goes wherever it goes. We talk about politics, we talk about metaphysics, we talk about spirituality versus religion, all types of different things. I think it's really dope for the kids—well my peers, actually, because most of them are my age, some of them are even older than me. They can see I'm just like them, and they can be chasing their dreams too.
What kind of questions do they ask you?
They ask pretty challenging questions, to be honest. I speak for about an hour, so from whatever they collect, they just might ask me a question like, "Do you ever think hip-hop will drop its habit of misogyny?" And stuff like that. I've gotten so many different types of questions, but that was one of the more challenging ones I've gotten recently.
Social media has been important to your growth as an artist. What have you learned?
To not put all your business on it. And to not announce the name of your upcoming music projects too early in advance, because people hold you to that like there's no tomorrow. I remember my first album, I announced what the title was two years prior. And for those two years my fans called me out like, "Where's B4.DA.$$? Where is it? Where is it now?" And I was like, "Chill, bro. I'm not even done yet!"
How did Mr. Robot happen? Did you audition for it, or did they reach out?
I just went into the audition and I got about three callbacks, and then on the third one, they said that I had it.
You studied acting in school
Yeah, I was in high school for screen theater, so I had some experience. And I always knew that if music worked out, then acting would be way easier.
So do you think that's more your passion?
It's definitely one of the passions, and maybe it could become number one. I could definitely see it becoming number one, because I want to do way more films.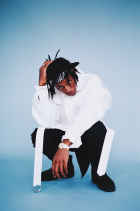 Mr. Robot is really just the beginning of your acting career.
Yeah, yeah. I landed another role too, but I can't say. [laughs]
I assume it won't be on social media.
I actually can't do the role because of conflicts with my touring schedule. So it sucks, but, yeah. One day I'll tell people, and it'll be an interesting hip-hop fact. [laughs]
What's your favorite piece of music you've heard recently?
Recently, I've been listening to two albums: The Life of Pablo and untitled unmastered. Yeah, I love those two albums.
And what are you working on?
I'm working on multiple projects, actually. Working on a couple, maybe some EPs, some mixtapes. I'm just working on music. The second album is not coming this year, let's get that out of the way. Just working on a lot of things right now.
I imagine you're always making music.
Always, always. I record music just to like—not even just for the fuck of it, but kind of. [laughs]
It's what you do instinctively.
It's what I do, yeah. It's like, if I'm in the studio, I need to get a song in before I leave.
On the world tour, you went to a bunch of different places. Did you get a chance to shop?
When I'm in London, especially, I love to shop. Hit up Selfridges, Soho. Shit, I know it'll be tight.
That seems like one of the best parts about touring, being able to scour the world.
Yeah, rifle pieces from different places and all that, yeah. I didn't make it to Paris during my last one, so I haven't had a chance to shop out there.
Photography:

Hannah Sider

Styling:

Von Ford

Grooming:

Nigella

Interview:

Kevin Pires