Enter the Brockhampton Dream Factory
Hanging with the 14-Person Boyband That Wants To Be an Ad Agency
Text:

Jordan Sowunmi

Photography:

Brent Goldsmith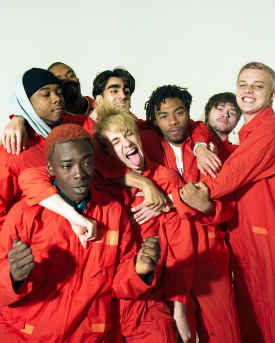 Brockhampton rolls deep. When I meet them in Toronto during their "Love Your Parents" tour, they pull up to the east-end studio rented for the day's photo shoot with 17 people in tow. All 14 members of the group are present, plus stylist-slash-creative assistant Nick Lenzini, rapper and founder Kevin Abstract's boyfriend, and a bodyguard. As they spread out throughout the studio—opening laptops to work on beats, pouring coffee, reading Noam Chomsky—it becomes clear that this crew has mastered the art of being apart while together. In other words: they're like family.
That they represent a multiplicity of ethnicities, socioeconomic backgrounds, and sexual orientations feels typical of friendships formed in the digital age—many of the group's members met on a popular Kanye West fan forum called KanyeToThe. And just as Kanye is wont to fill his projects with A-list collaborators, the size and composition of Brockhampton corresponds to lofty ambitions that extend beyond the music industry. They've begun referring to themselves as an ad agency.

"That's how I see it," says creative director Henock 'HK' Sileshi, taking a break from designing merch for a collaboration with Chicago retailer RSVP Gallery. "We're setting ourselves up to be that big entity that people want to come and work with, like a Kellogg's, or Disney. In the same way people see how those companies and they have multiple sectors, that's how we want to be. In some ways, we've used ourselves as a test subject. Brockhampton is our first client."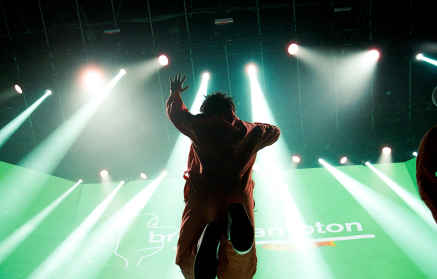 This is why group members like HK, photographer/DP Ashlan Gray, and day-to-day manager Jon Nunes are considered as much a part of the band as the performers. Brockhampton's music, videos, stage show, and merchandise is all treated as part of one cohesive expression. The packaging is just as important as the product, and thinking of the two as separate entities might even be missing the point. Brockhampton is what happens when kids grow up on Kanye citing Steve Jobs as an idol. Once upon a time, musicians eagerly adopting the mindset of advertisers would have raised hackles. In today's fragmented musical economy and piecemeal labor market, though, a bunch of 20-year-olds self-corporatizating feels like a canny defense mechanism displaying an intuitive understanding of the world they've grown up into. (Besides—which early-20-something wouldn't want a reason to go on tour with all of his best friends?)
In the past year, the group has produced a staggering amount of cross-disciplinary work, rocketing them from minor underground act to full-blown phenomenon with an obsessive, teenager-heavy fanbase. From their homebase in North Hollywood—a live/work studio they all share called the Brockhampton Factory—they've dropped three full-length albums called the SATURATION trilogy, 12 music videos, a 22-minute film, a two-and-a-half-hour documentary on the process of making those albums, and a television series on Viceland called American Boyband. Plus, they do all of their own design—merch, website, album art, and tour posters.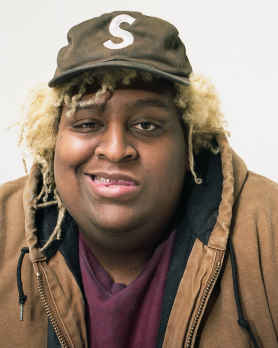 The group's stylistic diversity, collective ambition, and popularity among teens have led many to compare them to Odd Future, the L.A. rap crew that blew up around 2010 and counted Tyler, the Creator, Earl Sweatshirt, Syd, and Frank Ocean as members. The stark differences between the two groups make the comparison instructive. Odd Future sought to shock audiences with bratty, anarchic hyper-aggression—"Kill People, Burn Shit, Fuck School." Brockhampton, though, portrays a gentler, more generative sort of rebellion. One of the top posts on the group's super-active Reddit page is devoted to strategies for keeping mosh pits at their shows safe for everyone. On "STAR," Abstract raps, "Heath Ledger with some dreads/I just gave my nigga head." He might be provoking, but he's not trolling—he's forcing listeners to examine why rapping about a same-sex relationship still feels like a radical act. It's reflective of a cultural shift towards towards openness and inclusivity, particularly when it comes to gender and sexual orientation. The homophobic slurs and violent misogyny that dotted the Odd Future crew's early work wouldn't fly with Brockhampton's core demographic.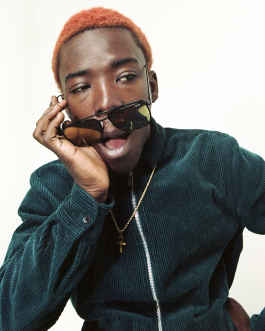 Still, it's fair to argue that Odd Future's success paved the way for Brockhampton's, and there are more than superficial similarities between the two groups. 4 Strikes, the management company owned by Christian and Kelly Clancy—who managed Odd Future—shepherds Brockhampton's career, and Abstract is quick to acknowledge Tyler, the Creator as a friend and mentor and Odd Future as a source of inspiration.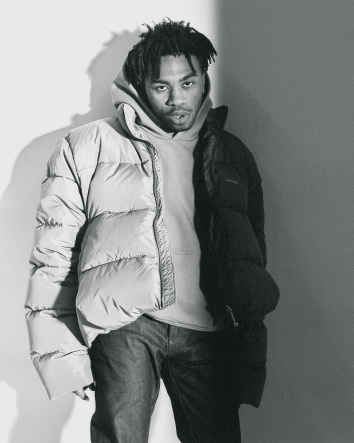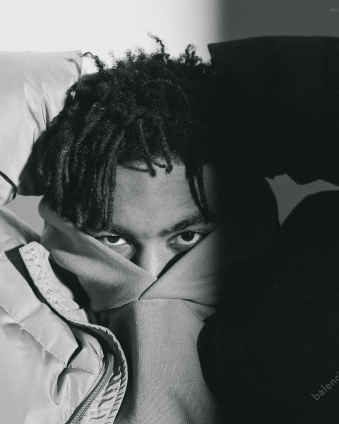 "Odd Future were really spontaneous and really calculated," Abstract says. "They did what they wanted. That's why this works, because we do what we want to do and people eventually caught up to that and thought it was tight. We're not going to do what they want us to do, we're going to do what we want us to do. That's why we're in this position."
Brockhampton operate with that same sort of calculated spontaneity, earned through thousands upon thousands of hours spent in each other's company. Most of the group has lived together for years, first in San Marcos, Texas, then in south-central L.A., and now in North Hollywood. SATURATION was born one night at the Factory out of a group conversation concerning their lack of direction. Abstract had the idea to release a poster that night simply featuring the words Brockhampton, SATURATION, and a release date the following month. With a self-imposed deadline, they forced themselves into action.
I ask how a group with 14 different and equally valued perspectives works so well together, and rapper Dom McLennon explains: "At its core, from the very, very beginning, we took a collective risk. And I think in that collective risk we developed collective trust. And that collective trust gives you a blind faith, in the sense of, 'Oh, everything we want to happen will happen. Like, we'll make an album in a month, no problem."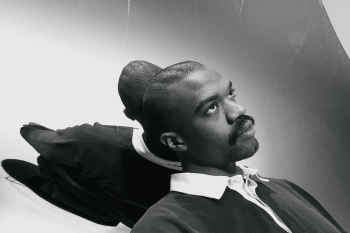 Brockhampton's belief in itself has translated into a devoted fanbase. When I arrive at Toronto venue REBEL after the photo shoot for the group's sold-out show, the line for merch line dwarfs the line for drinks. It was the same story when I saw them earlier in the week at Montreal's Theatre Corona. The clothing, designed with the wry tone present in much of the group's musical output—one t-shirt reads "DONATE YOUR TIME AND MONEY"; another, "how do you sell a million records"—is often limited-run and provides fans raised in the streaming age with a physical totem to show their loyalty.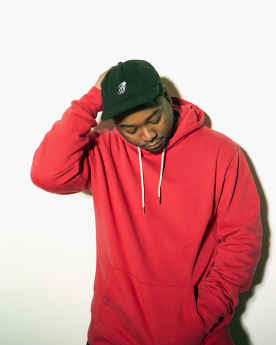 On stage, dressed in matching orange jumpsuits, Brockhampton commands the crowd with a coordinated zeal rarely seen at rap shows. They've been opening this tour with "BOOGIE," the lead single from SATURATION III, and when its squealing horns and siren bleats drop, all seven performing members of the group come out yelling, singing, and dancing with a fervor that matches the rabid nature of the crowd, the center of which immediately collapses into an aggressive but loving mosh pit.
The effects of such a physically demanding show are evident. During the photo shoot, singer/producer/engineer Russell "Joba" Boring sips coffee in the kitchen, looking exhausted. "I always tell myself that I'm not going to go too crazy, but then I get too excited," he tells me.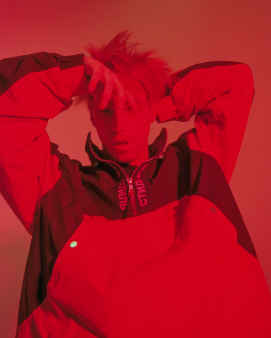 Rapper Matt Champion asks, "What makes you go in like that, then?"
"The crowd. You guys. Adrenaline," Joba responds. "In my head, I'm always celebrating the people who enjoy the music. At some shows, when people aren't happy or don't look happy, it can be a real bummer. But, thankfully, on this tour it's felt like a celebration. That's why I look motherfuckers in the eye. Every chance I get, I'm trying to look people in the eyes because they're happy."
Fandom has traditionally been a one-way street, but Brockhampton represents a new paradigm that relies on a deep, direct connection to a public that admires not just Brockhampton's music, but the lifestyle they've cultivated that facilitates its creation. For the group, it comes naturally. On their VICELAND show, they routinely met up with long-time fans in different cities, and each group member maintains open DMs on Instagram.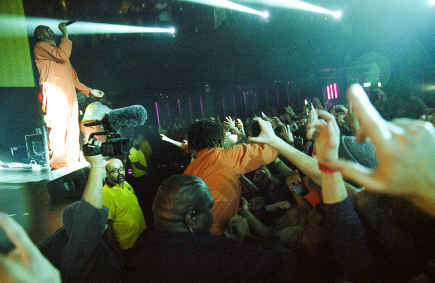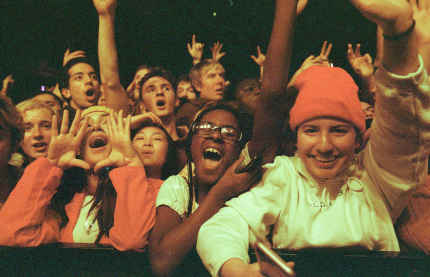 "We grew up in—for better or for worse—the social media era where everything is kind of transparent, so I feel like we never lost touch with that," producer/tour DJ Romil Hemnani tells me. "Everyone knows what goes on with us, and they feel really connected because they can see a real window into our lives."
"Our fans have these little group chat communities, and they always add us to them," Hemnani continues. "They talk and become really good friends based off their common interest in Brockhampton. And I think that's really cool. Because that's how we met. People always tell us, 'Man, I never thought about living with my friends and making stuff when I was your age.' And I'm just like, 'Why would you not do that? What more could you want?'"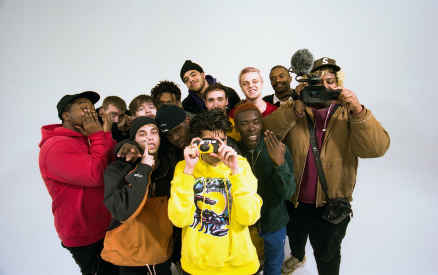 Jordan Sowunmi is a writer and DJ from Toronto. His writing has been published by The FADER, VICE, and Complex, among others.
Text:

Jordan Sowunmi

Photography:

Brent Goldsmith

Photography Assistant:

Will Jivcoff

Styling:

Juliana Schiavinatto

Grooming:

Ali Harcourt