The Rapper/Singer on His Transition Into Stardom and Starting His Own Wave
Interview:

Rebecca Haithcoat

Photography:

Sandy Kim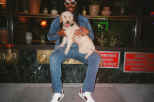 Idnit is not happy. A sherbet-hued sunset warms the jute rug in a Los Angeles boutique hotel, but DRAM's golden doodle has zero interest in lolling on it. He trots off to the loft suite's other room then circles right back, cocking his head and barking choppy, attention-seeking alerts. In between setups for his photo shoot, DRAM sits on the edge of the bed and tries to pacify Idnit. Slipping a treat into his palm, he prompts his dog to do a trick. Idnit impatiently performs half a stunt, then waits for his owner to shrug and reward him anyway. I reach down and feel for the silky down beneath the little Muppet's kinky-furred ear, but he wriggles away, looks at me inquisitively, then yips in my face.
The pup just cannot be pleased.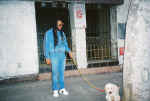 Truth is, his owner seems a little out of sorts, too, which comes as a surprise. Ever since 2015, when the Virginia-born rapper and singer/songwriter first belted his viral, Super Mario Bros.-sampling earworm "Cha Cha," the artist behind the new genre he coined "trappy-go-lucky" has become something of a poster boy for being, well, happy-go-lucky. On the cover of his major label debut, Big Baby DRAM—the acronym stands for "Does Real Ass Music"—he's grinning the bright, uncomplicated smile of a 1950s sitcom neighbor. The New York Times perhaps best summed up the album, which spawned a big, bouncy ball of a hit in the Lil Yachty-featuring, Grammy-nominated "Broccoli," deeming it simply "joyous."
Yet stardom seems to have siphoned off a bit of DRAM's joie de vivre. When I first interviewed him a year ago, right after the release of Big Baby DRAM, he had a jolly, Santa-like vibe. Today, in front of the camera, he's bubbling over per his usual persona. But when it stops clicking, he's preoccupied—with the finicky Idnit, with his phone, with a rumored spotting of Justified and Vice Principals' Walton Goggins. Even clipping on Idnit's leash and heading downstairs for more photos and a much-needed stroll seems to cheer only Idnit.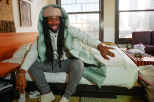 "The challenge is keeping a balance between not outgrowing your ambitions and not letting your ambitions outgrow you."
What they don't tell you about success in a creative industry is that once you're on the hamster wheel, you have to stay on it. It's exhausting, but there are plenty of people more than happy to hop on if you step down. The internet is a voracious beast, and rappers especially are expected to feed it new songs, mixtapes, albums. DRAM was in his mid-20s and working at a Best Buy when his career took off. He knows what the other option is, and he's not taking it. You choose your stressors.
"I don't want to sit here and predict like I have a crystal ball or something, but just know I'm going to always be in this. I'm never going back to just some life," he says. "I'll continue to build. The challenge is keeping a balance between not outgrowing your ambitions and not letting your ambitions outgrow you. Just keeping that balance."
True to his verse in "Broccoli," Shelley Marshaun Massenburg-Smith was five or six years old when he told himself he was special. Growing up in Hampton, Virginia, there was no doubt in his mind that he was destined for the spotlight.
"Only thing I really wanted for myself," DRAM says, giddiness lifting his voice for the first time in our conversation. "I'm pretty sure I can do whatever I put my mind too."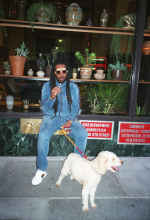 He had a microphone in his hand early, both as a member of the Zion Baptist Church choir and "onstage" at family reunion talent shows. When he was 10, he discovered that his biggest supporter was also the source of his talent—his military mom also could sing.
"It was me and my mother for a very long time. She's my mother and my father and she's a real strong woman. Very assertive, persuasive, and straightforward about everything," he says. "I got a lot from her."
With his dad out of the picture, he was fortunate that his grandfather, who he was named for, was a fixture in his life. Rounding out their tight-knit unit was his grandmother.
"My gramps was like the rod and staff for the whole family, that statue-like figure that's unmovable," he continues. "I'm a grandma's boy. Love her to death. Looking in hindsight, I'm especially appreciative of my upbringing. It's a huge part of what makes me who I am."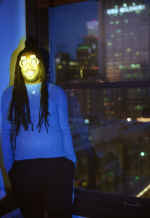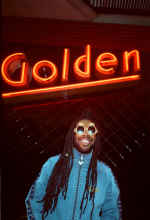 "We had no method, no nothing, we just dropped that shit on the internet. The music spoke for itself."
After a misfire at a college in Kentucky, he moved back home and started playing around with beats and performing in local showcases. In 2014, he met producer Gabe Niles and recorded a lo-fi tropical two-stepper called "Cha Cha." DRAM knew it was a hit.
There was just one problem: he didn't have industry connections, nor did he have an internet following.
"I didn't have no real internet buzz on some funny tube shit or anything. We just legit regular-ass people," he says. "My boy was like, 'Just put it out there. It will get heard. When the music is good, the cream rises to the top.' We had no method, no nothing, we just dropped that shit on the internet. The music spoke for itself."
Hampton may be small, but Virginians are scrappy. Its hometown heroes are some of the most innovative artists in music: Pharrell, Missy Elliott, Timbaland. Inspired by them and buoyed by the response to "Cha Cha," DRAM gave up his spot on the Geek Squad at Best Buy and headed to the CMJ festival in New York.
"When I left the job, I wasn't going back. I knew from that moment on, you could only go in that direction," he says. "At the end of the day, I just put my all into it like, 'Fuck it. This is what we're going to do.'"
DRAM's sound proved to be as contagious as his smile. A year later, he'd gotten a nod from Queen Bey when she Instagrammed herself shimmying to "Cha Cha," signed to a major label, and begun kicking it with Rick Rubin—their first collaboration, "Check Ya Fabrics," dropped last month, and it was followed quickly by a deluxe edition of his debut album with eight new tracks, including collaborations with Playboi Carti, Juicy J, and A$AP Rocky. But when you consider DRAM was already middle-aged in rap years—that is, over 25—when his career took off, his was no overnight success.
"It's just a steady ride, not an explosion. Which I'm kind of thankful for. It kind of eased me in," he says.
Still, as life changes go, it was dramatic. His cozy, if mundane, day-to-day with his family and friends was replaced with unfamiliar cities and crowds of people who all wanted something from him. Last year, his bed was often on a tour bus. Spare time became a thing of the past. And there's always that one unscrupulous artist happy to mine your success for their own. While he didn't exactly rip him off, Drake certainly surfed on DRAM's wave with the Hawaiian Tropic-scented, pina colada-flavored "Hotline Bling"—which was even tagged "Cha Cha Remix" when it first surfaced.
"Shit man, to be honest, music is a free for all. The internet has blown it up to a huge atmosphere where you can have your own park, your own land and be making a completely different sound than what's considered the 'clique' sound," he says. "I do know that once you put a force out there in the world, for the world to hear, and it gets to a certain point where it's so big, it programs some people's minds to mimic. Not everybody can come up with shit."
Little wonder he's a bit standoffish. Yet Southern manners and Sunday school lessons are hard habits to break.
"Be good, do good. God is great, God is good. You're doing good, you know you're walking in the light of God. You're not doing good, you already know whose light you're walking in," he recites, impatience edging out politeness. DRAM has, after all, been spending an awful lot of time in Hollywood lately. "How many more questions is there?"
Rebecca Haithcoat is the former assistant music editor of LA Weekly. Her writing has appeared in The New York Times, GQ, The Guardian, Playboy, Billboard, SPIN, and Pitchfork, among others.
Interview:

Rebecca Haithcoat

Photography:

Sandy Kim

Styling:

Fatima B.

Hair:

Erinn Courtney

Production:

Emily Hillgren

Location:

The Freehand Hotel