Dominic Fike.
That's it,
That's the
Title.
From Florida With Love, This Hollywood Boy Wonder Will Break Your Heart
Interview:

Ariel LeBeau

Photography:

Tracy Nguyen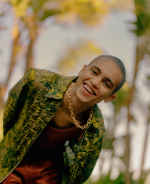 Dominic Fike, who hails from the peculiar musical hot bed of South Florida, has cascaded into the pop sphere with a youthful, skinned-knee fervor. There's an air of ambiguity around the 24-year-old singer-songwriter that, at this nascent stage of his career, both imbues allure and provokes speculation about the kind of star he is going to be.
In the sunken living room of a palatial Los Feliz villa, Fike observes his reflection in a mirror, making self-deprecating jokes about his look. Pacing around antique chairs, Victorian-style lamps, and crystals of various sizes, colors, and ostensible healing properties, he's dressed appropriately in an extravagant, gold-floral Dries Van Noten suit. The silver-blonde buzzcut he arrived with has been dyed a shade of periwinkle that makes him look like the son of a Saiyan prince, or a client of pop-royalty-favorite-hairstylist Daniel Moon. On a nearby Beats pill, Fike's close friend and creative director Reed Bennett is playing tracks from his yet-to-be-released debut album. At the start of nearly every track, Fike excitedly remarks, "This is the one."
As the story now infamously goes, in late 2017, Fike recorded a series of demos while on house arrest for battery of a police officer before ultimately serving a brief stint in jail (not prison, as many have misconstrued: "People think [it] was like Orange Is The New Black and I was smuggling cigarettes," Fike laughs). While he was locked up, Fike's management released the songs on SoundCloud on his behalf, sparking a feverish major-label bidding war almost immediately. When Fike was released a few months later, he secured a contract with Columbia Records worth a reported $4M. The scale of the deal and the speed at which it materialized only intensified the intrigue (and scrutiny) surrounding Fike. "It's like if you got picked for the Hunger Games, but the opposite feeling," he recalls.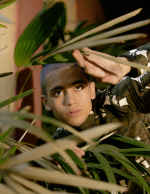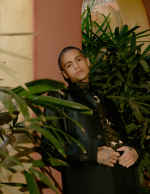 The demos were re-released in an EP titled Don't Forget About Me in late 2018. Since then, Fike has formed collaborative bonds with Gen Z tastemakers like Halsey and Brockhampton, as well as hip-hop faves like Kenny Beats. He's been performing on late night shows, and his beachy breakout single "3 Nights" landed on Barack Obama's favorite music list of 2019. "That was a good ass day," he remembers.Fike's songs are radio-friendly, fit for thriving on TikTok or accompanying you on a Zara shopping spree. His guitar-driven sound and sugary languor of bedroom pop avatars like Clairo and Cuco, with a benign edge brought by his face-tattooed aesthetic and penchant for rapping. Fike blends pop, rock, and hip-hop into a hazy melange that gives him tremendous stock in a genre-averse musical climate where the stylistically-amorphous, like Post Malone and Billie Eilish, reign supreme.Of all the competitively catchy album cuts, a sparkly forthcoming single called "Chicken Tenders" stands out—it's infectious; the easiest to imagine soundtracking the Instagram story of a Jenner. In between snaps of the photographer's shutter, Fike sings and sways along with the hook—an ode to a girl named Christina and, you guessed it, chicken tenders. To no one in particular, Fike makes an announcement: "I feel rich as fuck right now."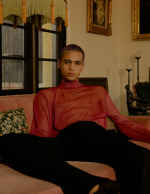 With most of Fike's rise tethered to what he characterizes as "an incomplete collection of songs," he is eager to establish himself with his first finished body of work. He describes his current sound as "more thought-out." That also means he's exercising intention when it comes to collaborations, at least for the time being: "I need to make my own music, honestly." But Fike remains a student of those he admires. "I watch a lot of the bigger artists and do as they would," he says. "Like Young Thug. He's my mentor, pretty much, but he doesn't know that." Although the album is still months shy of completion, Fike's frenetic mind is already speeding ahead. This summer, he'll join the festival circuit: Firefly alongside Kali Uchis and Blink 182 and NYC's Governors Ball.In front of an audience—a crew, a camera—Fike is charismatic. He goes by Dom. He shakes everyone's hands. He confesses he's feeling wrung out from back-to-back late nights, as if cautioning us against some type of imminent disappointment. He cracks jokes—he's always smiling. One on one, tucked away on a shady mezzanine to talk to me and my recorder, Fike is more reserved. He fidgets, furrows his brow. He reflexively says "sorry" when he thinks he's talking too much or too little, or giving answers he deems inarticulate.Fike tells me about growing up in Naples, where he started playing guitar at age 10. "My dad taught me a couple chords, and then I got better than him," he says. He was raised on a steady diet of MTV-administered pop rock like Weezer (he likes the "Green Album" best) and commercial rap like Eminem ("I really started liking rap when I realized it was funny"). One can easily picture Fike as an optimal fixture in the glory days of TRL: an army of teens spellbound by his good looks and agreeable earworms, toting poster-board in Times Square; a coronation by Carson Daly.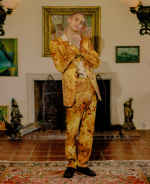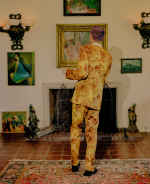 "Ready to slay some vampires or what?" Fike quips as he slides a black leather trench by Bottega Veneta over his sloping shoulders. Earlier, in a sheer, magenta mock-neck by Our Legacy), he adopted a cheeky bit about working in a BDSM dungeon. Every outfit conjures an avant-garde character for Fike, who showed up to set in nondescript black jeans, a graphic tee, and untied Chuck Taylors. His boyish, tattooed face calls to mind the soured neon vision of Florida in Harmony Korine's cinematic universe. But Fike's perspective on his personal style resists classification the same way his music does. He tells me he just recently bought his first suit.So far, his songs avoid introspection or exposition; his lyrics reveal little about his (genuinely eventful) life experiences or his feelings about them. It's for that reason, along with landing a multimillion-dollar deal with an empty portfolio of officially-released music, that some critics have considered him an industry plant. He also keeps a low profile online; he's recently back on Twitter, and he uses Instagram minimally. Although maintaining an elusive internet persona is an obvious marketing strategy these days, Fike insists it isn't calculated. "I'm shitty at being on the internet," he explains. "I think that's for the best."
On the 2019 single "Phone Numbers," Fike gripes about someone outside his circle feeling entitled to money and attention, despite his more pressing responsibilities. "A whole 120K to the magistrate for my parents' sake / And you still talkin' bout sharing cake / Shut the fuck up," he raps exasperatedly, delivering more emotion than he does anywhere on Don't Forget About Me. "Shit's like a Drake song. Every time I try to talk about this shit, I feel like I'm Drake," he says, self-effacingly. Those tensions with the corollaries of fame are only beginning, and will only grow thornier. Fike says he is still figuring out how he wants to define success for himself, but one guiding principle is clear: "Being able to take care of the family is always gonna be a huge thing to me," he says. "As long as I can do that… That's what success is."
Interview:

Ariel LeBeau

Photography:

Tracy Nguyen

Styling:

Jake Sammis

Grooming:

Anna Bernabe

Photography Assistant:

Olivia Shove

Styling Assistant:

Vivian Chuang

Date:

March 13, 2020