Burna Boy, Afrofusion Superhero
The Nigerian Singer Is Poised To Take His Hybrid Style Global
Interview:

Safra Ducreay

Photography:

G L Askew II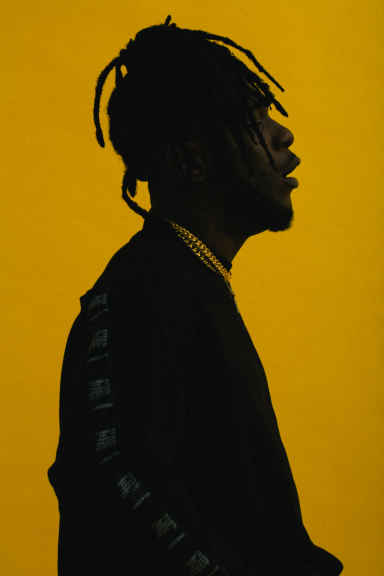 When Burna Boy arrives on set at a Los Angeles photo studio, his personality fills the space. He greets every single person in the room with daps and hugs, sending out positive vibes. In front of the camera, he's animated, leaping and bending like a superhero on a comic book cover. What's most captivating about him, though, are his eyes. Behind big, white sunglasses, they widen when I say something that throws him off guard—like the fact that, when looking at him from a certain angle, sitting in the barber's chair during a shape-up, he resembles a gangster. "I'm not a gangster," he says, blunt in hand, smoking swirling in the air. His inflection raises: "I'm a nice guy!" My remark was meant as a compliment.
Born Damini Ogulu, he was raised in Port Harcourt, Nigeria, on the country's southern coast. The 26-year-old comes from a musical family; his grandfather, at one point, managed Fela Kuti, and as a child Ogulu began making his own beats using FruityLoops—a familiar entry point for this generation of musicians. After completing high school near Lagos, Ogulu moved to London to further his studies, but it was only after returning to Nigeria that his music career began to take off. He scored his first big hit with "Like To Party" in 2012, and from there began developing a style he calls afrofusion—a infectious blend of afrobeats, dancehall riddims, reggae, and American rap and R&B that's reflective of his formative influences. He soon became a star at home, performing to crowds of thousands in Nigeria and across the continent. Now, based once more in London, he's posed to break through globally.
His latest album, Outside, is the most seamless expression of his style to date. Released in late January, it begins with a track called "More Life," sampled last year on the Drake album of the same title, and is full of buoyant, catchy melodies. It is the work of someone who has found himself as both an artist and as an individual. Throughout our conversation, Ogulu's sureness in himself, whether we're discussing his spirituality or his fashion sense, rings out.
"So," he says when we sit down to begin the interview. "Ask me some shit."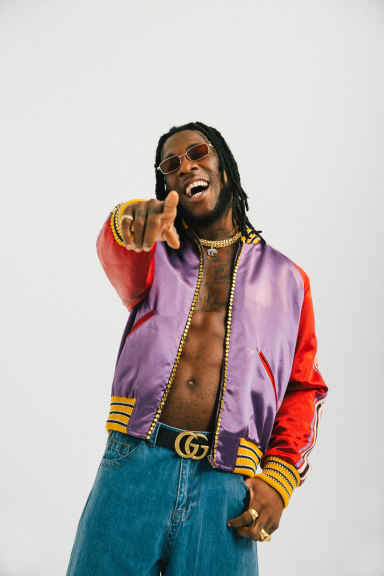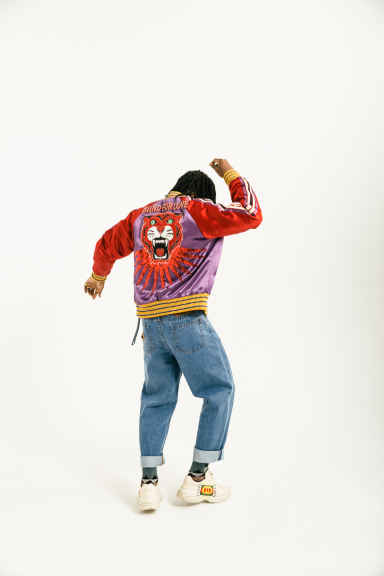 Does the way that culture is consumed today, over social media, mean that people don't understand the context of your music? Do they just conclude that you're a reggae or dancehall artist?
Yeah. I fucking hate that so much. But, shit, my album was number three on the reggae Billboard in the world, so I can't really hate, you get me? At the end of the day, I do not make music with the intention of trying to sound reggae, or dancehall, to sound like a type of genre. It's just who I am. But it's so confusing to everyone when you see something new—your first instinct as a human is to try and match it to something you already know. That's just kinda what afrofusion is going through.
When it comes to working with collaborators, how do you go about choosing these people?
I don't. It's all organic stuff. I have no control over it, and I don't try to play a role in it.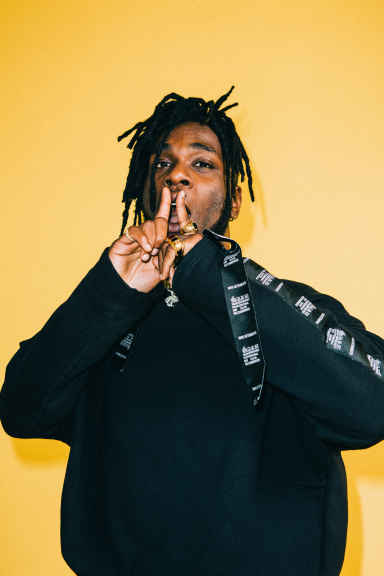 There was a time when you had a distinct reggae trademark. It reminded me of Super Cat.
You know, that's my favourite artist. That's the person that persuaded me to listen to anything reggae or dancehall.
Have you been to Jamaica?
No, I haven't. But I did come up in Brixton. It was little Jamaica at the time.
Do you believe black people are capable of appropriation?
In 2018, it's like everyone is doing anything. Everyone is trying to get into every country and identify with every nationality. We're only realizing now that we've been divided for so long, and for only one purpose—to be conquered. You understand? We're just kinda waking up to that slowly. So, it's like an unconscious realization for us. We're just acting on our realization. We've been divided and conquered for so very long that we've forgotten that we're all the same.
When you left Nigeria, did they get you?
You moved back to London.
But not like that—not in a way where Nigeria starts missing me. I'm always back home. The people that get me, get me. Those that don't, don't.
This media outlet on YouTube in Nigeria that seems credible—
I don't think there's any credible media outlet in Nigeria.
The point of bringing this up is that the journalist—back then—pointed out reasons you wouldn't have a career: posting a picture of a gun on social, being young and wild. Things that are quite common in the west.
It's Nigeria, man. They just don't know past their environment. It's not like most of these things aren't happening in their environment—it's happening, but maybe because of the way they were raised, they choose to be hypocritical about it. That's just how it is. I don't want to be coming here painting the pictures of just the bad sides, you know? But that's the story of our lives. Everyone knows the truth, but the person who says the truth is the scapegoat. Or the madman.
And that's how you've been painted for a long time?
Yeah. I mean, really and truthfully, you can even judge it by the weed situation. Everyone smokes weed in Nigeria. Everyone. Even fuckin' pastors smoke weed. But they'd rather hide and do it. Then they see a nigga and say he's the junkie, you feel me? [Laughs] That's just life.
You've brought up spirituality a lot in previous interviews. Are you talking about ancient African or a contemporary Christian-based approach?
I'm talking about myself—spirituality is different for everyone. I can't speak for everyone else. We all come from different backgrounds, we all have different meanings of what spirituality is. I don't judge by where you're from or what your beliefs are. It's your aura.
Did you see Black Panther?
No! Not yet, unfortunately.
Many of us as a people hold Africa as this sacred place. Wakanda has now created an ideal amongst black people, particularly when it comes to Africa.
I haven't seen the movie, so I can't really tell you too much, but I know Africa is supposed to be this place that is guarded by Black Panther. Funny enough, if you live anywhere, you don't really think it's the greatest place in the world. Coming from Africa, I don't think you see it as Wakanda. It depends on what family you're born into, or where you're born, and what you're born as.
Is it based on the class structure?
It is. And it's much worse there than out here. The poor, uneducated man with nothing, no means of getting anything, and no brains still has a chance out here. Facts. They still have constant electricity running, constant water flowing. You can't complain about none of that shit, you can only complain about racism—which is very fucked up—but, when you lack the basic shit, like a light, and water, and a roof, that, my sister, is hell on Earth. No Wakanda can save you from that. People need hope. America is fucked up, but they had Superman growing up. They watched Spiderman, or Batman—believe it or not, that gives hope.
By reading comics as more than just entertainment?
As a kid, when you feel down, what the kid thinks about a superhero is the same shit that gives hope. We never had that as Africans. It was like, America's Spiderman was our Spiderman. Now we have our own, and I'm proud of it. That's why I fucks with the whole Black Panther thing—we have our superhero. But at the same time, the reality is always different, isn't it?
In America, you're being called "Drake-approved" and getting co-signs by Swizz Beatz, but you've been doing this for years.
Facts. I've worked with everyone you could think of—it's not just the two names you've mentioned. But it's like I've been restyled. That's what happens when you know who you are, and you live by letting everyone else know who you are.
When you start being your authentic self.
People start gravitating towards that. Because you're something that's not available, you get me? Why does everyone buy diamonds?
But what's the point? They're just some fucking stones that shine. What do you do with them?
Does that change your life? What does that do for you? But you have to have them, because they're diamonds. That type of shit is harder to come by than money.
I don't want to put it like that. I see myself as myself. I have something no one else has to offer.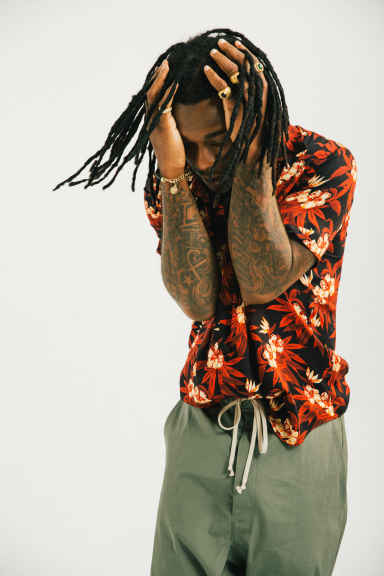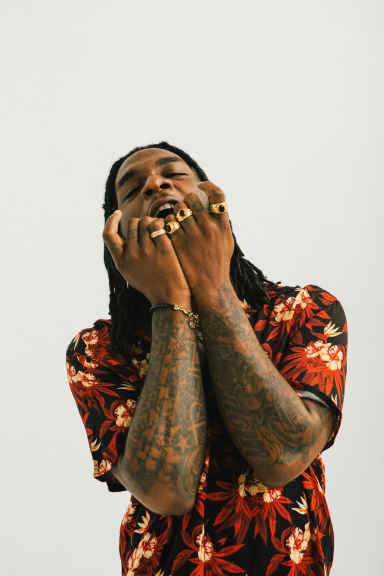 What's your fashion m.o. right now?
I am a rockstar. I just try to do what feels like me, what feels like no else. And if it does borrow from someone else, then it's an absolute legend.
Safra Ducreay is a Canadian music and culture writer based in Los Angeles but who calls London home. She has written for Vogue Italia, Interview, i-D, Dazed & Confused, Harper's Bazaar UK, The Independent and others.
Interview:

Safra Ducreay

Photography:

G L Askew II

Styling:

Sandy Phan

Photography Assistant:

Nicole Valencia

Grooming:

Hee Soo / The Rex Agency

Digitech:

Patrick Gonzales