The Time is Now for Quilted Coats
Featuring Craig Green, Jil Sander, Bode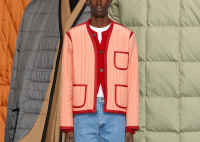 For Autumn, enter the quilted coat. From elongated liners in rustic hues, to micro puffers and sturdier chore-jacket silhouettes, quilting runs the gamut from luxurious to utilitarian. Seamed and layered to ensure warmth, while topographically enchanting to the eye, patchwork's colder weather relative makes for the ideal layering piece. From Craig Green to Rick Owens, here we unfurl the quintessential quilted coats for fall.

Your favorite puffer meets your favorite cardigan with this hybrid version in technical satin and wool. And hybrid is precisely the essence of quilting—weaving together disparate pieces to synthesize a superior whole. Craft can be polished, too.

While patch pockets and peach might connote the ease of a summer picnic, this light liner jacket is the perfect piece for transitioning into shorter days. Over a t-shirt in the afternoon, or under a jacket at night, Bode primes us for the cold ahead (while holding onto the memory of warmer days).

A pastel interpretation of a militant hue proves that green is, actually, quite pacifying. Think pistachios, new fern fronds, a crisp twenty dollar bill—green things that nobody hates to see. Let the soothing shade—and the insulating down—comfort you in the autumn chill.

Quilting's bedfellow is patchworking, and this worker shirt is a marriage made in heaven. The father of contemporary patchworking himself, Craig Green's offering boasts his signature flair—a little mix of craft, streetwear, and quality quilting.

Why keep quilting cropped when quilts are, after all, long enough to drape and wrap around your body? A longer take on the quilted liner is just like a longer take in a film—a little experimental, a little trickier to pull off, but ultimately impressive.