Five Variants feat. Nike, Prada, and Margiela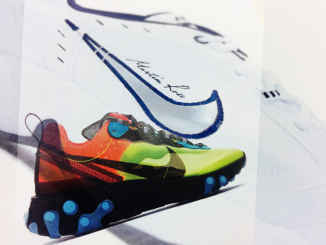 A pandemic has swept the fashion world. A toxic pathogen has been infecting sneakers and the once rather straightforward staple has mutated, morphing into bulging, strange shapes and sizes. The first indication of the outbreak was seen in Balenciaga's Triple S, with the popularity of its bulbous, 3-soled design spreading like a trend contagion. Now that the mutant sneaker has hit a critical mass, here are five pairs which exhibit how the sneakers of the Gen Z moment are those with the X-Gene.

This isn't the Dad shoe you recognize from your parent's mud-room. For Martine Rose's first Nike collaboration, the young-again Dad sneaker has been exposed to some gamma rays, and he's taken on a bizarre new shape. It's the same familiar, paternal athletic-casual look, but something is a little...off. Rose has innovated on an absolute classic of an American sneaker, the Air Monarch, by fitting the leather body of shoe to a sole half its size. The effect is a freakishly unique sneaker that can't be contained, available in white, bubblegum pink, and black.

Miharayasuhiro's black & white slip-on sneaker looks a lot like the ubiquitous-yet-timeless Vans checkered slip-on, yet on closer inspection, it's a deviated rendering. Footwear designer Mihara Yasuhiro found his label in the late-90s, and since then, has consistently presented menswear staples metamorphosing away from expectation. His take on skate-friendly slip-ons look like a comic book illustration of a pair of skate-friendly slip-ons, a perfectly imperfect variant.

Prada's ever-popular ultra-technical Cloudbust sneaker already feels futuristic, but in this black and slime green colorway it feels more alien than astronaut. The Cloudbust was unleashed in August of 2017—its padded bubble sole and lace-less design now available in over 11 colorways and multiple silhouette permutations.

The Nike React Element 87 was first released in collaboration with streetwear grandpere Jun Takahashi of UNDERCOVER, himself an avid runner. Featuring React foam technology—an original, innovative sole painstakingly developed by Nike chemists—and tonal rubberized detailing resembling nodes for added stability, the React Element 87 is intended to turn its wearer into something of an optimized cyborg. With their sheer, "aurora" green and "volt" blue technical fabric, these sneakers not only look radioactive, but are designed to help you run for your life.

With detailing that mimics hot-glue and duct tape, Margiela's Fusion sneakers look like they've been worn for a century by a roaming immortal undead and then flipped on Grailed. This is of course the intention, Martin Margiela having altogether pioneered the deconstructed, undone look way back in the 90s, (before it became more-or-less normal to dress like the walking dead). The "Fusion" in the title indicates the kind of foraging the shoe represents. Picture this: a zombie apocalypse strikes earth, and you are left to self-assemble some kind of swag from the dreitus that remains.