The Cozy
Conversation
Piece
Both Easy and Intriguing ft. Wales Bonner, Homme Plisse Issey Miyake, and Clarks Originals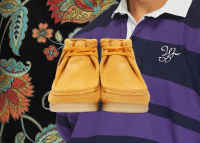 As looser silhouettes dominate the runway, and laid-back shapes are given elevated makeovers, the gap between lazy and luxury begins to narrow. Comfy no longer means cancel your plans. Here we offer five examples of how cozy pieces can make you want to be seen.

An ordinary tote takes a lush turn in a rich floral jacquard. As with a heavy curtain or ornate carpet, an unexpected print converts the everyday into a conversation starter.

Grace Wales Bonner is something of an expert on laid-back luxury. Her designs demonstrate that casual doesn't have to mean conventional. A timeless rugby in navy and vibrant purple is collegiate, but graduated. A commencement speech for your closet.

Wallabees carry a certain historical brand of cool that cannot be challenged, but they are at the same time undeniably cute. The fuzzy suede, squishy rubber crepe sole, and soft moc shape secure the snuggle, while the unique yellow colorway says: "Ask me where I bought these."

One thing the 80s did right was knits. Soft, slouchy, graphic—laidback silhouettes could be elegant in luxe materials, enticing by way of bold prints or colorblocking. Here, opulent knit-wear label Judy Turner channels the 80s in a way that is both comfy and contemporary.

Japanese designer Issey Miyake takes the classic hippie "drug rug" and positions it for luxury appeal. A pillar of the lazy stoner aesthetic, the Baja sweater becomes something to talk about when rendered in Miyake's signature Homme Plisse pleats. Head shop or high fashion?