The Basic, Bold Business of Blazers
With Pyer Moss, Lemaire, and Thom Browne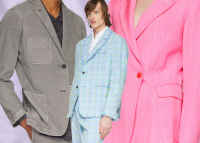 Nothing says "business" like a blazer. A cipher for being the boss of something, our aesthetic choices seem more and more inclined toward professional—or at the very least, well-tailored. But blazers are becoming more fun than authoritarian, and we've rounded up our favorites.

From peonies to Pepto Bismol, pink pops up sporadically—this blazer is no exception. Its name suggests this garment flies, or flutters maybe, like the petals of a cherry blossom. Jacquemus is always in bloom.

The master of pleats brings us woven cotton. The muted hue of stonewashed gray ensures an ease of wear ideal for picnics, a day at the office, or blending into a concrete wall, if you must.

Your go-to black blazer, but gently branded. Because basics aren't as fun when nobody can tell where they're from.

Nothing says minimalism better than silk in a dependable beige. Need we say more?

Forgoing the usual (boring?) button-closure, this blazer opts for tie-fastening instead—in a color that's as unique as the garment itself.

Tweed gets an upgrade of the Mini Egg variety. But don't be fooled into thinking this blazer is for springtime holidays only—remember, 2020 is the year we ensure our suiting is saturated.