Connecting with Martine Ali, Balenciaga, and Versace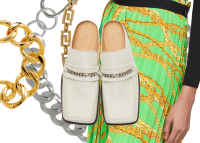 Looking to make a meaningful connection? To link up with someone—or something—that really gets you? A comrade, a collaborator, a partner in crime. Two peas in a pod, or conversely...interlocking Cuban chain links. SSENSE has the hook up with these chain-embellished pieces, some choices more unlikely than others.

Martine Rose White Leather Slip-On Loafers
Even among Martine Rose's line-up of subverted male stereotypes (the footballer-cum-club kid, the New Wave banker), this loafer is quite the unusual suspect. Drawing upon another British archetype, Rose modeled her SS19 footwear after those worn by a "wide boy," a character of dodgy dealings and the attitude to pull them off. With their broad toe and flashy curb chain trim, you'll have to summon the swagger of London's most notorious in order to rock these "wide boys."

Martine Ali Silver XL Cuban choker
A child of the MTV generation raised on a steady diet of TRL and 106 & Park, Martine Ali grew up a hip-hop aficionado. And the same could be said for the jeweler's signature Cuban link chain. A tribute to OG rappers, the slick visuals of Hype Williams, and the icy confections of Jacob the Jeweler, this sterling silver neck piece possesses an encyclopedia of hip-hop trivia just waiting to be unleashed.

Balenciaga Green Chains Pleated Skirt
Two's a party with this striking number from Balenciaga. Its baroque chain-link print and fluorescent hue, both throwbacks to the 80s (the decade of excess, big shoulders, big everything), this skirt shows up to turn heads and turn up. An off-kilter hem ups the ante.

Jacquemus Gold 'Le Bracelet Blé' Bracelet
The tiny head of wheat garnishing Jacquemus' wrist piece isn't just a reference to the designer's humble Provençal origins. It's emblematic of a certain joie de vivre: an unrestrained optimism and a disposition sunnier than the Côte d'Azur. An appreciation for the simpler things in life: fruits, vegetables, rolling in the grass.
Versace Gold Empire Chain Necklace
As its name suggests, Versace's Empire chain is fit for a king. Or, at least, those who enjoy the finer things life has to offer. Goyard, Audi, Mazi, Versace, Versace, Versace...

Miaou Exclusive Newsprint Chain Bag
Zodiac signs and MBTI are out! In 2019 we divine personality traits with a single question: Are you a Carrie, Samantha, Charlotte, or Miranda? This Miaou shoulder bag is a total Carrie. Outré, chic, and a little sexy, this purse embodies the bubbly eclecticism of 00s fashion and would feel right at home next to Ms. Bradshaw's slinky slip dresses, tulle skirts, and collection of Manolo kitten heels.