Shopping for The Quiet Eccentric
Earthy Tones, Mellow Prints, and Hippie Accents from Bode, Loewe, and Sacai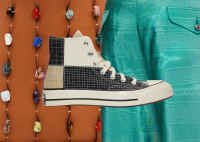 For several seasons now, fashion has been honoring the eccentric. The brighter, weirder, and more heavily branded usually make headlines. But a sea change is coming, beckoning in a new breed of ostentatious that is a little more...chill. Bright primaries fade to unexpected tones, prints clash calmly, and embellishments grow increasingly subtle. Here, six products for the Quiet Eccentric.

Nanushka is synonymous with luxe neutrals, but this paisley in soft purples and oranges calls back to the vibrancy of the designer's native Budapest.

Patchwork is inherently sort of clownish, reminiscent of a scarecrow or something designed to stand out in a field. But what about patchwork rendered in shades of black and grey canvas? Eye-catching, without having to work for it.

Speaking of clowns, New York-based Bode provides a uniform fit for a royal jester. Whimsical pieces in incredibly rich fabrics, with a muted finish only age can accomplish. It's not an illusion or an affectation—Bode's clothes are produced using antiquated textiles, like centuries-old table-clothes and bed linens. You can imagine this green moire making a statement in the billiard room, just as much as it does here, in trouser form.

A deep pink sits beautifully beside navy blue, while a toned-down leopard print reads like a neutral. Stand out, but softly, in Sacai.

This Loewe tote makes a statement, but it says it in an ASMR whisper. It's the zen fountain of leather bags. The calming aquarium of carry-alls. Forget jewel tones—the next big thing is stone tones.

Jil Sander's red Chevalier Ring gives the impression of inheritance. It feels like a hand-me-down, a luxury that comes from legacy.