Purple is the New Neutral
Your Wardrobe Update feat. Random Identities, Ambush, & Acne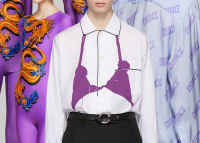 Purple isn't a primary color, it's secondary. Which isn't to say it isn't also an exalted color, the one most associated with nobility, signifying wealth and wisdom. It is the color linked to spirituality, supposedly meditative and calming, and also appears quite often in the natural world. Purple is chilled out, the visual equivalent of lavender aromatherapy. It doesn't demand attention, but it receives it passively, just by virtue of being so easy on the eyes. Purple is the wise man's neutral.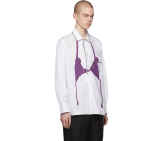 Random Identities White-and-Purple PJ Bra Shirt
Random Identities is a new powerhouse. Led by industry veteran Stefano Pilati, the brand offers thoughtful, youthful design with the inventive tailoring only years of experience at the biggest fashion houses can afford. Here, Pilati delivers a formal-feeling pyjama shirt, with a trompe l'oeil bra dangling from its neck. This low-key design is both business and party. Available in orange, blue, black and of course, purple.

Ambush Purple Nobo Clip Earring
Yoon Ahn made a name for herself with playful junk-drawer design long before that was the thing to do. Taking everyday objects and spinning them into something luxurious and intriguing is a feat. And no better color in which do it than this Grimace purple, that underdog hue, who has stood behind primaries, like red and blue, for too long.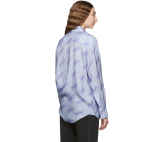 Acne Studios Blue Selma Shirt
There's nothing neutral about a groovy font—as seen on Acne's Selma shirt. There is, however, the trance-like, neutralizing state provoked from repetition: dance, dance dance. This summer, forget about your classic white button up in favour of something with a message. Fall under its spell, by spelling it out. Dance, dance, dance.

Marine Serre Purple Dragon Catsuit
This suit takes purple and says "No one puts purple in the corner." Where typically purple likes to remain calm, this is purple on blast.

Suicoke Purple Kisee V Sandals
Japanese footwear brand Suicoke is an expert in taking something basic and tweaking it slightly so it feels both stalwart and surprising. Where most of the brand's output is in the form of sandals in black or white shades, Suicoke understands the power of an accent color. And their accent color of choice this season is purple, a mature grayish purple, restrained and unexpected.