The SSENSE Exclusive Capsule for SS19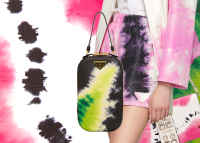 Before the dad sneaker, the haute hoodie, the slap bracelet—before the zeitgeist's bias for everything oxymoronic—there was Prada.
Miuccia Prada has always had a penchant for paradox. In 1984, the Milanese designer flipped her family's leather goods business into one of fashion's most renowned houses with one accessory: the luxury nylon backpack. Crafted from a durable and anti-luxe industrial canvas, Prada's utilitarian staple would go on to become the most unlikely "it" bag of the '80s. A decade later, Prada's Spring/Summer 1996 collection was both reviled and lauded by critics with another contradiction: "ugly chic." This was no coincidence. Prada's approach has always been one which collides dichotomies.
Exclusive to SSENSE, Prada's Spring/Summer 2019 Tie-Dye capsule embodies this legacy, its technical application of the beloved resist-dyeing technique recalling the label's roots in resistance. References to countercultural ideologies—the desire to upend norms, to refuse conformity—are valid, but obvious. In place of the standard cotton jersey t-shirt, Prada applies tie-dye with a near-artisanal meticulousness to luxury textiles. A pattern quite mundane (think dip-dyeing pristine white Fruit of the Loom separates in your childhood backyard), even tacky (Matthew McConaughey as Harmony Korine's titular beach bum) takes new form. Colors bloom and bleed across a silk satin jacket. Against the Nappa leather of a cardholder it takes on the nuance of a fractal pattern. When superimposed, it acquires the prim elegance of a Prada handbag and, in turn, the purse adopts tie-dye's vibrance. This is all part of Prada's enduring allure; by holding two opposites (the ordinary and the opulent) side-by-side, the label launches a grenade into what is deemed beautiful.