Button-Ups to Knock the Pins Down, with Sies Marjan and Off-White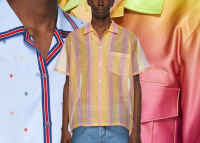 This summer is all about striking out—in the best way possible. Dress to impress on and off the lanes, with bowling shirts. Buttoned up or down, patch pockets, and playful prints, from Palm Angels to Sies Marjan, here's the garment that's bowling us over.

Have you ever wished to remain unseen in an art studio? Now you can, with Virgil's latest offering—a holiday shirt artfully splattered in swathes of khaki, olive, and umber. When fame is a construct, you can be both the artist and the muse. Or you can disappear.

Whether practical or decorative, bandanas have served us well for centuries. Here, Palm Angels extends their legacy, down your torso and across your shoulders. It's the perfect garment for curving your balls away from the gutter.

If you've ever craved a scoop of rainbow sherbet in between games, this gauzy linen Bode bowling shirt in frosty pastels will make you drool. The silver beaded detailing offers just the right amount of glimmer to emulate a frosty scoop glinting in the sun. Just remember that this is a shirt, not dessert.

Gucci would know how to make the perfect bowling shirt: light, breezy cotton in a muted, pale blue. Punctuated by tiny icons—a shamrock, a star, a heart, a monogram and the Gucci bee—it demands just the right amount of attention without seeming ostentatious. True sportsmanship.

Trust a wizard of chroma to create the wearable illusion of being bathed in colored light. The degrade pocket shirt merges fuschia and chartreuse—adversaries on the color wheel—in a garment that will beat out adversaries on the lanes. Disco lights personalized.