Y/Project Is the Millennial Atelier We Deserve
How Designer Glenn Martens Inherited a Brand in Mourning
Interview:

Jina Khayyer

Photography:

Lukas Gansterer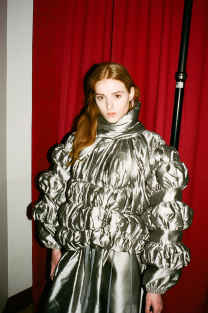 A generational shift is transforming the Paris fashion scene. Stalwart brands like Christian Dior and Balenciaga are trying to shake off the dust of their combined 170 years by changing their creative direction in order to stay nimble. Meanwhile, in the North-West of Paris—the 10th arrondissement to be exact—designers like Glenn Martens of Y/Project are slowly building up exciting fashion houses from scratch. First a junior designer with Gaultier, Martens left that house to replace the late Yohan Serfaty of Y/Project and inherited an atelier in mourning. In its quick rise to the runways of Paris, the brand has mastered a look of tailored slouch and unfussed élan. This blend of poise and apathy has been described as "visual catnip," fresh and unpretentious yet technically impressive. Y/Project's latest collections feel distinctly modern in their carefully tousled silhouettes—all crisp wrinkles and amorphous folds—something a brand less than ten years old is at an advantage to grasp.
Shedding the design principles of his Antwerp fashion education, Martens now leads the company, its vision, and its staff by emotion. Jina Khayyer visits the designer's studio and enters into the world of collective and emotional decision-making.
Jina Khayyer
Glenn Martens
We are a small team where everyone has a voice. An intern has as much influence proposing a solution as I do. Our idea of fashion is not to create an army of lookalike people. There are enough brands who create for people that buy a piece to become part of the brand-gang. We create to ask questions. Y/Project is driven by emotions.
What kind of questions does Y/Project ask?
Who are you? For example.
So who are you, Glenn Martens?
I don't always know who I am. You need to reflect a lot to be able to know who you are. Of course I'm not a stranger to myself, but I don't totally know myself and I like that I can surprise myself, in good and in bad ways.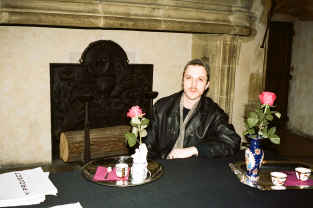 The queen of England. Anna Wintour. They're some kind of psychedelic result.
You said Y/Project is driven by emotions. Can you please explain that?
We don't follow any rules. Everything is possible. While making a piece we never really know where it's going to end up.
What is your starting point when you create a collection: Do you first make sketches? Do you mold on the figure? Or is your design-approach entirely digital?
I always start with a technique-idea that is mostly an abstract concept, which then later can be translated into garments. We're five people in the design team, interns included. We do all of our patterns here. Well, 95% of the patterns. I give the first input, which are sketches and drawings showing the technique I want to use. I pass them onto the team who then have two weeks to develop the ideas. But as mentioned earlier, there are no rules. Most of the pieces evolve during the fittings. For example, in the last collection we had these amazing overlapping shoulder-parts. I had this idea when I saw my intern sizing down his t-shirt, which was too big so he stitched the sleeve inside out. I loved that idea and pushed it further.
So for you it's all about the construction of the garment?
Yes. Construction is the first and the most important element. The moment I find a new technique is a good moment! But I need my techniques to be adaptable. I like to twist things and to be able to play with different vibes. I love techniques that allow me to create sporty, elegant, and couture pieces all in the same collection. Like we did with the metal-wire technique. I need to feel duality. I am actually obsessed by duality.
I like the multiple possibilities. I'm Belgian, from Bruges, which is a museum city. It's a super small provincial town. Very cute, very austere. As a child I thought the entire world was as pretty as Bruges. I was super disappointed when at eighteen years old I finally travelled by myself to go to London and realized that nothing was perfect and pretty. Since then I have always been looking for perfection. I'm obsessed with history. I am obsessed with classic beauty. As a student and even later, as a young designer, my collections were always perfect and pretty. All white and clean and elegant. For a very long time I've been trying to grasp classic beauty, the ideal beauty pattern. It's only in the past few years that I've made peace with the fact that the world is not so classic. So now I find charm in the opposite too.
Many designers of your generation who are now building their own fashion houses, like Demna Gvasalia of Vetements for example, show their men and women collections together. You stick to the pace of divided shows. But you actually show the same pieces twice, just in different materials and colors. Why?
I like the idea of showing the exact same cut that looks good and masculine on a guy and that looks good and feminine on a girl. I don't make a distinction between genders. For me, it's important that you put the garment on and you ask yourself, "How am I going to make this my own? How am I going to make this me?"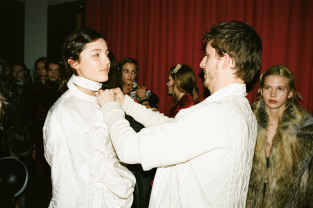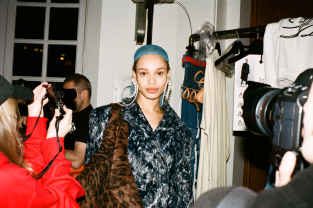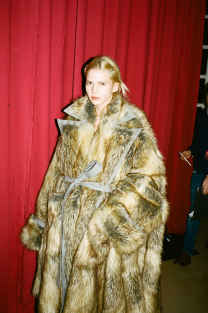 But that implies that you know who you are.
For me that implies that you need to find and think about who you are everyday. As I said earlier, I don't know who I am exactly. Sometimes I feel there are so many different persons in me. But I know what I want to put myself into. I'm very aware that it is much easier to buy a statement piece and become part of a brand. You know the brand is cool and hype so you feel you can become cool and hype too by wearing it. But that's not the route Y/Project is taking. We are trying to reach a society which is based on diversity. Take the Y/Project staff as an example: we are roundabout fifty people and everyone is from extremely different backgrounds. I share my desk with a Frenchman, an Irish girl, a girl from Kenya and a Turkish guy. I doubt we have two people with the same heritage here.
Where did you study fashion?
Why did you come to Paris?
I got a job offer at Jean Paul Gaultier.
That sounds like a good fit: He is probably the most-Bruges-esque designer.
Yes, totally. He is amazing. But I have to admit when I graduated in 2009 I was very snob and was not happy about working at Gaultier. The fashion academy in Antwerp is such a hard school, it pushes you so far, you get a very egocentric point of view. When you leave the school you feel like you deserve a lot. Kind of like: give it to me! It's very unbalancing. It's not a good reality. You feel like you deserve shit because you went through hell. But that's not true. You deserve nothing! In fact, if you don't have loads of money, or major connections, you get nowhere. Unless you work your way up slowly.
Which you did. After Gaultier, you worked on several projects including launching your own line for a few seasons before you inherited Y/Project from Yohan Serfaty, its late founder. How did that happen?
When Yohan passed away his business partner, Gilles Elalouf, who owns Y/Project, contacted La Chambre Syndicale in Paris to propose a few designers and I was on that list. I was a logical choice as I had worked with Yohan before. Plus, I was very young and therefore I was very cheap. But at the beginning, I have to admit, I was very skeptical about taking over Yohan's brand. Yohan was such a striking personality. He was two meters tall, super skinny, like a Tim Burton kind of figure. People were obsessed with Yohan. And he had such a particular aesthetic that wasn't at all my creative vision. It was dark and moody, and well, we have Rick Owens who already does that so well. So I hesitated. Also, it's a difficult task to take over a brand in mourning. We had fifteen stores. All in mourning. It was a very tricky situation to be in. To honor Yohan I demanded a soft and slow transition, which is the opposite of the current fashion pace. It took us a year and a half to move away from Yohan's signature and to slowly build a new Y/Project. It's been three years that I've been here and I now feel that we are slowly getting to where I want to be.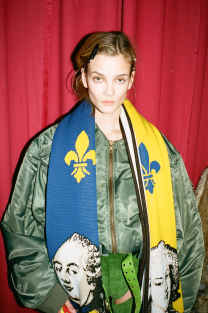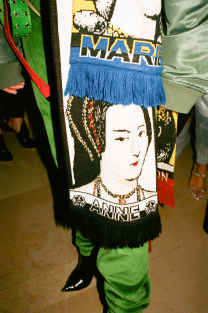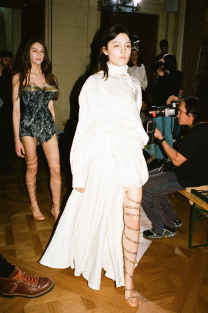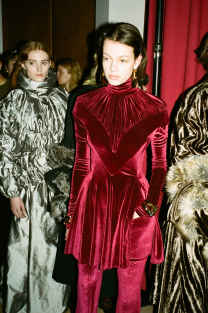 Where do you look for inspiration?
I am into Instagram. All my Belgian friends are extremely against it and think it's a big waste of time and too ego-oriented. Which it can be. But I also think it's an extremely good barometer because you can end up in societies which you don't normally have access to. I can end up in London, and if I follow good people, it's like I'm living in London. Also holidays are inspiring. Last summer I went for three weeks trekking and camping in Scotland, connecting with nature and not thinking about anything else except for getting eaten by mosquitoes and hopefully staying dry. It was very inspiring.
Do you have designer friends?
I'm not so good at socializing. I'm very plain in my social life. I have two plates in my apartment so when I host I can only host one person and I can only do pasta. It's always vegetarian. I'm not a vegetarian, but I don't buy meat to cook at home. And I always drink wine. Red wine. For a long time I lived a very reclusive life in Paris. It's only since two or three years ago that I've discovered the fashion scene in Paris. It's not one big happy family. There's a lot of catfighting. But in my generation there are some amazing people. Like the Courrèges boys, or Demna or Simon. We don't meet up like, "Hey, it's Friday," but we have common friends and we always end up at the same parties.
Last year Y/Project was nominated for the LVMH prize.
Yes. It changed a lot. Especially regarding the visibility of Y/Project. LVMH is an amazing platform. I'm very grateful to have participated because you meet so many people and legends, like Anna Wintour.
Is it relevant to you what Anna Wintour thinks?
It's not relevant. But it's important. She is like the Queen of England. The Queen is also not relevant, but extremely important. The day the Queen dies a part of our society will die. People like Anna Wintour and the Queen of England are from another reality, really. For me reality is about being practical, but on the other hand, it's very human to dream and believe in fairytales. When you take mushrooms you have a lot of fairytales happening in your reality. Society also creates these realistic but psychedelic vibes. The Queen of England. Anna Wintour. They're some kind of psychedelic result.
In which way is fashion relevant to you?
Clothes are relevant if people own them and are happy in them. For Christmas I gave my grandmother a Y/Project coat, which she loves and wears. A friend of mine has a similar coat. When clothes are not connected to gender and age and still work, then fashion is relevant.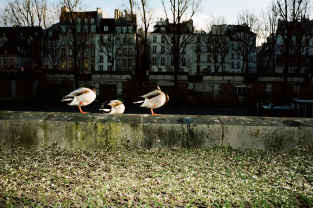 Interview:

Jina Khayyer

Photography:

Lukas Gansterer