Diving Deep into the Relationship Between Fashion and Writing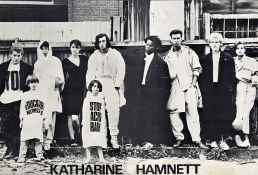 In 1920, F. Scott Fitzgerald famously coined the term "t-shirt" in his first novel, This Side of Paradise. At the time worn exclusively as an undergarment, the tee was named for its resemblance to the letter "T." The written word is inextricable from the history of the t-shirt, and the t-shirt is inextricable from the history of fashion. Political t-shirts, ironic slogan t-shirts, band merch t-shirts, t-shirts inscribed with poetry, with messages of celebration and of cultural commentary. And what about those t-shirts stamped with a single, suspended word like a stray who lost the pack, completely without context, essentially meaningless. Why?
A word can be an attempt at propelling oneself into an aspirational cultural realm. Like Mathieu Kassovitz's forever-relevant La Haine (1995), when the boys of a Parisian banlieue express their attachment to American pop culture through their clothing. The dart hits the bullseye when Darty (nicknamed Walmart) is pictured wearing an "Elvis Shot JFK" t-shirt, an indication of how deeply Americana and its notions of freedom have penetrated the lives of the young men. They externalize their internal affinity by wearing it bannered across their chests, by spelling it right out. A totally contemporary version of alignment attire might be best encompassed by Yang Li's Spring/Summer 2018 "Reference 3.0." The impressively crowded design packs innumerable obscure allusions to now-defunct record labels, late-70s punk fanzines, works of great literature, and philosophical texts (Julia Kristeva!) onto a cotton long-sleeve.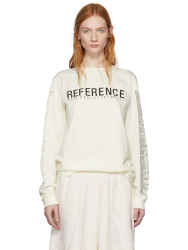 A word can be an interjection. In 1971, Vivienne Westwood and Malcolm McLaren took over Tommy Roberts' 430 King's Road shop, Mr. Freedom, and set out to popularize their tattered-and-plaid punk aesthetic, along with the DIY slogan t-shirt. Their anti-fascist model sees a swastika and an inverted image of Christ on the cross silk-screened onto muslin beneath the word "DESTROY." The message is straightforward—it bites back. Katharine Hamnett took on a similar project in the 80s, with simple black block-letters containing various cheeky expressions of dissent printed across white t-shirts. As in the "58% DON'T WANT PERSHING" shirt she famously wore to meet Margaret Thatcher, her garments were confrontations, embodied rally signage. Some 30 years later, the no-nonsense design caught the eye of Kanye while vintage shopping in Milan, and he sought Hamnett's council in designing his (not remotely similar) YEEZY Season 2 collection. Echoes of Hamnett's approach are felt in innumerable contemporary, hollowed-out iterations of the textual t-shirt. See Alyx's "World Peace."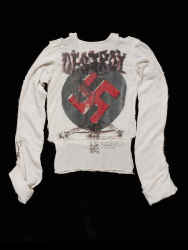 A word can be an invocation. As a self-proclaimed failing painter in the mid-70s, Jenny Holzer entitled her first body of work "Truisms," a project born out of her time as an art student and a frustration with the inaccessibility of her assigned readings. She countered this by being reductive. She made a career of it. In 2017, she partnered with another figure well-known for a reductionist, text-based approach to design, Virgil Abloh. Abloh has shown time again his belief that a "single word" can elevate an otherwise ordinary object to the level of masterpiece. "You can use typography and wording to completely change the perception of a thing without changing anything about it," he told 032c. "If I take a men's sweatshirt and write 'woman' on its back, that's art." Printed across a t-shirt or projected onto a wall, a certain word or way of phrasing shapes perception. The Supreme box logo is a visual synonym for Barbara Kruger, despite and/or in service to the overt irony. In fashion, it feels like the more revolutionary the initial intent of the muse, the more susceptible to being co-opted by a "ridiculous clusterfuck of totally uncool jokers." Maybe designs produced in the past by genuine radicals are conjured in a moment where having an opinion is not only unavoidable, but in style.
A word can be a rhetorical device. Often, text-based fashions feel purely, frustratingly, comically stylistic. Like when t-shirts are sold in non-English speaking countries covered with nonsense phrases because the look of an English word is in itself cool. Or when white people get tattoos of Chinese symbols they can't themselves read. If the role of culture is to fill markers with meaning, the role of fashion is to empty them out. Juun.J's uncredited Anais Nin almost-quote t-shirt bears the words "Life Opportunities Contract and Expand," repurposing the sensual diarists words for the link-and-build era. In a collection of Susan Sontag homage sweatshirts sold at Opening Ceremony years ago, a Thomas Mann quote was misascribed to Sontag. Fashion paralyzes good research? The words are blasted across the chest, but often it's closer to rhetoric than the communication of something meaningful. In the end, text sells, and the work of these women was intended to be read, to be public, to be populous, and nothing is more public and populous than the human body—than fashion.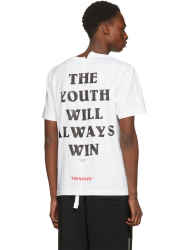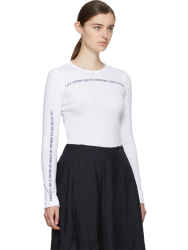 A word can be a catchphrase. A t-shirt an assertion of an individual's values, and the words that circulate on them utterances of the zeitgeist. The "I AM THE AMERICAN DREAM" self-aggrandizement of the early 2000s seems to have been de-shelved and sent to the shredder to make room for "WE ARE ALL DREAMERS," a shift spearheaded by Britney to the internet's continual delight. The human sandwich board, the socially-aware soundbite, the sparingly-worded political slogan. In a climate of information bombardment, people gravitate towards the blunt and literal, the barebones statement, the flattening of a complex issue into a catchphrase. Aphorisms, like the slogan t-shirts that bear them, empower through affirmation; even if they teach us nothing, it feels good to fall back into what is already known. The slogan t-shirt is the "Hello, My Name Is..." sticker of garments, designed in anticipation of a conversation, aware that merely being a social body is an invitation to communication. Like Tonya Harding's "No Comment!," a slogan on a shirt answers the question before it's asked.


A word can be a poem. Amidst a turn towards process-revealing, art-aligned "undone" fashion, a surge of independent designers have put the poetry back into text-based design. Omondi's hand-embroidered meditations (perhaps familiar from Issa Rae's season two wardrobe in Insecure) restore personal touch and craft-womanship, an emphatic counter to the "The Future Is Female" sort of mass-produced care. Eckhaus Latta collaborator Brendan Fowler's "Election Reform!" initiative pushes people to consider America's broken electoral system, each purchase accompanied by an educational reader. Fowler produces his line using the same embroidery machine he used to make his visual art, continuing to subvert the traditionally commercial use of an industrial sewing machine. Through his engaged approach he has sprouted a community of collaborators. One such collaborator is Sonya Sombreuil, the cult Los Angeles artist who designs under her label Come Tees, making small-batch, hand-printed psychedelic ruminations and graphic odes to the art and artists that stick in her heart.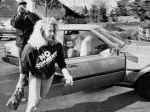 A word can be an incantation, it can be a mantra, it can be a hex. When a word is worn across the chest, what is being done with it? Why "Hollywood"? Why "Future"? Is it engaging in a form of magic, a form of manifestation? Or is it an attempt at aligning with an idea, the act of meditating on a cypher until its meaning is encompassed? Is a slogan t-shirt a paltry life raft, something to hold onto in a flood of information? Is it for communicating something intimate without ever having to speak?
Olivia Whittick is an editor at SSENSE. She is also managing editor at Editorial Magazine.