What Does Your Dream Sneaker Look Like?
Nine of our Favorite Creatives Share Theirs
According to dreammoods.com, to see your feet in your dreams symbolizes your "foundation, stability, and sense of understanding." The same dream website also tells us that feet represent confidence and independence, which is why we're so particular about what goes on them. The hug of a flyknit weave, the bounce of a VaporMax sole, the translucent jelly blisters of an Ozweego—if your feet feel good, then so too will your body. Sometimes though, it's hard, even impossible to find a sneaker that really fits. For the first instalment of Sneaker Week, we realized nine dream sneaker designs from some of our favorite contributors in the industry. You might not be able to control your dreams, but at the very least, you can control the sneakers of your dreams.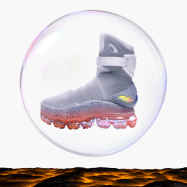 My dream sneaker would be something similar to the Jetsons or Back to the Future. Something that will let you walk on moon rocks and lava, maybe even jump through space or have a button that creates a silver shield like Iron Man. It's definitely going to be space grey with light blue and ultra violet tints, but if you're above lava then it changes to red/orange, like a chameleon. They would be high top sneakers with straps around the ankle, almost heavy enough for a boot but with a Nike bubble in the sole and an "A" on the back heel.
Aleali May is a designer, model and stylist from L.A. She's collaborated with the likes of Louis Vuitton, Nike, and Virgil Abloh.
---
I spent some time in my early 20s as a camgirl and dom, and the clients I always found most endearing were the foot fetishists. There was the man who took me to salons just to wait in his car and pay for my pedicure at the end of it. The man who enjoyed puppy play—barking like a dog and licking the soles of my shoes. One in particular that held a special place in my heart was a man who bought me shoes simply to watch me wear them on Skype, to walk around my apartment in them, to step on things in them. I have always correlated the streetwear community's obsession with sneakers, specifically beautiful girls in sneakers, with that same kind of fetishization. I remember the forums, like NikeTalk, where men would drool over pictures of naked pornstars with Jordans on or women wearing backward snap-backs and bikinis made out of shoelaces, licking the sole of a fresh-out-of-the-box SB Dunk. I saw both of these separate universes as perfect expressions of my own duality. It makes sense then that the amalgamation of my overtly femme sexuality expressed through my BDSM/foot fetish work and daunting masculinity expressed through my obsession with sneakers and menswear would manifest as my wildest fantasy—an edible, stiletto Nike Air Max 97. The words themselves seem ridiculous even as I type them but also feel like a truth scavenged from the depths of my gender-fluid soul. Although I've spent little time thinking of the logistics and flavors of such an absurd creation, I imagine all the materials and ingredients would be incredibly expensive—and organic, of course. Perhaps sweet vermicelli noodles rolled in gold leaf for laces, a passion fruit brittle sole? All I know is it would be grand enough to make any foot and footwear lover feel as if they were dining in a Michelin rated restaurant, for sneakers. Functional, edible, beautiful—an homage to my love of culture, food, sneakers, feet, and sex, all rolled into one magnificent shoe.
Sanam Sindhi is a brand consultant and creative director based in LA.
---

I don't often wear an everyday sneaker, but when I do, it is the Celine Plimsole trainer. I like something that is utilitarian but without the fuss of the traditional sneaker. The opposite of the clunky, ugly sneaker trend, really. I dislike the idea of footwear that is so instantly identifiable as belonging to a specific fashion season—there's something rather off-putting for me about overtly trendy footwear. Since I tend to wear mostly black in all seasons but summer, though, I'd love a darker version that fits more seamlessly into my wardrobe.
Julie Zerbo is an attorney and the founder and editor-in-chief of TFL, a leading source of law, business & culture news and analysis.
---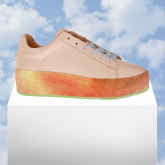 The perfect sneaker is one for any mood. A muscular bottom, like a crustacean's shell—an underbelly, which cocoons the fabric of the sneaker that is taut, like a peach. Pretty like one, too. The top is the color of coral when it's faded, almost a rustic brown, not quite a pale champagne, maybe the dusty pink of an Acne jacket. Its bottom—sturdy—more like a platform. Stable enough for a marathon, a rodeo, a walk around Santa Fe, through the desert, right through Death Valley. It's plump, like sandwiches squashed together, giving heights to all kind of legs—short and stumpy, long and lean, every single body looks good in these shoes. The color of the bottom of its sole a lime green, or slime green, a psychedelic cactus that's almost translucent in the daylight. The shoelaces are gray—a pale steel, a faded no-shine silver—that wraps the whole thing together, into a tight, wearable harmony.
Fariha Róisín is a writer living in NYC.
---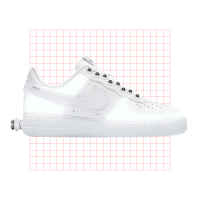 My dream sneaker is a standard white Nike AF1 updated with LED light panels for illumination, and lined with Kevlar fiber to keep you protected. The back end of the sneaker is fitted with rocket boosters for speed, as well as force field technology to avoid contact and danger. Each eyelet of the shoe is installed with micro CCTV cameras, acting as a visual diary to document your days, and the footage is uploaded to a server via the built-in wifi router lodged in the sole of the shoe. Inspired by Get Smart, a phone is also concealed in the sole of the shoe to keep you connected at all times.
NYC-based Ava Nirui is a digital and social editor for Helmut Lang.
---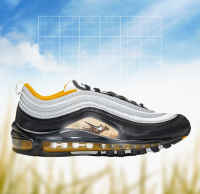 One of the first memories I have of wanting to express myself was in middle school, when the trend of LED screen belt buckles was building across my friend group of 13-year-olds. I wanted the belt, but what I really wanted was something to say. The pressure to represent myself with that screen around my waist sent me on an inward search for a small string of words that best spoke to the whole of me. My fantasy sneaker would have such a platform, an LED screen space on its swoosh, or maybe its toebox, that could depict programmed words, letters or numbers. I want to return to the conversations around sneakers that start with the "why" I think small dialogue on a shoe would prompt that. Later version of my shoe would fully be panels that have screen capabilities which you could feed any content through—like a video of cheetahs in full speed on your running sneaker, and ultimately, on your foot.
Mellany Sanchez is a New Yorker who works on image and branding direction. Her sportswear and footwear projects have included work with Nike, KITH, and adidas.
---

It's a celebration, the corpulent ridiculousness that's dominating as a sneaker aesthetic. It's so elephantine, so Botero overstuft, so fucking obvious in any socio-economic climate as a cri de Coeur—a whipsawed entreaty to our better angels—by artists and designers held hostage by the markets except that in 2018 we know better. In no way are Yeezy Wave Runners a protest. Or Raf's Ozweegos. So I'm choosing to read all of the hideousness as a type of gleeful hostility and going with it.
My dream sneaker then is that one trend of applying hundreds of coats of nail polish just to do it. It's wherever Moncler Genius intersects with Kanye's response to tinysandalsgate. They've got to be white because I'm not rich but pretend to be. They are los. And the toe box must be cloven because: Rifts and Margiela Tabis. As such, you'll need both side hook closures and a velcro strap, provided the strap be purely ornamental. The Acronym-homage zipper however must be functional because we are not dilettantes. A smattering of bungie cords should crisscross the throat as long as everything doesn't devolve into oddly Spanish or Camper-collab adjacent. These shoes cannot seem the least bit accessible. Even to the foot. The heel is a bulbous but aerodynamic flatform. Akin to a Marsèll Ciambellona. They cost more than you're worth. If you ask "what are those" the price hikes instantly. They were rumored to be sold by Totokaelo but that was a lie. If you whisper "Demna" to them three times with urgency after midnight, a blue check appears by your name in Instagram.
Mary H.K. Choi is the bestselling author of Emergency Contact. She has written for Marvel, The New York Times, The Atlantic, GQ and Wired.
---

Big and chunky spice girl sole because I get dizzy on high heels. I'm tiny so a bit of height would be key. Satin laces for a feminine feel, and I like the sheen. I'd like for it to be an Ozweegos kind of shoe—they don't come in small sizes, but they should. And I'd like for it to be a sneaker that's like a boot, and then I'd wear a dress with my sneaker boot, because that's a look.
Caroll Lynn van den Brom is a sneaker illustrator and designer based in Amsterdam.
---
The first pair of sneakers I loved came to me by way of a Coca Cola bottle cap: pristine white Nike Jordans. I remember picking them up from Foot Locker when I was in middle school, feeling as smug as I imagine George Clooney's con-man character felt pulling off their first heist. I'd never won anything before. I spent weekends sitting on my bathroom floor cleaning them with a wet sponge, because I knew my parents—Payless Power Shoppers, despite being retired fashion designers/buyers themselves—would never actually buy me a pair outright. Since then I've always owned a pair of AF1 hightops, though I'll probably never own my dream Back to the Future pair I lusted after in childhood.
My dream custom pair are just practical ones that I can put on in two seconds, with one hand, while hopping my way to the door. They would be all black, matte fabric with rubber soles that have hoove imprints like my Tabis. They'd have responsive cushioning engineered so my shoes would naturally lean me slightly forward and I'd walk faster than I would otherwise. This is also known as VaporMax technology, so basically I'm just describing a Nike shoe, which is fine with me considering their latest campaign and design oeuvre. There would be no sew overlays and a side zipper (with a protective layer from the elements) for more accessible entry in and out, because the future of design has to be accessible or it's a waste of time. It would be mesh and leather, not cloth fabric because I will never, ever end up washing them with as much love as I did when I was 12. And because I'm a nerd, they'd also be solar powered light-up shoes so I can pretend I run at the speed of light, because I technically could. I will never not be jealous of children's light-up shoes because I'm perpetually 12. They'd also be ethically made with transparent labor practices. You did say a fantasy shoe.
Arabelle Sicardi is a freelance beauty and fashion writer. They've written for TeenVOGUE, ELLE, ALLURE, NYLON, I-D, SSENSE, and others.
---
This article is part of our Sneaker Week 2018. Click here for more.
Text:

Aleali Mayn, Sanam Sindhi, Julie Zerbo, Fariha Roisin, Ava Nirui, Mellany Sanchez, Mary HK Choi, Caroll Lynn, Arabelle Siccardi