New Icons: Wearable Mythology
Find the Big Bang in Your Sweater Dress
Text:

Zoma Crum-Tesfa

Photography:

Kenta Cobayashi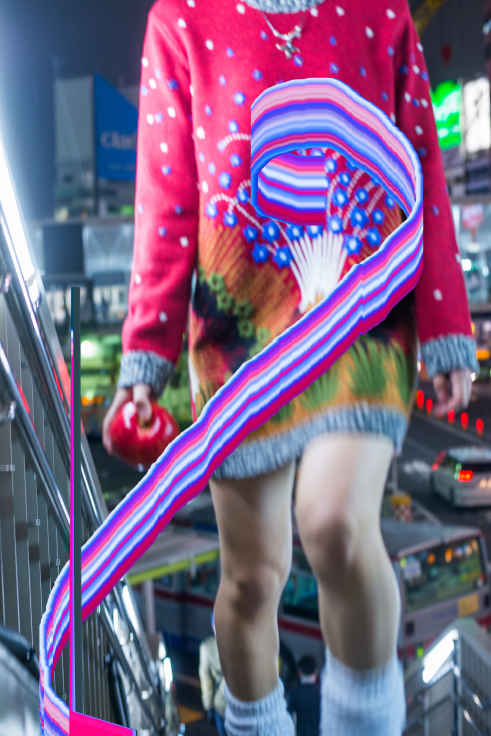 It's going to be okay. Continue to pore over your horoscope during lunch, uttering sentences to your friends prefaced with "Maybe the universe is telling me..." Wishing to rejoin the abstract whatever that comforts you is normal. As the universe expands, so does the dark matter and dark energy that makes up 96 percent of it. However, Moby said it best: "People they come together/People they fall apart/No one can stop us now/Because we are all made of stars." In the face of darkness, don't let your light wilt. Be a pathfinder.
There is a time for a bomber jacket, or whatever revamped militarized negligee has just entered the market, but in these times of uncertainty, as you peruse the Resort 2017 menu of illustrated maxi dresses, take a second look at Valentino's "Enchanted Wonderland." The sweater dress presents a wearable mythology. Frozen in wool and appliqués, the dress's center is a volcanic vascular system that spills a white-hot bouquet of light that crystallizes into stars. It is a statement that even within a volcanic eruption, there is rebirth. The dress's stanza of embroidered agaves in red sand—or star dust—shows us that even a desert contains life. The sweater is framed by the black-and-white speckles of a television's static. Here you remember that even within the granular and seemingly meaningless noise of an interrupted broadcast, you can hear the electromagnetic energy of the Big Bang.
When his creative partner Maria Grazia Chiuri left the company to become artistic director of Dior, Valentino's now-lone creative director Pierpaolo Piccioli only made slight alterations to his office in Rome. He turned his desk that once mirrored Chiuri's to face a fireplace topped with a gold-framed 19th century portrait of a woman. Was this tableau unconsciously reflected in the iconography of this Enchanted Wonderland? In an interview with The New York Times, Piccioli spoke about this change with a glacial zen: "It's more important to be here, than to be alone." As we gild the dark kingdoms that confront us in times of peril, let our beliefs confront each other. Not our scars.
Text:

Zoma Crum-Tesfa

Photography:

Kenta Cobayashi