User Experience: the Loewe Flagship in Miami
Examining the Discourse Between Art and Retail in the Shadow of an 18th Century Granary
Text:

Rebecca Storm

Photography:

Rebecca Storm

Images/Photos Courtesy Of:

Loewe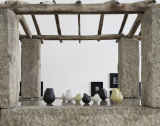 The thing about coming to Miami in early December is that your plans will be complicated in some way or another by Art Basel. My visit to the Loewe flagship was no exception.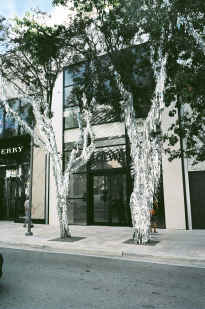 I arrive at the store on a pleasantly warm December day. I observe it from where I've been dropped off across the street so that I can take a few photos, but mostly so that I can linger outside and rid my body of any post-air conditioning condensation. I run cold, and in hot climates I prefer to relish the heat, but my Uber driver did not share my preference.
Opened in 2015 at the behest of creative director Jonathan Anderson, the Miami store plays host to Chance Encounters, the Loewe Foundation's annual gallery project. It opens each year during Art Basel and runs for several months. Curated by Anderson, the series celebrates the dynamic that blossoms from the intentional juxtaposition of designer goods and art media—you can look at art and shop all in one go. The brochure for Chance Encounters III touts Kettle's Yard as a source of inspiration for Anderson. Once the Cambridge home of curator Jim Ede, Kettle's Yard was famed for its collection of harmoniously disparate objects—art, craft, design, and quotidian all enmeshed. At the Loewe store, works from sculptor Sara Flynn, photographer Lionel Wendt, and painter Richard Smith are on display, while the retail space continues to operate as usual, engaging the dichotomy between art objects and consumer goods—if there is still such a distinction. Perhaps this is what Anderson seeks to challenge.
The storefront is made entirely of glass, which gives anyone passing by a vantage point of the shop's most dominant feature: a 18th Century granary, shipped from Spain, contained within the space like some sort of steeple in a display case. There's something inherently remote about anything placed behind glass—it seems to say "look at me" and "do not disturb" all at once. A security guard opens the large glass door for me, and I feel instantly dwarfed by the 36-foot-long structure occupying much of the space. 10 or so glass tables extend perpendicularly from the granary, almost like vertebrae, exhibiting bags and accessories, all in black leather. Granaries such as these were used to store and dry the harvest, but instead of grains, I see Flynn's ceramic vases. The allegory of art as both sustenance and commodity is a bit blatant, but it's hard to argue with the idea. This is, after all, a luxury flagship.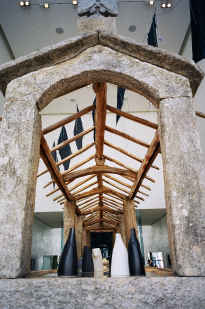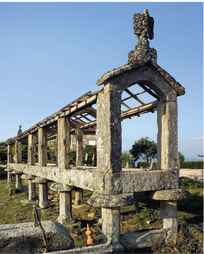 The granary functions as more than mere decoration. It is the shop's backbone, supporting its contents structurally and figuratively, and it challenges the architectural boundaries of the space. It makes me forget for a few moments that I am even in Miami. To make invisible the chaotic, see-and-be-seen anxiety of Art Basel is no easy feat. Create a tranquil enough atmosphere, and people are going to want to replicate that for themselves. The easiest way for them to do so, of course, is by obtaining said atmosphere's fundamental elements—by shopping for them, maybe.
Alongside Flynn's ceramics, the granary hosts leather accessories by Loewe. I've rolled my eyes at their tiny leather elephants in the past, but they fit ideally in this space, the curvature of their big-eared silhouettes mirrored by Flynn's vases. They seem to inhabit the space together as silent livestock—my South Beach brain is humbled by small, cute, clustered things. Combined with Lionel Wendt's intimate, printed portraits, the space is imbued with a welcome, human viscerality that's otherwise often absent from luxury spaces.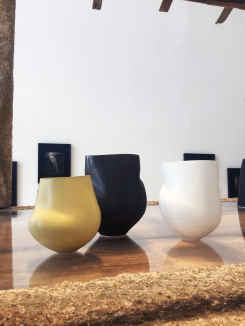 Richard Smith's work is suspended from the ceiling across the expanse of the room, a procession of kites echoes the deepest blue of the sky outside, and radiates as the only color in the main portion of the space, save for the blue tinges in Wendt's gelatin silver prints. Anderson's goal to conjure a harmony through the collection and placement of choice pieces seems to be working thus far.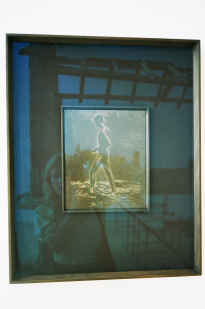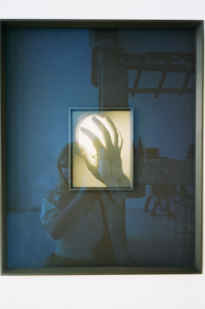 I make my way to the rear of the store, where most of the garments—also all black—are hung so as to segregate ready-to-wear perusers from art enthusiasts. The salesperson encourages me to try the velvet knit sweater I'm examining. The sole carpeted space in the store, the spacious fitting room cubicle is occupied by a single chair upholstered in a fiery scarlet leather. The white walls and cream carpet almost bask in its glow. For a space that has otherwise been cool stone and black leather (with the exception of my livestock friends) the fitting room is an anomaly, soft and warm. A womb, almost. If Anderson wishes the space to exist as a dialogue, the fitting room has been left out of the conversation. It's peaceful and silent, and like the room itself, I'm enjoying the pause from conversation.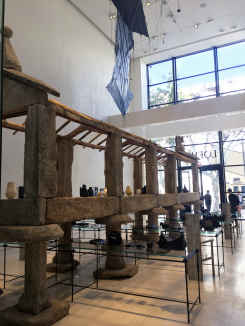 It dawns on me that though I am in a retail space, I am more interested in the art and decor. Looking at art while shopping is kind of fun, but it's difficult to tell whether Anderson is excited about these artists and wants me to buy their things or if the goal is to have me so charmed by the environment that I can't help but purchase something Loewe. I wonder if the artwork is even for sale. Displaying some Loewe goods amongst the art objects certainly sustains a dialogue, but it also suggests an even playing field in terms of value, which is as bold as a curator including their own work in a show. But maybe it's on the viewer to avoid demanding a distinction between art object and consumer good. I've enjoyed the space for what it is—an atmosphere. In a sea of retail spaces that are content to repeat their architectural blueprints without a whisper of any conceptual evolution, Loewe has ultimately managed to create for its visitors a pocket of serenity, and given its founding spirit of cooperation, its one that is without pretension.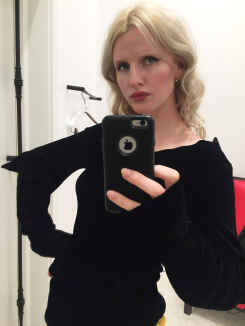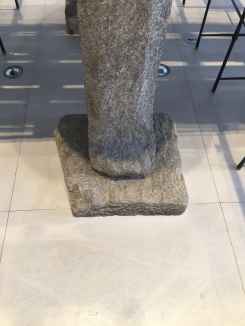 Thankfully the sweater makes me look like a confused dinosaur. I tour around the store once more—it's not often you find yourself face-to-face with a centuries-old Spanish granary, and there are many angles to examine. Being a tad klutzy, I imagine my toe having a chance encounter with its stone foot, and subsequently me with a glass table, laden with goods, and decide it's probably best for me to quit while I'm ahead. I see the spot I stood across the street as the initial voyeur, and am reminded again of the odd serenity that being outside the confines of a glass box affords. I head back to my refrigerated, perfumed hotel and the incubus that is Art Basel.
Rebecca Storm is a photographer and editor at SSENSE. She is also an editor at Editorial Magazine.
Text:

Rebecca Storm

Photography:

Rebecca Storm

Images/Photos Courtesy Of:

Loewe