User Experience: Off-White's Something & Associates
Physical and Digital Collapse at Off-White's Tokyo Store
Text:

Adam Wray

Photography:

Courtesy of Off-White and Adam Wray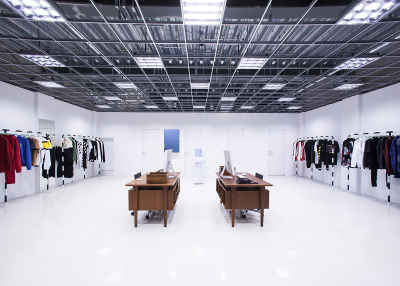 All physical spaces are now digital. More precisely, they have digital dimensions, waiting to be activated by humans with smartphones. Artists and designers can embrace or reject the digital layer as they see fit, but they ignore it at their own peril. Like it or not, anything sufficiently visually interesting will be noticed, captured, and shared, given another life related to but separate from its material circumstances. This dynamic—the same one that accelerated Yayoi Kusama's ascent from the art world into popular culture—animates Virgil Abloh's Off-White project.


"RETAIL"
---
"Stores are corny," said Abloh in a recent lecture at Columbia University, and, for the most part, he's right. Stores try hard to sell us stuff, and being sold something leaves us suspicious of its actual value. If we need to be convinced to buy it, how much did we really want it in the first place? Retailers are beginning to grasp the idea that their continued existence depends on meeting customers where they are: online, all the time, even when they're in the store. This is making shopping even more uncomfortable, with brands attempting to add a connected element to the in-store experience through clunky, literal interventions like branded apps and beacon technologies. Off-White's boutiques sidestep this awkward dynamic with a simple strategy: develop unique, photogenic concepts and never duplicate or let commerce dictate them. Think of the shop as an experiential channel first and a commercial channel second, and all sorts of possibilities reveal themselves.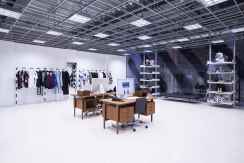 "WORK"
---
Off-White's Tokyo shop is located in a basement in Aoyama, a neighborhood clustered with luxury boutiques. When Abloh and his collaborators from design studio Family found the space, they agreed that it looked like an office. They simply amplified this vibe, calling it Something & Associates and filling it with a mishmash of work-related visual cues. The name suggests a law firm, and inspired a stationery set available for purchase exclusively at the shop. The walls are wrapped with a ticker displaying real, up-to-the-moment activity from the Tokyo Stock Exchange. A punch clock by the doorway harkens back to a bygone method of tracking labor. The space is anchored by two midcentury desk-and-chair combos facing each other, outfitted with iMacs tuned to Off-White's Instagram account and runway videos. The result is dreamlike, the sort of spatial-conceptual mulch concocted by the subconscious, or an alien who'd watched a bunch of 20th century Earth cinema and tried to design an office from memory. The decor gestures at the passage from analog to digital, but it isn't clear whether or not this was intentional, and it hardly matters either way. The point is that the space photographs brilliantly, delightful in its surreality, making little sense as a place someone might actually work. The irony is that by the end of my visit, the only people in the shop were myself and three sales associates, and all of us were, in fact, working.



"BRAND"
---
A water cooler sits in the middle of the shop, complete with branded plastic cups. "People steal them all the time, and it's fine," said Abloh in his Columbia lecture. Off-White works as a brand because it encourages this type of interaction from its audience-slash-customer. Abloh chose the hashmark branding that recurs throughout his designs because of its ubiquity in contemporary visual life. The diagonal line pattern occurs everywhere from roadways, to signage, to cloud formations. Wherever Abloh's fans see it, they photograph it and send it to him to be rewarded with a retweet, a brief audience with Abloh's followers. This has a compounding effect—imagery begets more imagery, and another pattern forms. We are now in an era of metastatic branding, where user-generated content is more valuable than paid-for advertising, which is only worthwhile if it compels interaction. In this context, Off-White's experience-over-sales retail strategy begins to make sense. When I visited the shop, I was encouraged to take as many photos as I wanted, and inevitably shared many of them. A highly Instagrammable space invites the customer to dip into the brand's world on their own terms. The techniques that create valuable physical experiences are the same ones that create valuable digital experiences—another clue that we need to rethink the distinction between the two.
"PRODUCT"
---
Whenever I am in Chicago, Abloh's hometown, I try to visit Anish Kapoor's Cloud Gate—the mirrored bean. This is not a unique activity—the sculpture is almost constantly surrounded by tourists snapping photos. I just like to stand near it and imagine how many selfies I am incidentally photobombing. By standing in the center of this new, collective process of image production and circulation, I get the sense that I am exceeding myself. I feel diffuse, simultaneously myself and something else, a tiny part of a greater stream of visual material. It reminds me of the relationship between Abloh, his brand, and his fans. Is the participatory behavior a byproduct of the clothing Off-White sells? Or is the behavior the primary output?

Text:

Adam Wray

Photography:

Courtesy of Off-White and Adam Wray