User Experience: Balenciaga Paris
Demna Gvasalia Suggests How Brick-and-Mortar Memes Will Eventually Replace Flagship Stores
Text:

Jack Self

Images/Photos Courtesy Of:

Balenciaga and Jack Self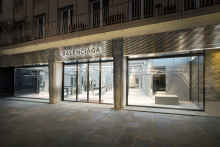 "Seriously, don't get me started on finding a man." With one well-rehearsed Parisian motion my friend drops her cigarette butt to the pavement, crushes it under a long heel, and exhales upwards. "It's a meat market out there," she says and reapplies her lipstick.
The sexual objectification at the core of many dating apps is demoralizing enough without our bodies also being meatified by the world of fashion. The expression "meat market" used to refer to a nightclub or a bar loaded with the potential for casual sex. But today the condition is widespread and mainstream. Sexual objectification has become an entire model for society—one that spans from how we curate ourselves on the internet to the buying and selling of clothes. And there is so much competition to project a perfect representation of your personal brand, whether for sex or likes.
This is the point Balenciaga creative director Demna Gvasalia (of Vetements fame) has sought to drive home at the brand's new flagship store in Paris. From a distance, the interior seems typical of any high-end fashion house: large plate glass windows, clean modernist lines, thick grey carpet, cream linoleum, warm tan leather seating. The neon lighting is carefully calibrated to bathe the product in an expensive glow. But as I get closer to the store on Rue St. Honoré, I begin to notice a number of unusual details.
All of its fixtures are blown out of proportion. Where you would expect simple hanger clips, instead you find industrial hooks with a loading capacity of 300 pounds—hooks better suited for carrying a side of beef than a spandex dress with the word "SPANDEX" printed on its front ($650). That's when I realized these chrome-plated rails were luxurious interpretations of the infrastructure used in abattoirs. Bulky rolling stock, sinister suspension systems, autopsy tables in brushed steel, and easy-clean linoleum flooring. Collectively, they contribute to an air of medical experimentation or the industrial production of meat.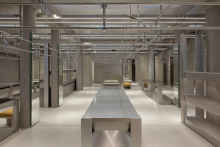 Oh yeah, you think to yourself, I get it: it's a "meat market," right? But then, what are these clothes doing here? Are we supposed to put them on and hang from a hook, as if participating in some ritualistic performance art? Or is it simply pointing to the fact we have all become complicit in the hyper-commodification of fashion? Do you get it?
"Yes," you think, "I get the joke." It's tongue-in-cheek. We're all just leaking sacks of corpuscular fluid and soft tissue looking for a pair of jeans with pre-applied coffee stains ($1250). The store interior is operating like a physical meme in which meaning is not explicit but nuanced, expressed through reference to its context and networked inputs. For those who can unpack even the most superficial of these manifold layers, that sense of "getting it" is designed to increase desire for the product. Basically, Balenciaga is inviting you to join an inside joke.
Over the last century, the fashion industry has constructed an elaborate armature for delivering its messages to buyers, from ethereal brand-based approaches like the lookbook, photo shoot, or red carpet celebrity placement, to more traditionally commercial ventures like the "pop up," "concept," and "flagship" stores. Demna Gvasalia is attempting to turn these systems back upon themselves. There is something deeply reminiscent of The Emperor's New Clothes about his work: poking fun at the po-faced sincerity of mega-brands and the mega-industry that is contemporary global fashion.
The argument being made is that criticality in the work raises awareness and stimulates action in the viewer. This reasoning was rejected by art theorist Jacques Rancière, who says that to simply make a viewer more aware of a condition does not automatically lead to their increased agency. In other words, when you look at Jeff Koons' balloon animal sculptures, you can see his critique of our infantilized society. However, you do not exit through the gift shop and then seek to overturn these forces that are compelling you into a lifelong condition of kidulthood. You just nod your head. An over-reliance on irony always exposes the same problem: ironic people cannot explain clearly what they actually believe. They rely on complicity from their audience not to challenge them.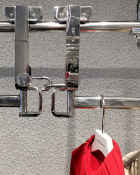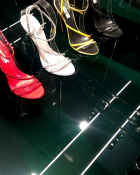 The strength of the irony in the Balenciaga store does kind of make you ask: why do we even still have flagship stores? I think I get what Demna is trying to do, but isn't it kind of an expensive joke? Of course, Balenciaga is struggling with the same problems facing many other industries: how do we justify the expense of so many physical stores in such prime real estate locations? The general approach has been to try and improve the shopping "experience," either through exciting pseudo-cultural programs, or bonus perks like classy champagne served in private booths, or simply cultivating desire through scarcity, as with a high turnover of limited-edition collaboration products. Nonetheless, physical shopping feels increasingly lackluster and flat.
Part of the reason for this is that fashion today is a global affair, dominated by just a handful of European corporate groups, the most prominent of which are LVMH, Hermès, Richemont, and Kering. Between them they account for $210 billion in annual profit and represent about 100 of the best-known and best-selling brands in luxury apparel. What this means is that certain brands in the same category and price point must compete fiercely—for example, Gucci (Kering) and Louis Vuitton (LVMH)—while others must avoid competition at all cost—for example, Balenciaga and YSL (both Kering). This magnetic push and pull distorts the marketplace, but it also distorts the streetscape. The result is a highly calculated, repeatable geography of brands in any commercial environment, from airports, to malls, to main street. You've probably noticed the way certain companies all cluster together. Subconsciously, you might have even made a note of associated brands.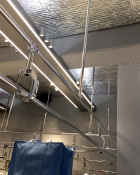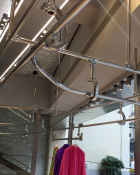 In his seminal 1939 text Avant-Garde and Kitsch, Clement Greenberg describes the kitsch as "cultivating the urban masses' capacity for boredom." And it is this boredom, he continues, "that is the source of its profits. Kitsch is mechanical and operates by formulas. Kitsch is vicarious experience and faked sensations. Kitsch changes according to style, but remains always the same. Kitsch is the epitome of all that is spurious in the life of our times. Kitsch pretends to demand nothing of its customers except their money—not even their time." Greenberg's definition makes me think the whole system and landscape of fashion stores has become kitsch.
When faced with such a stale retail environment, Demna Gvasalia has attempted to subvert the model by making a fairly subtle yet intensely ironic statement about shopping today. For me, it doesn't go quite far enough. He is still trying too hard to sell me something. Part of the appeal of e-commerce is the ability to instantly compare totally unrelated brands, styles, price points, and (with platforms that provide vintage clothing) even past eras. This has made any single brand's flagship store physically impractical—it takes too long to move between them, and it's too hard to compare products and make informed purchases. It would be interesting to imagine brands abandoning the idea of sales in flagship locations completely. They should not try to sell me anything in their store. Instead, they might follow Balenciaga's logic through to its ultimate conclusion: the ex-shop/now atelier as a center for artistic expression, for live performance, for vibrant activity. A meme is an evolving, humorous, context-specific, cultural communication. And there is a lot more potential for the "store as meme" to develop. Until then, I guess the meat market continues.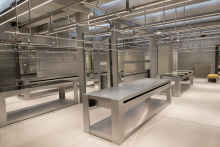 Text:

Jack Self

Images/Photos Courtesy Of:

Balenciaga and Jack Self