Tracing Fashion's Obsession with the 90s Football Brand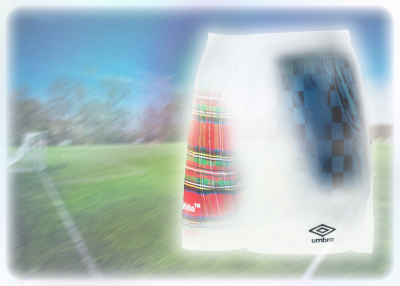 The shorts were a collab between Umbro and Off-White. While the football brand has a reputation as the the go-to for performance on the field, during the 90s and early aughts, Umbro functioned as fancy gym-strip for the masses—rustling down the corridors of middle schools and junior highs. Why then, over the course of this past decade, have we been seeing it again?
Umbro is the portmanteau of its founders: the Humphrey brothers. The Hump Bros. The Umbros. It was founded in 1924, when Harold and Wallace Humphreys, brothers who ran a small sportswear supplier, established what is now the archetypal football brand. The company began expanding its reach, becoming the official manufacturer and sponsor of the FA cup, and outfitting British football teams—to the Olympics even, in 1952. Umbro provided garments for players (and subsequently fans in 1959) to wear continuously—combining shirts, shorts and socks into one package available for anybody to purchase. Umbro spearheaded the head-to-toe outfit, the kit—pioneering, maybe, what we now call athleisure. When Brazil won the FIFA cup in 1958, they wore kits by Umbro and by 1966, 15 of the 16 teams that played bore the Umbro brand exclusively, including England, who won its only cup in history that year.
Umbro is the homonymic cousin of the umlaut, which does for vowels what Umbro has arguably done for sportswear—modified the quality of a thing to such a degree so as to render its versatility unexpected. Allowing teams and fans to rep the garments—and brands—so integral to their sport. Umbro, over the years, umlauted itself as everyday apparel.

At 10, I was sure that the checkerboard pattern on Umbro shorts—the alternating luster of shiny and matte—had been motivated by the checkerboard pattern of freshly cut grass on the field. Neat rows of green grass and silvery underside. It struck me not as an aesthetic choice, but a pragmatic one: of course players should match the texture of the terrain upon which they played. I don't know what actually inspires the almost incandescent pattern, if not a mowed field. Maybe it's a nod to the honeycomb of mesh on shin pads, the hexagonal topography of a soccer ball, or the ref's flag. Or maybe it's checkerboards, real ones, the faraway windows of your future high school, unslanting the houndstooth on Mom's skirt. Something about that checkered pattern has fit so comfortably into our visual vernacular that Umbro shorts made sense even for non-players.
Speaking of Mom, it's maybe mothers, caregivers, providers, whom we have to thank for normalizing Umbro off the field—available at boutique soccer stores yet also sporadically lurking on department store racks next to Carnation instant breakfast and out of season strawberries, Umbro was at times an elusive bargain. The brand avoided easy categorization. The 90s, after all, were the years on the precipice of a technological revolution, the last ones to know a culture that was pre-internet-corruption. Styles were adopted because they were seen and experienced in real life, rather than bolstered by likes and followers. There was no digital metric in the 90s against which to measure a garment's authenticity, or a colorway's popularity. It all had to happen IRL.

A brand's cache was once influenced by distribution channels, quality of craftsmanship and the retail entities that carried it. If you bought a pair of North American made Nikes, you were paying for that brand cache—for the quality, the illusion of luxury. Adidas vied with Nike to be at the top of this pyramid, while something akin to Brooks bore the red flag of clout's antithesis—production issues in a Puerto Rico manufacturing facility in the 80s lead to poorly crafted shoes and subsequent bankruptcy, a stain the Brooks brand has never fully rid from its heritage. Now, bigger brands are diversifying, holistically expanding their channels of distribution, manufacturing techniques, and branding. Instead of just contending with competitors, there is now exclusivity within a brand—you can buy Nike walking shoes in a watermelon colorway for $39.99 at Winners, or Virgil Abloh Prestos at SSENSE for five times the price. Brands have begun to compete with themselves.
Which renders it almost ironic to experience Umbro in the sphere of luxury.
But even the apathetic know by now the well from which fashion drinks—subcultures! And so it came as no surprise when earlier this year, Vetements took a stab at harnessing the football brand's legacy, slapping on mondo Umbro logos characteristic of the latter's preoccupation with excess and subversive irony. In June of this year, to celebrate the World Cup, Highsnobiety released Intercontinental, a collaboration with Umbro featuring three jerseys. Earlier this year still, Christopher Raeburn explored the football brand's archive, repurposing old apparel into a new, collaborative line, "We wanted the collection to evoke sentimental memories in England's football history. We wanted it to resonate with people, the emotions we all share. We achieved this by transforming the shirts of our youth into contemporary, innovative and ethically sourced modern sportswear," explains Raeburn. The football brand also popped up earlier in the annals of fashion, stomping down Virgil Abloh's runway for Spring/Summer 2017—an Off-White x Umbro collab. The one postured in the tabloids last summer by Biebs and Bella.

Planting the football seed, maybe, as Virgil's Louis Vuitton predecessor, Kim Jones released a collection for Umbro in 2005, and then eulogized in the 100-plus pages of the lookbook shot by Alasdair Mclellan in Brazil. Bearing no title nor text, the book features double page landscape photographs and documentary style images of young, street-cast footballers. Without eschewing its football roots, the apparel is assimilated into the same gritty subculture as the punk-ish kids cast in the shoot. Palace Skateboards, too, collaborated with Umbro on a collection, inspired by their "shared love of football and classic sportswear."

In April of this year, Umbro and Pepsi collaborated with several visual artists to release a creative capsule collection, "The Art of Football", colliding football with art. Umbro has run the gamut from sportswear, to household, to fashion, and now to art. It even released a chunky dad shoe earlier this year.
Given its ubiquity, yet semi-subversive status, it's a wonder we haven't grown exhausted of repurposing the same time period from a brand's heritage. But maybe this is why it succeeds in maintaining its appeal—Umbro's simplicity of form, combined with the pervasivity of basics, make it inexhaustible.
At this point, we have a 90s hangover. We've indulged for so long in a time period that was half a century ago that it's seeped almost indiscernibly into our present moment—nostalgia is a virus. But so is technology, and perhaps our preoccupation with the former has a great deal to do with our fixation on the latter. A ceaseless gush of looks and aesthetics, dribbling down our channels of observation. We find ourselves marinating in an increasingly regurgitated mess of references, homages, and blatant rip-offs, clinging to whatever scarce buoyant shreds of cred we can find. But instead of reducing it to an argument of creative politics, maybe it's more about data. About certain things working. Like Nike and Adidas retro-fying staples from their back catalogues and bringing them to the fore with a re-release. The point is, what is the point of taking a gamble on a new idea, a risk, when prior data suggests that an older idea's success could simply be repeated. In the case of Umbro, our collective nostalgia for the shorts is that data point. The popular method seems to be taking winners from the past and regurgitating them, an act which sometimes seems novel in its redundancy. Are we drawn to the idea of Heirloom Umbro, or to the idea that we're able to revisit an old favorite, be kept safe by an old comrade, but instead of old it's new? The authenticity and in-authenticity of nostalgic reboots. We are remembering the memory—nobody is actually remembering their shorts. We can buy back our memories and own them today. Is that the new definition of luxury?
Rebecca Storm is a photographer and editor at SSENSE. She is also an editor at Editorial Magazine.