True or False with Patternmaker Nicolas Caito
The New York-based Patternmaker Talks Craftsmanship at his Garment District Studio
Interview:

Katherine Bernard

Photography:

Eric Chakeen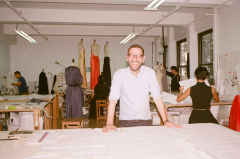 True Truing
It's true that true is a verb. To true is to balance or align. It's a word used in mechanics; you align a bicycle's wheels with its spokes, but when spoken, you say "trued up." You true-up a board or true-up an engine cylinder. In fashion, the expression is just true. Patternmakers true. To true a pattern, you make sure the seams and corners match, that the pieces will come together.
Nicolas Caito is a French patternmaker in New York. I came to meet Caito to discuss truing—the action and its poetry—in his atelier in midtown, where his team is working on the Spring/Summer 2018 collections. He trained as a patternmaker, beginning a French Couture Atelier apprenticeship at Lanvin in 1992. He studied draping for eight years, and eventually worked at Hermes under Martin Margiela, and Rochas under Olivier Theyskens before moving to New York in 2005.
His atelier is quiet. His team is measured and measuring. Before a pattern is made, the team works out its structure from a sketch. They choose a weight of canvas that corresponds to the weight of the final fabric, and pin and form it to work out the design. This process—draping—is highly structured. The dress form is a mathematician's chalkboard and the garment is an equation. Truing a pattern ensures that a fashion piece, which is actually many pieces, can be replicated. Tiny aligned marks are code for the factories that ultimately make the luxury ready-to-wear that we buy. There are binders on a filing cabinet with some names I know: Creatures of the Wind, Rosie Assoulin, Prabal Gurung, and Proenza Schouler, who were his first clients when he moved to New York from Paris twelve years ago and still work with him closely. There is no other patternmaking atelier like his in North America.
In French, Caito says "On appelle cela tracer, marquer, pointer, équilibrer." Vrai doesn't come into play. "It's very English to take a word and make it a verb," Caito says. "We don't use the word truing, and I think truing is very accurate because it's all of you that you put into it."
Patterns don't just describe cuts, but direction. Fabric has a grain, and must be cut so that, brought together, the grain flows together on the garment. The direction has to be true, too. Caito says he chose to be a patternmaker after experiencing an epiphany 37 years ago. He'd been studying International Business. "I decided to be more honest with me and really do what I wanted to do and not what I thought my parents wanted me to do or would be proud of me if I were doing." I tell him he trued his life.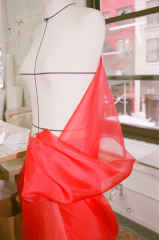 True Patterns
Patterns are what manifest designs in the real world. Patternmakers don't simply cut, they create a template for the garment. They will a sketch into existence with the knowledge of how fabric will act and react with craft. "If you're going to try to force it to move like this, then it's not respecting it, and that's how they say it's false. It looks forced and false. So, it's all about patience and finding ways to make fabric talk to you and for you, while also respecting it. You cannot respect someone if you don't respect yourself."
I've never understood what constitutes patternmaking. I've had a vague idea of what the practice entails. Even though I describe clothes all the time—to friends, in my head, taking in my reflection in the morning, in my work—I always see them as wholes. I forget that my clothes were once tablecloths with pencil marks.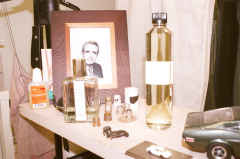 True Speaking
Caito is so soft-spoken, his cadence is the sound of paper sliding across a smooth wooden table.
"The pattern is going to be the contour of how you're going to make your fabric speak," Caito says. "For example, if you put that line here, you're going to create a defect, and in the fabric it will defect exactly, or maybe it's beautiful, you don't know, so all this is the room you give the fabric to speak."
When Caito came to America, one of the first differences he noted was the talking. "If you're lucky as I was, you'd be able to enter an atelier in France, it's almost like a kitchen, it's very military," he says. "There is a hierarchy to respect; you don't have the right to talk depending on your status. You had to be silent."
Not so in New York. "You guys need to talk, you like the talking," he says.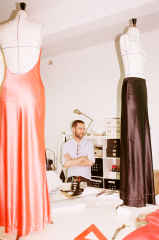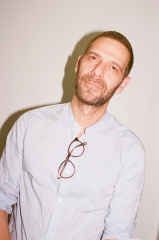 True Hearing
I ask Caito how he remembers the dresses he makes. "Maybe because of the relationship with the designer, and it's almost like a song," he says. "You hear a tune on the radio and that brings back memories, good or bad. Even if that was the most beautiful garment, maybe it can bring back bad memories. You sit back and you're like, oh god I remember that time."
True Feeling
When a pattern is cut, Caito traces his finger along the edge. The lines are drawn along the seams, and cut with paper scissors ("You don't use fabric scissors, paper scissors.") He was trained to feel for bumps along the cut, if it isn't a clean line, you start over. "This one seems fine, yeah," he says, grazing one finger delicately, how one might show a child to pet a new hamster. This checking is learned behavior, it assumes human error, but it's how the most beautiful clothes awe us. Their innovations are chosen errors, still true.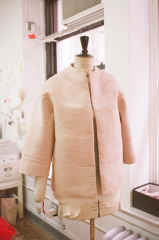 Katherine Bernard
Nicolas Caito
We talked about patterns and how they allow you to replicate. I think a lot about thought patterns, which kind of make you replicate behavior. What we do and learn early in life, we replicate, and they become patterns. We all have patterns of self. The most beautiful thing about clothes is that they live in the world, so you create these patterns that will take on these lives. I don't know, what do you think about that? Because there are blueprints for other things. Architects use a blueprint, but it's not a pattern. Clothes have a pattern. Even a furniture maker, it's not called a pattern. It's a very specific craft and I think it's called that because it has to do with the body somehow.
I don't know where the word itself comes from, I'm guessing that in French, you say patron, and so it's almost pattern, patron. It's a "guide" in French. Today when you say patron in French, it's your boss. But before that, patronage meant guiding, for example this (points to a traceable line on the pattern) is guiding my pencil, this is guiding my scissors.
In French, is a blueprint a different word? Like if you're an architect?
In French if you're an architect you cannot call it a patron you can only call it a maquette, it's like the plan. Patron is mainly for fashion. I can't remember any other thing where you use a patron just to make something where it's a guide. It's made because of guiding, guiding you in the cutting, guiding you in the making…
So a true pattern is like a true guide in a way. You have to choose very carefully what patterns will guide you, what you wear what you put on yourself, it all affects your life.
It's something that you have to reach within yourself. Again, it goes back to that honesty and truthfulness.
I really do think we have to true ourselves. You have to see where you're going to connect things.
Yeah, and be true to yourself. That's how you're going to make the most beautiful things.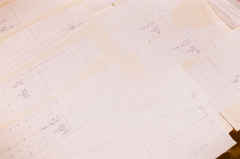 True Self
Whatever you're wearing right now, what surrounds you was a pattern, made so that what surrounds you could be made for more than just you. We think patterns repeat themselves, but patterns repeat us. They are what gives us aesthetic doubles on the street, which make us hate rather than love that we're not the only ones. But our patterns of mind – which, in so many ways, inform what we think we look like and so how we perform our look – repeat us, keep us us from one second to the next. To sit with a patternmaker is to see that we can look at our patterns from above, puzzle them, and make cuts. There is a craft to balance, to true.
Interview:

Katherine Bernard

Photography:

Eric Chakeen