Three SS19 Concepts: Vampires, Manners, Machines
A Call For More Romance, On Moving Away From Hype
Less logos, more love affairs. As fashion moderates its recent history of obsessive branding, talky-sweaters, and sweet reverence for monogram-mania, the silhouettes this winter and through Spring/Summer, suggest another type of nomenclature: romance.
That which cannot be conjured literally (or in scare quotes)—fashion that haunts and evokes before it tells you exactly what it is or how it's meant to be worn. Fashion that calls upon narrative and sometimes odd, seemingly emotional references, bristling with pseudo-shapes and exaggerated motifs. The dark, the baroque, the elegantly armored. The broad brim, the ghost story. The veil. The puffed-sleeve. The Miu Miu bow—in Lewis Carroll ratios, from mini to accent to statement to XL. The Pyer Moss dress with a woven painting. The Pyer Moss skirt with a tufted form. The Pyer Moss plissé asymmetry. The Pyer Moss, period.
While luxury-workwear will inevitably continue its run of lounge pants and sneakers (despite the resounding death knell of ugly, clunky sneakers)—compelled it feels, by some curious fetish for technical apparel (lacking situation, setting)—the sartorial potential of a mournful mood, for instance, or eidolic denim, or studied negligence, propose a new option: dressing up as a method for turning inwards. The somatics of clothing. Back to touch, the body, recovery, play. Back to the occasionally serious; to silk that doesn't invite movement but instead connotes weight. Back to lace—an entire catalogue of cutwork. See: Off-White's sporty lace, Victoria Beckham's snakeskin-lace, Alexander McQueen's Great Expectations, as envisioned by Sarah Burton's runway, with allusions to Havisham and Joe Gargery, both—a wedding dress, a blacksmith apron.
With the return of true romance comes, as well, an opportunity to dress a little reckless. To wear what might not make sense or appears immoderate, lacks function, is riotous and affected. How wonderful, how opposite of dull. This season's styles revel in the incomplete—in desire's greatest attribute; how desire can only exist so long as it isn't attained. Runaway details and half-formed fictions. These cumulative imperfections. Design that isn't so much under the influence, but under some preoccupying spell. Designs that provide the wearer with an opportunity to seem elsewhere, to look undone, rapt.
Here, one editor considers three concepts, built from pre-existing concepts, that might better illustrate this new romance on the runway.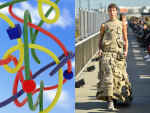 In Italian artist and inventor Bruno Munari's influential design tome, Design as Art, published in 1966, Munari documents his work creating what he called "useless machines." Often compared to artist Alexander Calder's iron mobiles, the intention of Munari's machines was to construct shapes and forms that were freed "from the static nature of a picture," ultimately attaching themselves to each other while remaining "sensitive to the atmosphere of real life, to the air we breathe." Munari cut, threaded, and wired together shapes, endowing them with a springy sense of harmony. These useless machines belonged to the world of aesthetics—they were strange, kinetic. They were suspended. They gyrated. Their movements meant nothing. They existed as unworkable objects. Abstract because: why? Beautiful because: why not? In fashion, the same has always been true. Rei's lumps and bumps, for instance. Her fabulous hostility toward clothing, favoring instead the full promise of velvet protrusions and metamorphic plaid. Of giving florals parasitic power and tailoring suits so as not to conform but to thwart. Sleeves that aren't merely sleeves, but tentacles, claws, traps. Kawakubo's sentient designs are unbound from the body. They remain altars. Similar in tone to Sacai, who sent models down the runway in what looked like one Exquisite Corpse after the next. Stray ribbons and reimagined rugby's, rivets, pleats, and futurist doilies, with notes of tuxedo and cavalry. Each design more useless than the next, playing to our dreamiest hope for dressing oneself: composite over category, Chitose Abe's signature. The designer's strength for not just referencing references (and legacy), but destabilising them. Hybrid fashion's pedigree is pure machine—though admirably and never shyly useless by nature. Because hybrid fashion is intentionally designed to perform a simple task—to wear—but achieved in an overcomplicated way, like Rube Goldberg machines.
Likewise, there was Marine Serre, whose cargo pocket-covered dress remains one of this season's most covetable pieces. Belonging purely to the world of aesthetics, its extreme interpretation of utility revokes its utility. The dress is a pocket fantasia—sportswear gone surrealist, continuing the designer's provocation with aerodynamic shapes, with micro as it collides with macro and motion. It's the perfect piece for a Dalí dinner party. It's the definition of army surplus.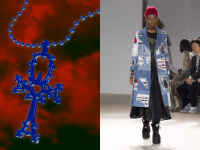 The "reanimated corpse," the mourner, the silk-shrouded revenant. This season's vampire is implied by mood, tailoring, and crinoline. The hard-delicacy of Junya Watanabe, for example, who paired what's papery and paisley, with a choker, with barbed wire, with tan cotton that looked like cerecloth (meant for wrapping the dead). Watanabe undermined hard edges with white tees and conspired with tulle and patchwork to transform pale denim into something dark. His models looked like they were having a good time because they looked like they were up to no good—the lovely mischief of a bias cut fishtail, of neon baby bangs in yellow, green, red. The romance, too, of something frayed, something punk, and something blue. It was as if Watanabe's show was scored by the theme song from The Lost Boys, "Cry Little Sister." The film itself, inspired by the world of J.M. Barrie's Peter Pan, where the characters (like vampires) never grow up. This is the sort of mythmaking that occurs on the runway when a succession of models look not just possessed by the designer's vision, but like they might come alive only at night.
Simone Rocha achieves this fantasy as well. Her show, which was inspired by the Tang dynasty—and called to mind the pages of Marguerite Duras' The Lover—was a parade of bibs and beadwork, black veils, and jacquard. There was plenty of blood red, and dresses so obscured by flowers, they resembled holy shrines. One gets the impression that while Rocha's designs feel apparitional, they involve a story worth telling or better yet, a story sworn to secrecy.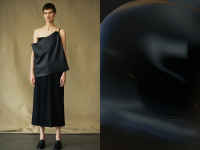 As in "studied carelessness," the word sprezzatura is Italian, deriving from Baldassare Castiglione's 16th century book of manners, The Book of the Courtier. In it, sprezzatura is defined as being a variety of nonchalance meant to disguise effort. As in, fabricating an appearance of grace and ease while navigating difficult situations. "I have found quite a universal rule," wrote Castiglione, "which in this matter seems to me valid above all other, and in all human affairs whether in word or deed: and that is to avoid affectation in every way possible as though it were some rough and dangerous reef." Basically, how advantageous it is to seem uninterested. How it conceals, perhaps, that arriving two hours late is a consequence of pure anxiety. The slight spiral required for entering a room and attending a party, the nuisance of small talk, etc. In terms of dress, new sprezzatura means manipulating one's inattention—one's faux-inattention. Shirts with spread collars and sweaters with grunge-pilling are a couple examples of new sprezzatura, but so is a dress with straps that won't stay up; that slip down shoulders and photograph: "she's fun." A dress with straps that won't stay up is the same as a dinner party's debris. The wine-stained tablecloth, the dessert fork for the drunk sweet tooth, used napkins that reveal nervous tics. Sies Marjan's SS19 show was a masterclass in new sprezzatura. Clothing that suggests the wearer is in a rush—revealing Sander Lak's fascination with everything "semi." Bronze blazers only half-buttoned, shirts tailored to look only half tucked-in. Dog-eared leather and cinched bateau stripes; Lak loves the tailored pyjama. Like Lemaire, whose handsome confections in mauve, pale teal, and Dalmatian, were an exercise in layering—cropped jackets with long shirts—crafting something very Katharine Hepburn: the woman whose sturdy-loafing projects point of view, an attitude, and a healthy ratio of boredom, too.
While much has been written about the Jaws-themed Calvin Klein show and Raf's continued preoccupation with pop, America (its politics and cartoons, or some portmanteau of the two), the collection's shark-ripped pleats and wetsuit-déshabillé—while cinematic certainly—were new sprezzatura not just in design, but in metaphor. There's nothing more dramatic than arriving late, looking as though you've just escaped a near-death experience. More so, showing up with wet hair—as Raf's models did—is an enviable ploy. The girl who air dries has always had a way about her.
Finally, The Row, whose virtuosic tailoring brings to mind—in tone—modern Edith Wharton heroines standing in door thresholds or marble effigies in Cy Twombly's palazzo apartment. The Row's silhouettes are liturgical, statuary, but also romantically laissez-faire: tops that look tossed on their models or attached like sails on a ship, sleeves that swing pendulously, coats that swaddle and gowns that double as robes. Designs meant for wearing in sitting rooms, for appearing like a personified version of a rarely used sitting room—chairs draped with white sheets so as to protect from deterioration and dust, so as to encourage ghosts. The Row's expression of new sprezzatura resides in how each design combines sharpness with smooth texture, the way gazar silk—a favorite material for The Row and often described as "claylike"—holds its shape while remaining sheer, creating the illusion of plotted abandon. It's the invisible hand inherent to clothing that outlives seasons and attains something else: not quite infinity, not quite fantasy. Not anything easily defined.
Durga Chew-Bose is the Deputy Editor at SSENSE.
Text:

Durga Chew-Bose

3D Artist:

Nathan Levasseur