This Sweatshirt Is a Jet Set Memorial
Made in Collaboration with Cali Thornhill Dewitt, 032c's Sweatshirt Celebrates the Dark Glow of Fame
Text:

Bianca Heuser

Photography:

Haw-lin Services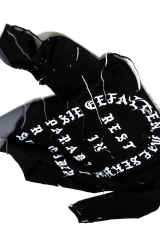 New Icons celebrates the stories behind particularly notable pieces from this season.
"Romy loved life so much, it killed her," French actor and close friend Jean-Claude Brialy recalled 25 years after the film star was found lifeless wearing Yves Saint Laurent at her desk at age 42. The arc of her story is a familiar, if tragic, one: Born the child of actors and educated at a monastery boarding school, Schneider became famous at age 16 for her role as the young empress Sissi in the biopic of the same name, and was subsequently entrapped by the character. She detested and eventually deserted Germany, finding refuge in Paris and in the arms of her partner Alain Delon. Forever struggling with her overwhelming fame, feelings, and alcohol, Schneider's story is one of freedom and tragedy. Many of the last century's brightest stars share this sensibility: Marilyn Monroe, Michael Jackson, Whitney Houston, Sharon Tate, The Notorious B.I.G., Philip Seymour Hoffman, and countless others.
The myth of celebrity and tragedy is a cross-cultural one, but Hollywood birthed it. California's intoxicating nature, set against the wide highways and sparkling skyline of Los Angeles at night, adds an air of grandeur to whatever happens here. "That's definitely environmental stuff—ego, celebrity obsession," artist and L.A. native Cali Thornhill Dewitt told 032c when they first began collaborating on an exhibition of memorial sweatshirts featuring Nico, Mies van der Rohe, and most gloriously, Romy Schneider in early 2015. Dedicated to a few of the cultural icons listed above and more, Dewitt's monuments to the darkness of fame touch on something so profoundly human—and Hollywood!—that they caught the attention of Kanye West, who wound up inviting Dewitt to collaborate on his merchandise for The Life of Pablo. "But those designs are actually based on [Los Angeles] gang sweatshirts from the 80s and 90s. A gang member would die and people in the gang would make a memorial sweatshirt," Dewitt says, laying open the source of the inspiration for his design.
Dewitt's collaboration with 032c serves as a wearable memorial to the German jet set icon. One of Europe's most elusive and spellbinding film stars, she made German TV history with nothing but a gesture, and a small confession of attraction: "Sie gefallen mir sehr," ("I like you very much") she told bad boy Burkhard Driest when they met on the set of a national talk show, gently touching the arm of his black leather jacket. Now, that compliment, emblazoned in gothic lettering on the back of this sweatshirt, circles back around to the deceased actor. Romy's allure is as captivating as ever today. That lust for life that Brialy described? It practically pours from any screen graced with her presence, as she rests in paradise.
Text:

Bianca Heuser

Photography:

Haw-lin Services