New Icons: This Coat Is Your Safe Space
How Raf Simons' Down Jacket Embodies the Needs of Our Oversized Moment
Text:

Bianca Heuser

Photography:

Haw-lin Services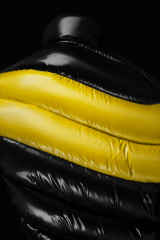 New Icons celebrates the stories behind particularly notable pieces from this season.
If you don't know growing pains, then you're a baby. If you've experienced them, then you know the importance of having just a scrap of comfort to hold on to. The ever-angsty Raf Simons gets it. The black and yellow stripes of this down jacket warn off predators like those of a bee, allowing you to prosper in peace. Meanwhile, its enormous size conveniently ensures you get all the personal space that you require. This coat is so big, it needs its own zip code. It takes the idea of outerwear so literally, it almost makes a mockery of it. Coats are portable safe spaces. They are the suites we spend our winters in. They are blankets with sleeves. They are the embrace of a spooning lover. For decades, people have sacrificed cuteness for comfort, and for very valid reasons. Yet this coat is that once-in-a-blue-moon opportunity to have your cake and eat it too.
And all of that is in its size. Raf Simons' designs for Fall/Winter 2016 know no such thing as regular sizing. With pants looking shrunken and sweaters way oversized, the collection again circles the designer's eternal obsession with youth culture. Every one of these garments appeared as though their models had already outgrown or had yet to grow into them as they walked them down the runway. The comfort to be found in this look stems from faint memories of the hand-me-downs of older siblings. You might have hated those overalls, but they still bring back the smell of early Fall mornings. It is not nostalgia exactly, more like a pining... for pining.
Oversized remains a thing—a movement even—pillared by brands like Vetements, Loewe, and of course Simons himself. It signifies a sociocultural need for comfort and flexibility as well as easiness: An oversized coat or sweatshirt does just fine with plain black pants, even leggings if that's your inclination. It is a decision that eliminates a series of follow-up questions.
Text:

Bianca Heuser

Photography:

Haw-lin Services