Fendi's Expressive Monsters Reiterate That There Is No Such Thing as a Guilty Pleasure in Fashion
Text:

Reva Ochuba

Photography:

Haw-lin Services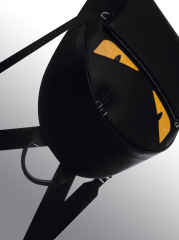 New Icons celebrates the stories behind particularly notable pieces from this season.
Fendi's Monster Eyes backpack reveals that "creature" is a portmanteau of "create" and "culture." The bag builds off the emoji, the wordless tongue now dominating today's social interactions. These smiling cats, melancholic leaves, and salacious eggplants standardly react to the human experience without having to really feel the sentiments at play. This dissociative rhetoric has become the building block of global communication, primed for informal propositions turned Insta-trends turned fashion phenomena.
Spun off from the "Bag Bugs" unveiled during Fendi's Fall/Winter 2013 collection, these little forms have evolved into opulent monsters. The brand has stayed true to the doctrines that supported Fendi's rise from a small fur and handbag workshop to a global fashion presence. Made of resilient grained leather, functional mesh padding, and silver hardware, the quality craftsmanship expected from this luxury label has not suffered a single casualty to design.
If the Monster backpack took after any particular emoticon, it would hold the expression of someone daring to be challenged or compromised. Its shameless disposition reminds us of the classic angel-devil scenario. Standing on each shoulder respectively, the two spirits battle to convince humans whether or not to indulge. Readily rewarding the devil on its left shoulder, this bag praises the audacity of decadence and gladly accepts the task of being weighed down by a laptop, subject to search, or thrown in cargo. We're all sinners, and there are no guilty pleasures in fashion.
Text:

Reva Ochuba

Photography:

Haw-lin Services