The Vetements-Balenciaga Complex
Demna Gvasalia Heralds Fashion's New Order
Interview:

Suleman Anaya

Photography:

Pierre-Ange Carlotti / Idea Books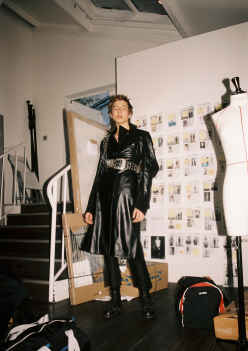 Vetements was founded in a Paris living room with a simple mission: to bring fashion's focus back on clothes. Demna Gvasalia, the brand's enigmatic initiator, was born in 1981 in Sukhumi, a Georgian town notable for its charmed setting between the Black Sea and the Caucasus, as well as the extensive damage it endured during the Georgian-Abkhazian conflict of the early 1990s. After formally training to design men's clothes at Antwerp's Royal Academy of Fine Arts, Gvasalia arrived in Paris in 2009 to work at Maison Margiela, where he absorbed the technical mastery and garment-focused methodology of the house's founder. A stint as a senior designer at Louis Vuitton followed, a job he quit in 2014 to devote all his resources to Vetements.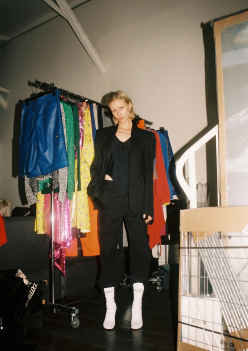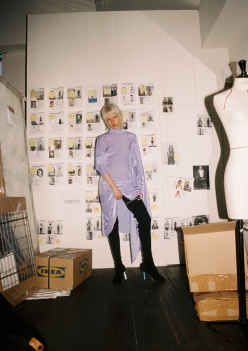 The now-infamous Paris Spring/Summer 2016 Vetements presentation took place at a gritty Chinese restaurant in Belleville. Documented behind-the-scenes by photographer Pierre-Ange Carlotti for Idea Books' new release Vetements, it included the label's retooled take on streetwear, as well as feminine dresses cut to have the attitude of biker gear. The show's rapid-fire pacing, post-luxury ethos, idiosyncratic casting, and celebrity attendees became the week's most popular topic of conversation. That is, until an announcement by a major fashion house stole all the headlines.
The Vetements showroom is a hangar-like space stretching deep behind an opaque glass front on the Boulevard de Strasbourg in the 10th Arrondissement. For the label, the days following their Spring/Summer 2016 show were frenetic. Everyone from Grace Coddington and Cathy Horyn to young editors from London, along with the usual buyer flock, made the pilgrimage to see the fledgling label's latest effort up close. After the last sales appointment took place on the Tuesday after the show, Gvasalia convened his team. There was champagne and a hushed celebratory air. Its de facto leader wanted to share some big news with the collective before the rest of the world found out. Most of them already knew. The team recalls it as an emotional, bittersweet moment. From now on, Gvasalia would divide his time between Vetements' rambunctious atelier nearby and a far more sedate design studio on the left bank. The next morning, the luxury group Kering announced the appointment of Gvasalia as the new artistic director of Balenciaga.
Suleman Anaya spoke with Vetements co-founder Demna Gavasalia in the days surrounding the Vetements SS16 presentation, including his first interview after having been announced as the artistic director of Balenciaga.
Suleman Anaya
Demna Gvasalia
Right off the bat, I think you threw the best party Paris Fashion Week has seen in a long time, so thanks for that. It almost felt like London or Berlin in terms of music and energy.
That was the point – that for five hours you could imagine you weren't in Paris. So we got a DJ from Berlin, and everyone loved it. Even I was a bit surprised by how freely everyone enjoyed themselves. At one point, five of the girls we had cast on Instagram for our show were dancing completely topless in a circle. It was fun, totally carefree, and very pure at the same time.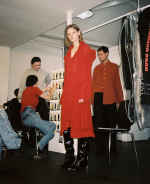 You are the toast of Paris, to use a corny phrase. But if things had turned out differently you could have been a banker in Düsseldorf. Not many people know about your connection to Germany.
My family moved from ex-Soviet Georgia to Düsseldorf in 2000, and I stayed there for a year and a half. It was a brief period, but significant in that it was where I figured out what I wanted to do. I had studied economics in Georgia, just because my parents didn't believe that fashion design could be a real profession one could live off of. So I had my bachelor's degree in economics, and when I arrived in Germany, the idea was for me to get a job at a bank. But in Düsseldorf, I decided I owed it to myself to do what I really wanted to do, and in 2002 I started my studies at the Royal Academy of Fine Art in Antwerp.
What was growing up in Georgia like?
Up until 1991, Georgia was part of the ex-Soviet Union, so I had a Soviet childhood. I was brought up with Stalinist, Leninist, and Communist ideas and deprived of any kind of real information. There were only two magazines that had some vague fashion references in them, which of course had nothing to do with what was going on in the West. Then the Soviet Union collapsed, and Georgia opened up. It was like an explosion. Suddenly you had Fanta and Coca Cola, and Vogue. There was a glut of foreign influences. Now we had McDonald's, and the coolest thing was to have your birthday party at McDonald's. I remember I celebrated my birthday there once, and it was like "Wow!" It was like going to Caviar Kaspia here in Paris. It was so colorful, and Happy Meals actually made people happy.
Do you think that vacuum has informed the way you see things? There seems to be a residual fascination with the iconography of freedom and capitalism in Vetements collections, as in the DHL t-shirt that opened your last show.
I guess to some extent that delayed cultural formation did shape me, because I had such a hunger for discovering and knowing things that my generational peers already knew.
The darker side we all have is more pronounced in me and speaks louder creatively. I design better when I am in a bad mood or depressed.
When did you know you wanted to design clothes?
I have wanted to do this for as long as I can remember. As a child, I was obsessed with clothes and kept changing outfits, just because I wanted to try a new look. Keep in mind this was in a Soviet country where millions of kids wore the same clothes, so the variety of what I had to work with was limited. But the lack of means pushes you further. I also loved looking at the women around me, what they were wearing.
What did women wear in the 80s and early 90s in Georgia?
Georgia is a very particular country, and people have a very different taste to what people associate with Russia. It's a lot of black, very dramatic, a little bit like Sicily, but more extreme – with a lot of make-up and added decoration. But it's also very dark. My grandmother used to customize all her clothes and still does. She's the most eccentric person I know. She's 75 and wears platform shoes.
What does she think of the clothes you make?
She doesn't really like them, because it's not her style. She only likes the things she customizes for herself.
Did you expect Vetements would be getting the level and scope of attention it got in just three seasons?
Not at all. I thought only a very niche audience would embrace us. But now it's kind of massive, which is interesting, because it shows that what we're doing speaks to a wide range of people. I don't think this would have been the case 15 years ago.

So what has changed? There is a widespread sense that Vetements is filling some sort of void, a perceived lack that has to do not just with the clothes, but also with the way the industry works.
What is this void? That is something I have been asking myself, because it's important for us to understand as well. I think the answer lies in authenticity. We try to work with authentic things that speak to many different people. We offer things people can relate to, but can't necessarily find anywhere else. There are also references to street and subcultures that have influenced me and the people I work with, who are all younger than me.
Vetements feels new, but it also evinces a clear lineage. What are your strongest creative influences?
Aesthetically, Vetements is very linked to Martin Margiela, the house where you could say I got my MA in fashion. Nothing after my studies influenced me as much as Margiela – the aesthetic, the way of treating the clothes, liking the clothes, cutting them up, and doing something new with that. That essentially became my own approach.
There is a dark undercurrent in your collections, with recurring references to security and allusions to danger. Where does that come from?
It's definitely there, though not everyone senses it. For myself, I can say the darker side we all have is more pronounced in me and speaks louder creatively. I design better when I am in a bad mood or depressed. When I'm happy, I don't really feel like doing anything creative. And I think a lot of the people I work with are similar. Which doesn't mean we don't have fun, we really have a lot of fun while we're working. But the music we listen to while we work is definitely not cheerful.
Do you have a personal interest in uniforms and safety garb?
I have a small personal collection of real security and police clothes, and everyday I wear one of my black "Sécurité" t-shirts, of which I have about 15. I'm not sure what it's linked to. I assume it has to do with certain deep-rooted ideas about protection, or some subconscious craving for safety on my part. I really admire people who work jobs to protect other people. For a while, I was obsessively buying security and police uniforms on several specialized websites that exist if you look for them. It's easier in Germany than in France. I bought all this for myself, and they were just hanging in my studio when we were designing the last collection. That's why we loved the idea of reworking some of those pieces. They project a certain toughness and strength, which I find very compelling, especially on a woman. But there is no message. Some people assumed last season that it was a comment on the Charlie Hebdo attacks, which wasn't the case at all.
We do not want to be part of an idea of fashion that is about glamour and about something unattainable or super exclusive.
Do you ever wear your full security or police looks in public?
Yes, sometimes I do. Once a woman mistook me for a real policeman. I liked the ambiguity of it.
So it's more about ambiguity, and a bit of a power game, rather than an expression of some great sense of doom that runs through the Vetements clique?
A little bit of both, I think. For instance, we did this trench that has a fluorescent "Polizei" print on it. For me, this trench just looks scary. It's a scary piece of clothing, and you're a scary guy or girl when you wear it. It's floor-length and references things I personally associate with Germany, like the band Rammstein, all of which evoke an idea of power and fear that interests me. I find the word Polizei itself quite intimidating, and I guess that turns me on. It triggers something, but I'm not sure if I'm ready to figure out what that is.
A plurality of voices seems to be important at Vetements. How many nationalities are represented in the collective?
We have people from Syria, Brazil, Italy, Romania, Russia, among others, French and Belgian, of course. It's really like a small United Nations. Which is great, because everyone has a different perspective on the same cultural reference. What is gothic for me isn't necessarily gothic for someone from Finland, to give an example. It makes for very interesting brainstorming when we're conceiving a collection, where we try to find a common ground, but still retain traces of the different points of view.
What unites all the members of Vetements?
We are all very different. What brings us together is something we believe in and have built up together from the beginning, working really hard. Most of the team gets about three hours of sleep a night when things get busy. We also share very strong beliefs about the industry, about things we don't want to be part of. We do not want to be part of an idea of fashion that is about glamour and about something unattainable or super exclusive.
Yet, you embrace the reality of fashion as business.
Oh, yes. First and foremost, Vetements is a business. That's the reason we do it. We are not a conceptual or artistic project. We are 100 percent product-oriented and open about it.

Is the label's design process as idiosyncratic as its attitude?
It is. Mainly because our work approach is egalitarian. We also never work with a seasonal theme. Instead, we start the season defining what kind of garments we like. Is it skirts? Is it pants? Is it jackets? Is it a pea coat? Is it a bomber jacket? Then we see what we do with each of these elements to put them into the Vetements frame and aesthetic, which involves reworking them to create a certain attitude and an interesting silhouette. There are also some concept pieces every season, like a reversible hoodie that you wear the other way around and becomes our version of a basic college crewneck. And we often reference familiar visual symbols from everyday life, like brand logos and the like.
How do you feel about how people interpret your clothes, given that you refuse to over-explain your collections?
Our thinking is simply: "This is our product. These are the pieces of clothing we offer." It's interesting then how different people see it and try to understand concepts behind our work that don't even exist. People bring in their personal views and preferences, and you have generational differences. Younger people relate to Vetements a lot in terms of "I just want to have it. I want to own it." While older people engage with it more critically and tend to analyze it more.
Do you aspire at all to dress people who aren't fashion savvy? For all its egalitarian ethos, Vetements is still too directional for the "normal" consumer.
I don't think we can appeal to people who are not interested in fashion. We are super product-oriented, but we are also very much in a fashion frame. There's no question about that. But on the other hand, we are not doing it for fashion editors. We are doing it for an end customer, whether it happens to be a fashion editor or some girl in Austin who digs our aesthetic. Sometimes it's a celebrity, and that's okay too. Several celebrities have worn our stuff. They had to go and buy it at the store like everyone else.
The fact that I was even considered for the job at Balenciaga shows that there is a certain openness for a different approach.
Faced with rapid growth and commercial pressures, how can Vetements remain as authentic and radical as it wants to be?
I think what's crucial is to know when you shouldn't get bigger. I am going to do everything in my power to keep things under control. We already started being even more selective about our distribution, limiting and handpicking the stores we want to be at. This is not the kind of brand that needs to be everywhere. Same with our exposure in terms of press. We are starting to be a lot more strategic. And if someone tries to invest in Vetements, we will refuse any offer that we think might cannibalize our brand. We already had one very prominent offer and we said no. We will do everything we can so that Vetements remains free of any external interference, because that would be the beginning of the end.
You left Vuitton, where you had every thinkable resource at your disposal, to focus on Vetements. What justified the tradeoff in your eyes?
To me, all that possibility didn't matter so much. Of course, it was amazing to see how things work in such a huge corporate structure. But on the other hand, I kept asking myself "Is all that effort really necessary to make something that people want to have?" I think the answer is no. For me, it was all about clothes. And I think when you do a collection where half of it will never be for sale, it's not a good sign. That's an old way of thinking that I totally do not agree with, "Let's put on a big spectacle, make people dream, and then hopefully people will come to the store and buy a basic blouse." At Vetements, our approach to fashion is diametrically opposed to that.
In a way, Vetements' existence is directly linked to your critical position vis-à-vis the way the fashion system works. What do you think is wrong with the industry?
Essentially, all these corporate luxury brands are trying to be like Zara, which is absurd and impossible. What gets lost in all this is that, to make something that makes sense, you need time. You need the mental space to assess if someone out there actually needs the Nth dress you're making, or if it's being produced just because some brand manager thinks it needs to be in stores, when in fact it will end up on the sales rack, or burned. That pressure is one of the many things we were questioning when we started Vetements. Another thing is a production cycle where everything needs to be instantly available, because people want things now and can't wait six months. Or this idea that whatever goes on Instagram is what people will want to buy.


Do you think it will change?
It's a completely new era. The industry itself is very old school and is ruled by very old school elephant houses with very old school elephant management structures. It's very hard to change the mechanisms of how these companies work, because they are so big. And it costs a lot of money to change the way things work, which not everyone is willing to spend.
What went on in your head in the lead-up to your announcement as Balenciaga's new artistic director?
Of course, it's an amazing opportunity. I think it's one of the houses where you can actually innovate and do things differently. Still, when they approached me this summer, I asked myself two things. First, if it was maybe too corporate, and whether I could protect Vetements, which has to remain free of any corporate influences. It's an independent brand and will always stay that. And second, can I tell a different story there than the one we're telling at Vetements, and is it a story I want to tell? It wasn't before I found a way to confirm those two things within myself that I decided to take the job. The way I reconciled it was to see it as two different, independent stories that happen to share one common factor, which is me.
Does it excite you that the brands are so different?
It's refreshing for me. At Balenciaga, I can work on things I would never do at Vetements, actual new luxury products. Despite our high price point, Vetements isn't a luxury brand and will never be one. We don't think in terms of sophistication or elegance at Vetements. These words are anathema to what we are about. But at Balenciaga, those notions are essential, and I have room to redefine them in new ways.
For me, it's really about rethinking the whole system.
What do you think Kering, which owns Balenciaga, saw in you that made you stand out?
I think it's linked to our approach at Vetements. It's about the importance of ready-to-wear. The clothes we make are quite commercial and wearable. This must have resonated. At many houses, the proportion of ready-to-wear has become so small in comparison to accessories, which I think is problematic. My idea is always to work on clothes first.
Did the Spartan formal vocabulary of the house's beginnings appeal to you?
I don't think that way. I never thought along the lines of "Oh, I like the cocoon coat and see myself doing something with that." I don't make those kinds of links to my personal creative preferences. I saw more of an affinity in terms of a general approach towards clothing, how clothes work on people and what they do to them. I read a lot about Cristóbal Balenciaga's way of working. The turning point for me may have been this story about a client – a rich woman with the posture of the older woman she was – whose presence was completely transformed when she put on the clothes he made for her. Suddenly, she straightened up and her frame appeared younger. When I read that, I thought: "Of course! That's why people should be making clothes." It's more like dressmaking than what we understand as fashion.
Still, looking at the house's creative legacy, there must be specific aspects that appeal to you more than others. Are you, for instance, thinking of fabric development and new shapes, like Ghesquière did, or something entirely different?
I am less interested in innovation in terms of developing a new fabric. For me, an authentic fabric that isn't necessarily new or high-tech is far more exciting. The biggest innovation has to happen in terms of methodology, the processes by which you make a collection, and also in terms of what you make. I am interested in analyzing fashion at that level. That's where I want to work, and what I think needs to change. For example, do we really need ten jersey long-sleeves in a collection? Let's really examine that. Because there are so many clothes. To make more of them is perverse unless there is a real reason for them to be there.

But isn't it naive to think you will have the room and freedom to affect this kind of change? You walked away from an established house before, because you felt frustrated at the way things worked and had no hope it would change.
But I wasn't in charge there. I wasn't the decision-maker. The fact that I was even considered for the job at Balenciaga shows that there is a certain openness for a different approach. Of course, I am aware that there are limitations. It's a big machine that functions a certain way, and you have to take that into consideration. For me, it's really about rethinking the whole system. That's something I couldn't do at Vetements, because as a small independent brand, we just use the system as a tool. We are in no position to alter it in any way. What is challenging and interesting is to be in the system and rethink it from within by finding new ways of doing things. Of course, you want to give people goose bumps every six months by showing a new silhouette. But just as importantly, you want to question how and why you make things.
What do you think of social media?
It's important, but very hard to do right. To be honest, I think it's pathetic as a brand to be worrying about how many likes you have and to be desperately courting followers. In my view, when Instagram becomes just a visual commercial catalogue – saying, "Buy me! Buy me! Buy me!" – it's more detrimental to the brand than beneficial. It cheapens your identity. Or posting some "It girl" posing with your bag. That's just vulgar and potentially dangerous. You need to utilize these new media in a way that's visually innovative and smart.
Without putting any pressure on you, it would be nice if you could read this interview, say, three years from now, and use it as a benchmark of the extent to which you have stayed true to yourself and your ideals. How do you plan to stay true to yourself?
The challenge for me is to respond to the realities that could crush my vision, and also to protect my head. You have to stay connected to real life. I couldn't live if I didn't have a life outside of fashion. That's what feeds my creativity and helps me deal with things in this business. Having the time for it is where it gets tricky, which is why I will insist on having that space, having my weekends for myself.
To be honest, I believe that fashion is secondary.
What will you do with those weekends?
Go to the movies and see my friends. But I love to sit on my couch, order pizza, and watch documentaries or procrastinate on YouTube. As dumb as it sounds, it's important.
I think amid the commotion surrounding your appointment at Balenciaga, it may have gotten a bit lost how separate you intend to keep that job from Vetements, to which you remain 100 percent committed. Can you explain what Vetements means to you?
It's completely personal. Vetements is something very precious to me. I started it taking a lot of risks, and it came fully from intuition. In a way, it's like I am in love with this brand. And when you are in love with someone, you simply cannot conceive of ever stopping to love them. It's similar. For me, the idea that this could end is – right now – an impossibility. One thing that is for sure is that I will never deceive the people who like Vetements by not being present enough for it.
Finally, what does Demna Gvasalia believe in?
I believe in intuition over logic. My guts have dictated a lot of important decisions, and it's paid off until now. Logically, I would not have quit a safe, well-paying job at a big luxury brand to start a small, cash-strapped label from scratch. That was a risk, and many questioned it at the time. But for me there was no choice, I had to do it. I believe in integrity. I would never compromise the credibility of a collection, for instance, to cater to what someone might think regarding our politics, or to send an insincere, first-degree message about something people expect for the sake of correctness. And, to be honest, I believe that fashion is secondary.
Interview:

Suleman Anaya

Photography:

Pierre-Ange Carlotti / Idea Books