SSENSE Visits the Designer on the Eve of His Fall/Winter 2016 Womenswear Presentation
Interview:

Alex Hawgood

Photography:

Adrian Crispin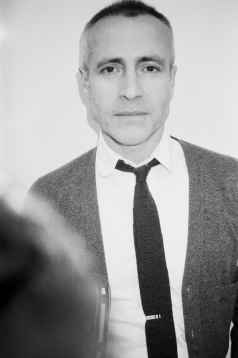 Amidst the crowded sea of New York Fashion Week, Thom Browne has long stood out for his idiosyncratic worldview that somehow manages to be unflinchingly singular and utterly surreal. While the meticulously-tailored, shrunken grey suit continues to be the focal point of both his own personal style and his brand's DNA (as well as the mandatory uniform for all employees of his design office located in Manhattan's Garment District), this season, the clothes he sent down the dirt path of a man-made park he built inside a Chelsea gallery echoed the reusable, makeshift dressing that was popular during the Depression era of the 1920s and 1930s, as seen through the lens of Tim Burton's Sleepy Hollow.
Along with cerebral pieces such as crooked pleated skirts or driving jackets that appeared to be half on the model's body, Browne flashed dog-shaped handbags that paid homage to his own wire-haired dachshund, who is often seen by the designer's side clad in his own miniature Thom Browne sweater. It was a playful reminder that the key to his limitless creativity lies in his steadfast commitment to his personal vision. In the frenetic lead-up to his Fall/Winter 2016 presentation at New York Fashion Week, Alex Hawgood visited Thom Browne during the show's makeup tests to speak to him about why he doesn't use mood boards, the difference between his male and female customers, and why it's essential that not everyone understand his clothes.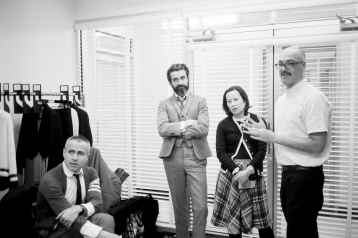 Tell me about the show on Monday. What do you have planned?
The show on Monday really takes the mid-1920s to early 30s — from the Roaring 20s through to the Depression into post-Depression — and how people who had money adapted to not having as much money through that time. How they addressed the needs of dressing for occasions — since they had occasions — and taking old clothes and really wearing and weathering them. With women's, I'm taking the idea of women who had clothes that they loved and wore, but then reappropriated them into different pieces of clothing that they needed for how they were living at that time.
How do you articulate these ideas to your design team? Because I've heard that you don't use mood boards or reference images.
It's almost exactly like this — just talking and telling that story. Initially I work with one person who has been with me for a long time, who understands me and understands what I mean when I talk about things. But the reason I'm not using mood boards is that I think if you say "20s" and "Deco," there's so many images to get locked into and almost be crippled by. For me, it's a lot more interesting and a lot more freeing when you just describe what the mood should be. It just makes it easier to create something new.
And do you think about the customer at this stage?
This stage is purely creative. And then from there we pull things that can be commercialized and treated in a more commercial collection. But the looks in the show are really just to tell a story.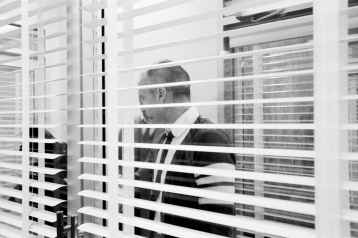 But how do you interact with the customer? How do you hear about how they like or buy your clothes?
I own my own stores, so I know what happens there. That's primarily how I keep in touch. And a lot of what you see in the stores is told through the collections, but there are sometimes simpler or easier pieces that are derivatives of the show. There is a part of me that just loves making beautiful simple clothes, especially for girls. A really simple, almost uniform for a girl is interesting to me. So I like that idea and I actually like to hear how guys and girls react to that kind of approach to design. Because especially in fashion, where everybody wants new things, I'm not always of that mindset. I like to evolve as opposed to change. So in the stores there's a lot of evolution in regards to the fabric work that goes into each collection, but the shapes — I like people to almost know what they're going to expect when they get into my collections.
Do you find that men and women approach uniforms differently? Do men prefer the ease of wearing the same thing, or is this a cliché?
No, I think that both aren't always so comfortable with the idea. Because the idea has the connotation of being boring, or not very interesting. But I think the confidence of having a uniform is actually more interesting than having more choice. So I think it's similar for both. I mean, it's a little bit more of a novelty for girls.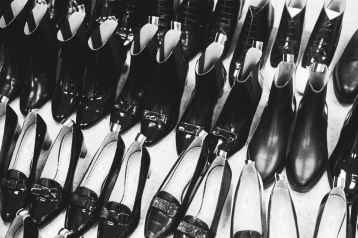 How would you explain the power of always wearing the same thing?
Well, I like the idea of being so comfortable with yourself that if somebody thinks that you're wearing the same thing, you could care less what they're thinking.
And are there rules for wearing the same thing? Like, I have holes in my sweater and these jeans are dirty. Is that okay?
It should be each person's choice.
So it should speak to you.
Because that also shows power and confidence.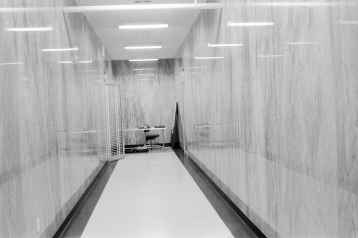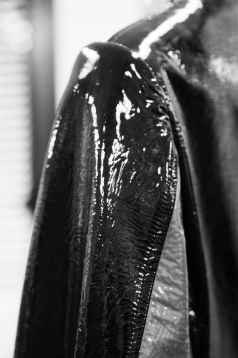 These holes are powerful.
As many holes as you want, as long as they're your holes and you own those holes.
On what ways would you expand on this notion outside of fashion and getting dressed? Do you see places of uniformity that interest you?
I like simplicity in architecture. I like squares and rectangles as opposed to organic shapes in architecture. And I think that's the uniform idea. When I see things that are just really well-organized and simple, that really speaks to me.
There's all this conversation in the industry right now about how it is getting too big—
Is the industry getting too big?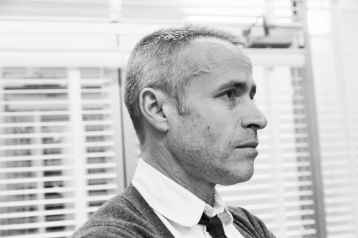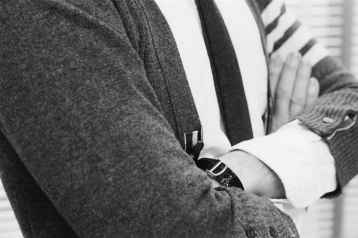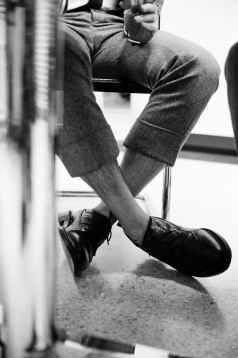 Many say so. But when people discuss a return to soulfulness and a return to thoughtfulness, I instantly think of your collections.

I want my shows to be personal. For one, they're very personal to me. And I want people to have personal experiences. I want them to really see things differently, to see the idea of clothing differently. I want them to see this idea of the world being entertaining and thought-provoking. And it doesn't always have to be commercially driven. There can be real concept that drives the commerce. At the end of the day, we are in the passion business.
And do you care if someone doesn't get your idea?
I'd prefer if there are people who don't get what I do.
What I do is not for everybody. And I appreciate when people have a reaction to it. I think it is a problem when you try to please everybody. At the beginning when I was making my first suits, if I listened to people, I probably would be out of business. Everyone said I should not be doing it.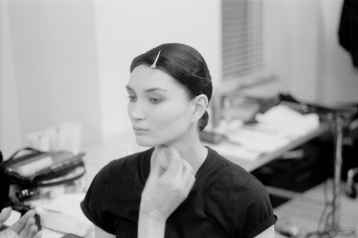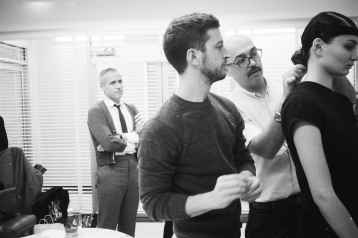 Especially in New York, where I feel like—
Not just New York. It's everywhere. I mean, it was a good year — two years — until people really started understanding it. And also there was a reason for it. It wasn't just shock value. There was a real idea behind the use of proportion that is something that I use in every collection, playing with proportion.
And where did that come from in the beginning?
It was personal. It was just something I wanted myself.
And has it grown and evolved since you started?
In the last 10 years, men just now know more. There's so much more for them. They're better educated. I think they like to take more chances. Not as much as people think sometimes, because at the end of the day, I think guys are mostly conservative. Which is fine. I'm not always so crazy about guys in high fashion. I think something really beautifully made—something that you can invest in and wear for a long time—is the most interesting thing out there.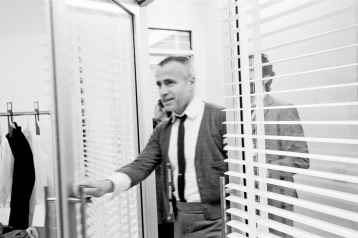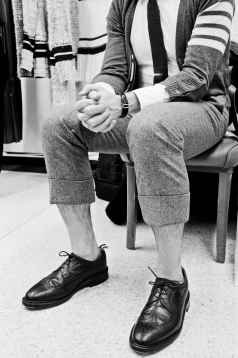 I think another thing that you do really well, is that if people want a cardigan, or a grey suit, they know they will be able to find that in your store. How important is reliability to your customer?
Well, that's what I mean when I say I like fashion that evolves as opposed to changes. Because I think when you do something that people know you for, it should be there all the time.
I think that's a little bit of the difference between men's and women's. Men are more comfortable with that, you know? I'd like girls to know my collections from a real tailoring point of view, so I want to have my classic jacket and my classic trousers and my pleated skirt in every collection. And, believe it or not, it's been a little bit of a novelty. And I think it's a refreshing novelty.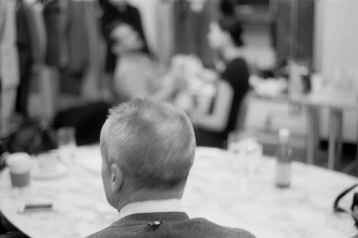 Are there things that you would do for women that you would never do for men?
Interview:

Alex Hawgood

Photography:

Adrian Crispin