The Baseball Cap Beauty Hack Blueprinted By Robyn Fenty
Text:

Durga Chew-Bose and Erika Houle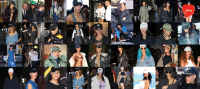 Mountaintop-shaped, like an uppercase "M-mm," Rihanna's lips are unmistakable. Symbolic, you could say, of Her—always on point, always peaking. For over a decade, she's taken full advantage, serving us one look in particular.
Enter The Rihanna Method.
From courtside to the red carpet, head-to-toe sweats to silk gowns with stilettos, Rih consistently employs this two-step ensemble, featuring lipstick (or gloss) and a baseball cap. With the majority of her face shielded under a curved brim, her perfectly-painted pout shines even brighter. It's a pairing that, with little effort, tricks people into thinking she's fully done up. Hides the undesired effects of staying out til dawn. Makes it easier to duck out of somewhere, or away from someone. Radiates confidence and demands attention, but preserves privacy. It's foolproof. Naturally. Like going braless, or always applying highlighter—Rihanna doesn't simply set trends, she invents rules. Only her genius could blueprint such a simple, no-fuss antidote to rejoining the world by sharing the slightest fraction of yourself.
In homage to Rihanna—and of course, the most inclusive cosmetics line to date, exceeding $100 million in sales in its first two months of existence, Fenty Beauty—SSENSE brings you six interpretations of her signature uniform.

Though her most famous hit single might lead us to believe otherwise, Rih didn't invent the notion of finding love in a hopeless place. If a good old fashioned meet cute is any indication—think Matthew McConaughey in The Wedding Planner, swooping in to save J. Lo from a rolling dumpster when her Gucci heel gets caught in the cover of a sewer—true romance can spark literally anywhere. It's no coincidence women all over the world are documenting this sensuous, rosy-nude gloss that "makes you wanna get kissed," according to Rihanna, via its own IG series: #glossbombaroundthe🌎. Perhaps she put it best with another one of her less popular, though highly underrated tracks, "We All Want Love." Doesn't everybody secretly hope to graze hands with their soulmate reaching for the same head of bok choy at the grocery store? Or have an "accidental" full-on collision with the cutie at the laundromat? There's something dreamy about the idea of experiencing a moment of passion while completing the most monotonous, run-of-the-mill chore. And in those instances, when your instincts likely lead you to dress for function first—wasn't athleisure made for running errands?—lipstick can feel too heavy, out of place. Still, you wouldn't want to be "caught off guard" without donning at least a subtle glow. So just do it: swipe on a little luminizer and become the sparkle in your future lover's eye.

Enough already with these Grey Gardens fashion references. They're tired, pretty obvious. Lazy. Of course we're guilty of it, too. It's hard after all to not draw inspiration from Little Edie's sartorial layering, her commitment to gold brooches, head scarves, and how the snug combination perfectly frames a daughter's stewing glare. So just this once, but never again, because at least with Rih, what's old always looks new. The Grey Gardens Hat Trick. Directionally, the look is very Beale women but with a Rih glare of dismissal. Last spring, Rihanna was photographed leaving her Manhattan apartment wearing an army green Supreme hat, secured with a floral headscarf. She looks glamorously...airtight. A little eccentric but stern. Silk scarves typify the most elusive mood: the confident recluse. The woman entirely disabused of any requisite to please, accommodate, be good for.

There's no need to ever toss up the middle finger (although even that looks good on her) when you can shoot a side-eye like Rihanna. In fact, she's probably the only human capable of mastering a soul-crushing mean mug through the shield of a hat—throwing shade at its finest. There's an endless internet archive of paparazzi photos-turned-memes of Rih giving dirty looks. Like those iconic shots of her decked out in Burberry while out in New York last year. Perhaps the culprit provided her with a little inspiration to create the shade of Fenty Beauty lipstick that she released a couple months later: a dark, brownish crimson, appropriately named PMS. A red gone wrong that, even in the form of a subtle stripe throughout Burberry's classic print, packs a punch not to be messed with. And repping your mood via your mouth can relay a powerful message (as if the idea of getting dissed by Rihanna wasn't already painful enough). Saying "fuck you" stings twice as hard when it's spoken through blood-stained lips.

There's no such thing as overestimating the remedial effects of a red lip. The color—in this case, "Stunna"—is a matte spectacle of creamy scarlet. Dangerously potent but also totally chill. Like the most neutral, everyday red. Covetable, as most classic things are, not because the red is rare, but because the red is uncomplicated. Like a pair of 501's. A white tee. Moisturized skin. Like wet hair on a hot day. Classic, too, because a red lip is corrective. Even the expression "a red lip" is more than merely cosmetic. It's an attitude. A retort. Something to say when you're laying claim or seeking cheeky revenge. In a manner of speaking, a red lip is a way to invoke glamour with consequential agency. A way to leave a mark, stain your straw—to stand out but insist on space. Fenty's Stunna screams Rihanna: her remarkable and basically copyrighted talent for doing something—anything, really—like feeding birds first thing on a Monday in Soho, wearing little more than a heart-shaped Saint Laurent fur cape, yet seeming like she's doing nothing out of the ordinary. Just your average Rih Monday. This classic red squares perfectly with a broken-in, even ruined-looking hat. That hat, too, is classic in its refusal to look new. As if it's life-worn or stolen from an ex. Like 032c's corduroy cap, speckled with peroxide. It's what you wear when you've texted "In a car!" but you haven't even left your bed. Because you want to go out but you just don't want to be out. So, paint it red. Pour it up. Etc, etc…

On the subject of clothes, Virgina Woolf once said, "they change our view of the world and the world's view of us." She was right, and it's not unusual for women to reserve their best outfits for occasions in which they can impress one another. The dress one wears to meet a Tinder date simply can't compete with the gear unveiled for a girl's night out—think diamonds, furry slippers, bra tops... bright purple lipstick. After all, the most carefree moves are made at the club. Rolling joints on the bar. Buying bottle after bottle. Letting go of your inhibitions re: PDA. Adopting puppies. And while it's probably safe to assume whatever happens in the early AM hours will stay between you and your unit (pics or it didn't happen, or so they say), it's best to take precautionary measures for the relentless observers. Like with the added barrier of a hat's beak. Take a cue from the Nasaseasons "I came to break hearts" cap Rihanna has been wearing for some time now. When there's a brim wall partitioning you from your surroundings, who's to say whether you were whispering a dirty secret in your crush's ear or slipping them a kiss?

Way before her starring role in Peter Berg's Battleship, there was a reason—millions, actually—Rihanna earned herself her own Navy. She's been the commanding officer of all of our best moodboards, memes, and #goals for years. All those times she showed up to the party—and left—with her own glass of wine. When she publicly told Satan to "fuck right off." Accepted the title of CFDA's Style Icon of the Year covered in nothing but crystals. Owned the Met Gala. Joined the Global Partnership for Education as its first Global Ambassador. Became Puma's creative director. Founded her industry-changing cosmetics line, Fenty Beauty. Earned Harvard's Humanitarian Award. Launched her own lingerie label, Fenty X SAVAGE. Broke Drake's heart. Broke Drake's heart again. The list is endless—a "Femme" that will undoubtedly go down in histoRih. Stand in solidarity with her and rep a Navy lip. Be the change you wish to see in the world.
Text:

Durga Chew-Bose and Erika Houle