New Icons: Sleepless Nights with Rick Owens
The Designer's Weekender Bag Harnesses the Power of Darkness
Text:

Robert Grunenberg

Photography:

Kenta Cobayashi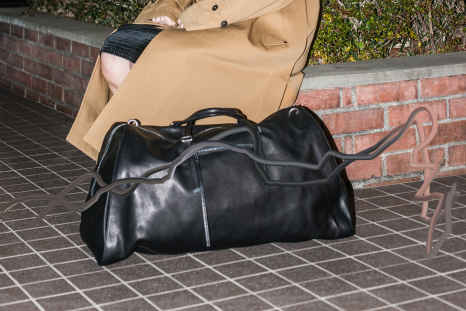 New Icons celebrates the stories behind particularly notable pieces from this season.
At night we can become someone who we don't dare to be during the day. We break away from our obligations and everyday routine, exiting our accelerating rat race. We pause, change direction, replace the office for the club and indulge in distractions. Rick Owens' leather Weekender duffle bag is the perfect size for a two-night cruise into your own realm of desire. As black as interstellar space and as soft as midnight air, the bag is your sensual yet sturdy ticket for a short trip out of the everyday. Fast forward into a weekend night that unfurls everything you suppressed during the week. After the sun goes down, parts of the city become calmer, streets emptier, you see less and feel more. Some like to lose themselves in the heady spheres of clubs, only to find themselves again. Emotions go high and burn like Roman candles. Others go out into nature and become humble under the majestic eternal milky way.
This darkness that Rick Owens transcends every season with his collections, is a hybrid of sinister grunge and black glamour. His loose, bias cuts and draped fabrics please and free the human anatomy. No repression to the body, no rules to the mind. Since founding his label in Los Angeles in 1994, Owens has channeled a signature look: complex angles, leather, and lots of black. Picking up on his cultish dance performances (Spring/Summer 2014) or social body sculptures (Spring/Summer 2016), this season's menswear collection softens his edgy, monastic silhouettes into flamboyant almost voluptuous sculptural forms that look as if they were orbiting around a faraway star in the night sky.
"It's about an elegance being tinged with the barbaric, the luxury of not caring," Owens once remarked to The Independent about his fashion ethos. With each of his two lines—Rick Owens and [Drkshdw][(link)—he empowers us to become a more intensified version of who we are, travelling to places of romance, magic, and hedonism. So when you pack your bag, make sure to forget your alarm clock, bring your sunglasses, and throw in a bunch of your wildest fantasies. Zip the bag, straighten your shoulders, and break away to the dark side of the moon, Major Tom.
Text:

Robert Grunenberg

Photography:

Kenta Cobayashi